The new infield section at Snetterton may have opened up great new viewing opportunities for racing, but for qualifying there's nothing to match the old Esses. The cars burst under the bridge, break through the fast left-hander and have to get the apex pinpoint correct for the slow right that follows. That's crucial, because it's flat all way through the following Bombhole and Coram down to the corner that should still be named after Jim Russell (but, sadly, isn't).

As usual, Jack Harvey seems to have the technique mastered, but it's a big step forward from Friday's test, where he struggled here. Now he's in full flow, the car jumping slightly as he makes his initial left turn, before using plenty of kerb, on slight opposite-lock, and getting it pitched perfectly into the right, a little squirm on exit but nothing to sap the momentum.
Again as usual, the Carlin cars look particularly planted through this high-speed corner, giving Harry Tincknell and Jazeman Jaafar plenty of confidence to attack. Tincknell seems to have braked as late as you can possibly brake an F3 car on one lap, then tries even later on the next... and runs out wide.
Again as usual, Carlos Sainz Jr tends to skirt the kerbs - his improvisatory technique will pay dividends on Sunday, when it rains, although he does nail one lap almost good enough to deny Harvey pole. "That was mightily close," sighs the Englishman.
And again as usual, the Fortec runners need to gain a little bit of confidence before really attacking, although Alex Lynn - quickest on the test day - looks the most settled from the off. But, although Lynn is the team's fastest overall, it's Felix Serralles who bags Fortec's only front-row position. He's on a roll, and Harvey knows only too well that he is now a serious title threat.
STAR IN A REASONABLY-PRICED DALLARA
When Bruno Senna fought for the British Formula 3 title in 2006, the race wins he clocked up to mark himself out as a serious prospect for the future were not the only reason he hit the headlines - an enormous aerial shunt at Snetterton also put him in the spotlight.
The Brazilian interlocked wheels with Mexican Salvador Duran on the Revett Straight, and Senna's flight under the bridge on the approach to the Esses was one of the defining images of the 2006 season - partly because of the hilarity it caused in the offices of AUTOSPORT and Motorsport News due to the utter fear on the faces of Richard Asher and Glenn Freeman, then the respective F3 correspondents, who both clearly believed they were about to meet their maker...
Senna's destroyed car © LAT
Senna was driving for Raikkonen Robertson Racing, now Double R Racing, as he had been since the start of his F3 career in 2005. Team boss Anthony 'Boyo' Hieatt had also run Senna in his brief Formula BMW UK campaign with Carlin Motorsport in 2004, before leaving Carlin to set up his own team.
"He got taken out in his first BMW race at Brands Hatch," remembers Hieatt. "Then he went very well at Donington but he was still raw with his race craft."
With barely any experience in car racing or relevant karting mileage, Senna made the big leap straight to F3. That was against the advice of Gerhard Berger, a family friend since his days as McLaren team-mate to Senna's uncle Ayrton.
"Berger phoned me and said he thought the step to F3 was too early," continues Hieatt. "But Bruno knew he was getting too old for BMW and that the driving standards would be better in F3. It didn't take too long to sort out. It was perfect for Bruno, because it was a new team and he wouldn't be expected to get results.
"We received our 2005 Dallara on Christmas Eve 2004, and Bruno was desperate to get some running before the testing ban kicked in on New Year's Day. We had to drive to Dallara and back to get the car and we worked like mad. We had Christmas and Boxing Day off but we had him out at Pembrey on December 28 and 29.
"It was a bit damp so we were on wet tyres, but Bruno loved it. Then at the end of the first day he wanted to do some donuts in the car so we took him down to the hairpin, said 'fill your boots' and I filmed him."
Senna almost caused a sensation on his, and the team's, F3 debut at Donington.
"On the morning of qualifying, my sister phoned me to tell me my dad had been killed in a road accident in Portugal. That was 30 minutes before qualifying. Then Bruno went purple in sector one, green in sector two... and spun as he crossed the line."
There were flashes of promise in 2005, but it was a typical rookie campaign. For '06 came the title push, although eventually Senna lost out to team-mate Mike Conway and Carlin's Oliver Jarvis.
"He got beaten by Conway and Jarvis but they were real up-and-coming professionals," says Hieatt. "People failed to realise that he just hadn't had the grounding they'd had and he actually had a fantastic season. Bruno was battling above his station. But he was always very good with his feedback and very honest."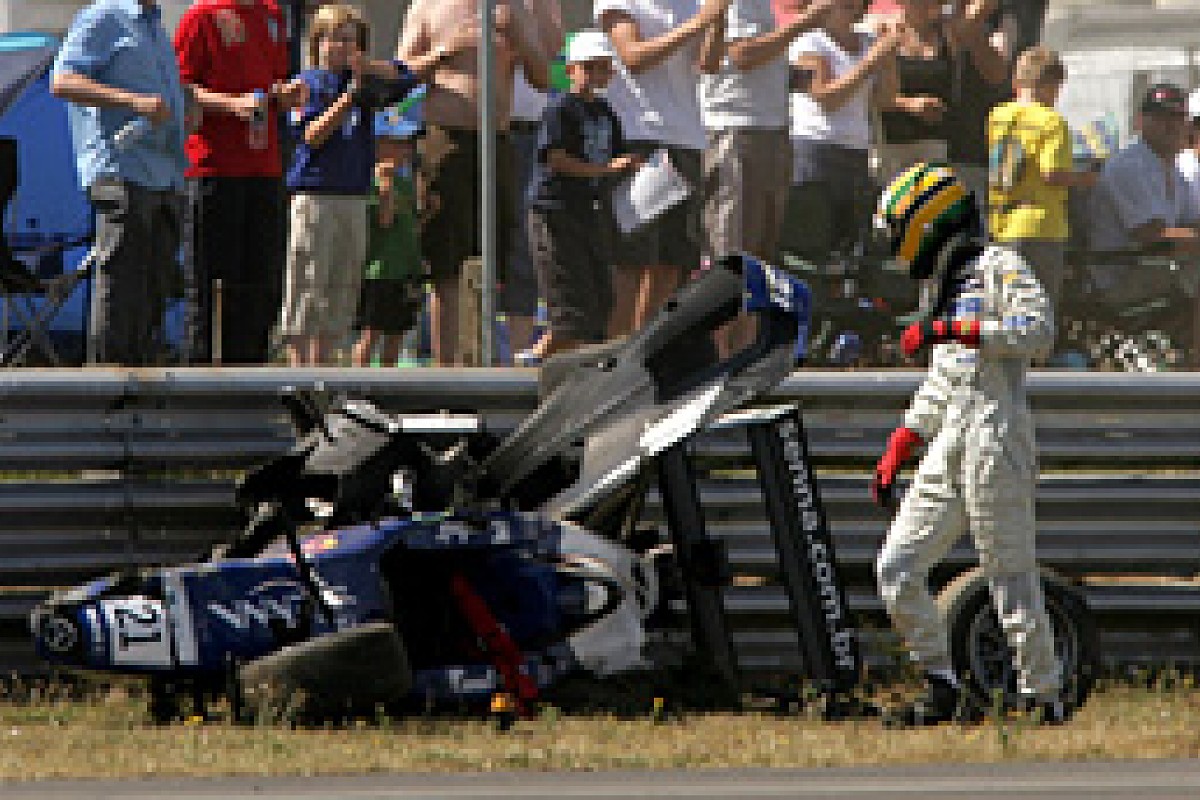 Senna shone in F3 during 2006 © LAT
There was an unfortunate finale at Thruxton, which Hieatt laughs about in hindsight: "We were desperate to guarantee Bruno second in the championship, which Mike had already won. Danny Watts had been doing some coaching for us, and we put him out in the spare car, not running for points, to give Bruno a tow in qualifying. Bruno had got his tow off Danny, then Danny got a mega slipstream off him the next lap to get back in front. The idea was that he'd give Bruno an even better run on the next lap, but it rained!
"The race started behind the safety car because it was wet and Jarvis, who was battling Bruno in the championship and had qualified ahead of him, fell back from Danny by about 14 seconds when the green flag waved. Danny was on the radio, 'Where the hell are they all?' Mike was on the radio behind Bruno, and didn't want to pass him, but he had Yelmer Buurman behind him and... it all backfired a bit."
Hieatt says his mechanics loved with working with Senna: "I felt another year in F3 would have given him a little bit of a chance to catch up with the Conways, just develop, but he did a great job in GP2 and won races. I believe he thoroughly deserves his place in F1. If he gets a second full year going back to the circuits, that's where you'll see the best of him.
"He deals so well with the pressure of racing under the Senna name. He must have been asked the same questions millions of times but he doesn't get weary of it."
SNETTERTON DRIVER BY DRIVER
Jack Harvey (Carlin Dallara-VW): 1st/4th/3rd
After struggling in testing on Friday with braking/turning, put everything together beautifully in qualifying to take a double pole. Dealt brilliantly with the worsening conditions to win the first race and retake the points lead, then charged impressively from 12th to fourth in the reversed-grid race. Felt that he lacked speed in early laps of wet finale due to having new wets, but grabbed fastest lap near the end and was pleased with strong points over the whole weekend.
Pietro Fantin (Carlin Dallara-VW): NC/8th/9th
The Brazilian had an upright problem in testing on Friday - another glitch in a season where he's had a fair bit of bad luck. Got punted out of first race by Calbimonte, although rejoined after a lengthy stop for repairs. Defended from Sainz in race two and chiselled past Fong and Uhrhane in closing laps. Lost places to Tincknell and Derani in the final race, although at least he was cheered on his chum, BMW DTM star and fellow Curitiba resident Augusto Farfus.
Harry Tincknell (Carlin Dallara-VW): 12th/1st/7th
Disappointed not to be right up there in qualifying and then tagged Jaafar at the start of race one, Tincknell having the valve ripped out of his left-front tyre. After a pitstop he rejoined to finish 12th - just the ticket for reversed-grid pole. Drove a very good race to victory. Pulled a lovely move on Fantin at Oggies to take seventh in race three and briefly challenged spinner van Asseldonk, but this time the right-rear punctured. He finished without losing places, but there was only 2.6psi left in it by the end.
Jazeman Jaafar (Carlin Dallara-VW): 7th/2nd/5th
Small mistake when tyres were at their best restricted the Malaysian to sixth fastest in qualifying. Brilliant start brought him almost level with Serralles and Harvey on dash to first corner, but he got edged onto grass and then tapped into a spin by Tincknell at Riches. Recovered to seventh, and then made predictably short work of the National Class boys in race two to go from sixth on the grid to second. Had a quiet finale, initially under pressure from van Asseldonk.
Carlos Sainz Jr (Carlin Dallara-VW): DNF/11th/1st
Second in qualifying, but his second-best time was nowhere near as good so he started down in fifth for race one. Got taken out of the race, along with Fantin, by Calbimonte at the hairpin on the first lap. Scrapped on for two more corners before stopping with damage. Anonymous run to 11th in race two preceded exquisite final race, in which he just drove away from the opposition in the wet.
Pipo Derani (Fortec Dallara-Mercedes): DNF/7th/8th
Poor old Derani spun off in avoidance of Jaafar at the beginning of race one, then crashed at Riches just before the red flags. Very strong in reversed-grid race to rise from 12th at end of lap one to finish seventh. Dropped to 12th in race three when he locked up and slid onto the grass, but fought back past Ilyas and Fong, and then passed Fantin around the outside into the Esses on the penultimate lap.
Felix Serralles (Fortec Dallara-Mercedes): 2nd/6th/2nd
Wasn't too keen on set-up in Friday test but much happier in qualifying and took second and fourth on the two sets of times. Shadowed Harvey in the first race but fell away when he made a small mistake, losing the championship lead to the Englishman. Did a good job to rise from 11th to sixth in the reversed-gridder, including a great outside pass on Uhrhane into Riches! Swooped past Harvey at Riches for second in finale but had no answer to Sainz.
Hannes van Asseldonk (Fortec Dallara-Mercedes): 4th/15th/6th
He wasn't too upbeat after qualifying, a bit further off the pace than usual, but results were pretty decent in the end. Sliced his way through opening-lap mayhem to take fourth in race one, and held sixth in the finale despite a spin while chasing Jaafar. It was only the reversed-grid race where he was let down, after a collision with Uhrhane at the hairpin gave him a left-front puncture and forced a pitstop.
Alex Lynn (Fortec Dallara-Mercedes): 3rd/5th/4th
Absolutely on it in Friday test to top the times - and provide some of the more forlorn elements of the Fortec team with a direction on set-up! Couldn't quite put it together in qualifying and felt a slip at Russell on his best lap cost him pole. Very solid races, chasing Serralles in the first to take a podium finish. In the second he ran between Harvey and Serralles as they rose the order in unison, while in the final race he fell away rapidly from Harvey but picked up Sainz-matching speed by the end.
Nick McBride (T-Sport Dallara-Nissan): 6th/3rd/15th
A bit of an up-and-down one for the Aussie. Managed to defend from Jaafar while chasing Ilyas in the first race, which made him the meat in a Malaysian sandwich. In the second he drove a corker, finally penetrating Fong's defences into the third corner on the penultimate lap to take third and holding off Harvey for the remaining lap and a half. But he spun almost into the crops at Riches in the final race and didn't really make much progress once he'd recovered.
Spike Goddard (T-Sport Dallara-Mugen): 10th/14th/14th
Crucially passed Padayachee for second in the National Class into the Montreal hairpin on lap four of the first race, allowing him to extend his points lead on his fellow Aussie. Ran third overall in reversed-grid race until he got a drive-through penalty for being out of position at the start. There were a few errors in his fight with Padayachee in the finale, but Goddard got the upper hand for third.
Pedro Pablo Calbimonte (T-Sport Dallara-Mugen): DNF/12th/13th
Encouragingly shared the National Class poles with the experienced Fong, but was mortified to take out Sainz and Fantin in the first race after getting on the grass up to the hairpin - he was unable to stop at the hairpin, with predictable results. Sunday was very solid though, with a couple of composed performances giving him second in class in each race, although well behind Fong.
Geoff Uhrhane (Double R Dallara-Mercedes): 9th/10th/11th
The Aussie's first-race result gave him a second-row position for the reversed-grid race. Had a clash with van Asseldonk on the second lap that damaged the floor and, later in the race, he started sinking down the order. Had a terrible opening lap to the final race with at least two offs, but once he settled down he was pretty rapid and was on the tail of Ilyas by the finish.
Fahmi Ilyas (Double R Dallara-Mercedes): 5th/DNF/10th
Happy with his result in race one, even if a mistake dropped him back from van Asseldonk and meant he was no longer able to follow the lines of the guys in front. Was trying to defend 10th from Derani at the Esses in race two when they touched and he went off - he'd already damaged his front wing. Patiently picked his way past Fong in the final race just as team-mate Uhrhane was beginning to threaten.
Duvashen Padayachee (Double R Dallara-Mugen): 11th/13th/16th
Never quite recaptured the heights of Spa although he was well in the mix for the National Class fight. Lost out in battle for second with Goddard in race one, then had another fight with his fellow Aussie in the final race, which was finally decided when Padayachee had one off too many.
Adderly Fong (CF Dallara-Mugen): 8th/9th/12th
Three wins out of three and a maximum 63 points again for the Chinese driver and the Welsh team after their late start to the 2012 campaign. He made sensational starts to all the races and competed well. Highlight was clinging onto third place in the reversed-grid race until his defences were finally prised open by McBride, at which point Fong waved the next few by.