'Respecting track limits', or not doing so, is a scourge of modern-day motor racing, a direct consequence of those asphalt run-off areas that blight circuits these days.
Admittedly, asphalt run-off is better than the gravel traps that used to suck cars in, causing a relentlessly dull series of safety-car periods. But it has led to the current proliferation of penalties - and they struck British F3 at Rockingham last weekend.
After qualifying, Carlos Sainz Jr, Harry Tincknell and Pipo Derani were shoved to the back of the grid for the first race, while Jazeman Jaafar and Hannes van Asseldonk had to discount one laptime. Interestingly, although qualifying decided the grid for two races, the penalties were only applied for the first. All five drivers were deemed to be running too wide at the Gracelands left-hander.

Predictably, there was upset. Sainz in particular was furious that he had not been given an official warning on the timing screens, something that had been blinked up for Tincknell and Derani (and Pietro Fantin, who went unpenalised).
Now, young Carlos is still only 17, but his eloquence in explaining his point of view - in a language that is not his native tongue - is remarkable: "I am disgusted. Not even one warning on the screens. How do you know at 200km/h if you are putting one wheel in or one wheel out? We are racing drivers on the limit, so how can we see this?
"I've been in many championships - Formula Renault Europe, Renault North European Cup, Formula BMW and some Formula 3 - and in them you always get a warning. It's not hard to put on the screens '#31, be careful, track limits'."
Predictably, senior clerk of the course Bernard Cottrell was in for an ear-bashing.
"The drivers who we took all the times away from did it [ran wide] between eight and 11 times," he explained. "The others who lost one laptime did it four times. With Carlos, we didn't get the information until late. And it's not part of the regulations that a warning has to go up on the screen."
There was discretion, however, with only changing the grid for race one. "What I was keen not to do was penalise them for both races," Cottrell continued. "You shouldn't pay a penalty twice."
Sainz was not happy with the penalties © LAT
But there would be another penalty for Sainz, and Nick McBride, for the same offence committed in race one. It had a big impact on the reversed grid for the second race, and there was the ludicrous sight of cars being wheeled backwards and forwards on the grid as video evidence revealed a miscarriage of justice for McBride.
You can read about reactions to that in this week's AUTOSPORT magazine. It was easy to sympathise with Cottrell and others in race control on this occasion, for an unusual set of circumstances had led to a sticky situation whereby the evidence had to be shown very soon before the race. It was a case of 'damned if you do, damned if you don't', but at least justice was seen to be done.
Now, if you planted trees or stuck up some Armco on the exit of corners, all this track-limits nonsense would disappear overnight...
STAR IN A REASONABLY-PRICED DALLARA
Heikki Kovalainen's performances for Caterham/Team Lotus/1Malaysia Racing/that team that lives in the old TOM'S GB gaffe have shown that the desire is still there for the Finn to succeed in Formula 1.
It's a spirit he has carried throughout his career, and was on display from his earliest days in single-seaters, in Formula Renault UK and then the British Formula 3 Championship.
His F3 campaign of 2002 with Fortec Motorsport was a season of two halves. Results were patchy up until the midpoint, but a win in the non-championship British Grand Prix support race unleashed a run of five victories that vaulted him to third in the table (behind Robbie Kerr and James Courtney) and second in the Macau GP.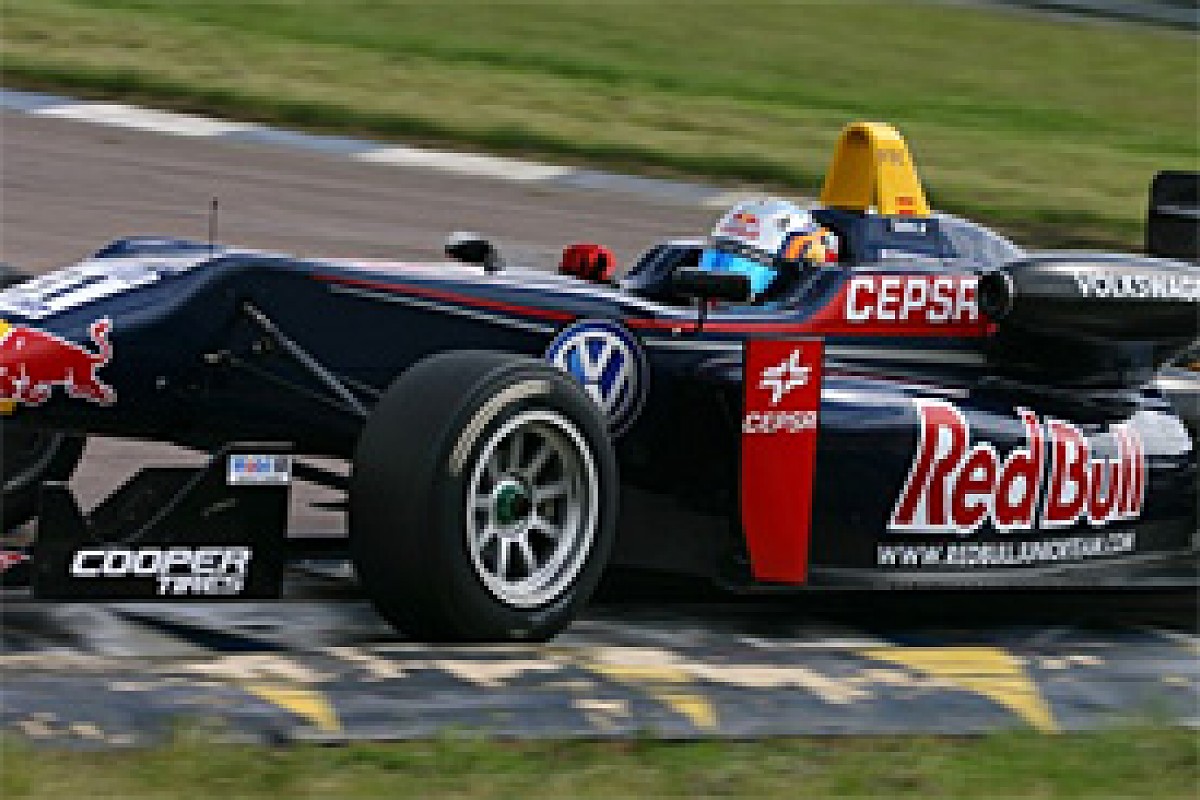 Kovalainen in F3 action during 2002 © LAT
Fortec boss Richard Dutton was at the 30th birthday of his pal Fredrik Ekblom (now a star of Scandinavian tin-tops) when he was asked who he wanted in his team for 2001. When he said 'Kimi Raikkonen', he was told there was a better Finn in karting. Intrigued, he gave this young starlet a test in an F3 Dallara-Renault at Donington.
"We gave him 96 laps, it was his first day in a car, and by the end of it he'd matched Gianmaria Bruni's best lap from that season," says Dutton.
"I bought Carlin Motorsport's Formula Renault team to run him in 2001 - he had no budget - but the problem was he was doing National Service. He didn't do any testing and he'd turn up at races with his backpack looking absolutely knackered. By September he started winning, and I took the idea for a Renault Driver Development scheme to Renault, they picked up on it and gave it to Flavio Briatore to run."
His F3 season followed a similar pattern, Kovalainen fairly closely matched with team-mate Fabio Carbone early on before shading the Brazilian later in the season. "At the beginning of the season Heikki was quicker in some areas and Fabio in others," continues Dutton. "They worked off each other, and then Heikki turned it around.
"I miss him - he lived in my house until he got the Renault F1 deal [for 2007]. He'd actually gone to live in Barcelona to race in the World Series by Nissan, because Renault had told him that was a good idea, but he didn't like it there, came back to mine and went on to win the championship!"
As a fan and friend of Kovalainen, Dutton reckons he still has life left in him as a contender for F1 wins: "He's massively talented. At Renault he showed he was good and at McLaren he didn't get a fair crack - he was there to support Lewis Hamilton. If he got in a Lotus he'd be away...
"The great thing about him is that he always looks happy. He just knows he has to do the best he can do."
DRIVER BY DRIVER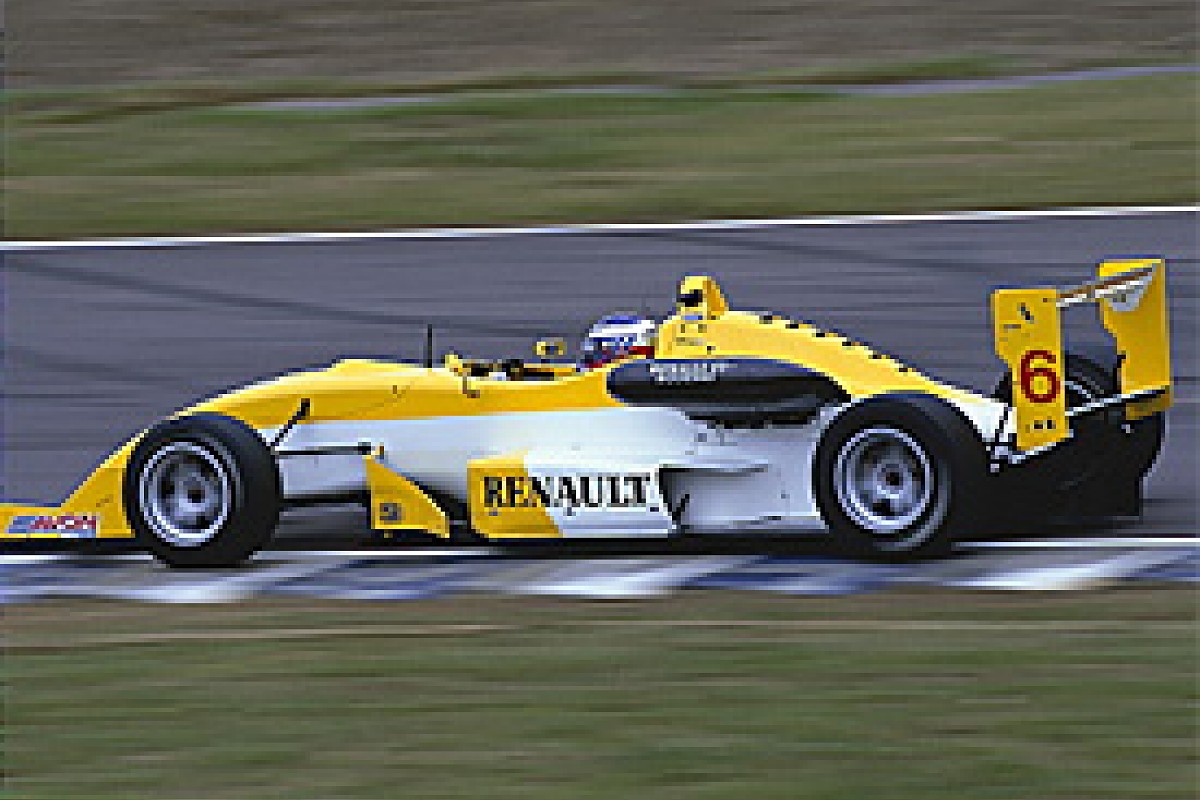 Harvey had a fantastic final race © LAT
Jack Harvey (Carlin Dallara-VW): 5th/3rd/1st
Extraordinary performance to blow everyone's doors off in the final race, and he'd hinted at this by comfortably taking a double pole in qualifying. Lost any chance of race one win with poor start, followed by getting shuffled out at the first hairpin. Didn't get a great start for race two either but pulled a great move on van Asseldonk into Tarzan, then passed McBride to take third.
Pietro Fantin (Carlin Dallara-VW): 6th/2nd/9th
On the circuit where he starred to win with Hitech Racing last year, the Brazilian was perhaps a little closer to the pace but still slightly short. Felt that his tyre pressures may have been too high on his second set in qualifying, so that the rears went off too soon. Dropped from fourth to sixth in first-lap fighting in race one, but took a good reversed-grid podium; knowing he couldn't pass Tincknell, he backed off then set fastest lap. Could not find a way past Ilyas in final race.
Harry Tincknell (Carlin Dallara-VW): 7th/1st/DNF
Track-limits grid penalty for race one preceded strong opening-lap charge before claiming seventh, thereby taking a front row for reversed-gridder. Got McBride off the line and did a good job to control the race. Fifth on grid for finale, but got hit by Ilyas on first lap, and as he fought to regain control he was clipped by van Asseldonk, breaking a trackrod and forcing him out.
Jazeman Jaafar (Carlin Dallara-VW): 1st/6th/4th
Took full advantage of Harvey and Lynn seeming to be stuck in glue at start of race one with a flier, and then held a two-second advantage throughout for his first 'overall' British F3 race win. Was sixth in reversed-grid race, in which he chased van Asseldonk, then he led the Dutchman throughout the finale after a hesitant start to claim fourth. Very strong weekend, which he ended in the lead of the championship.
Carlos Sainz Jr (Carlin Dallara-VW): 10th/12th/3rd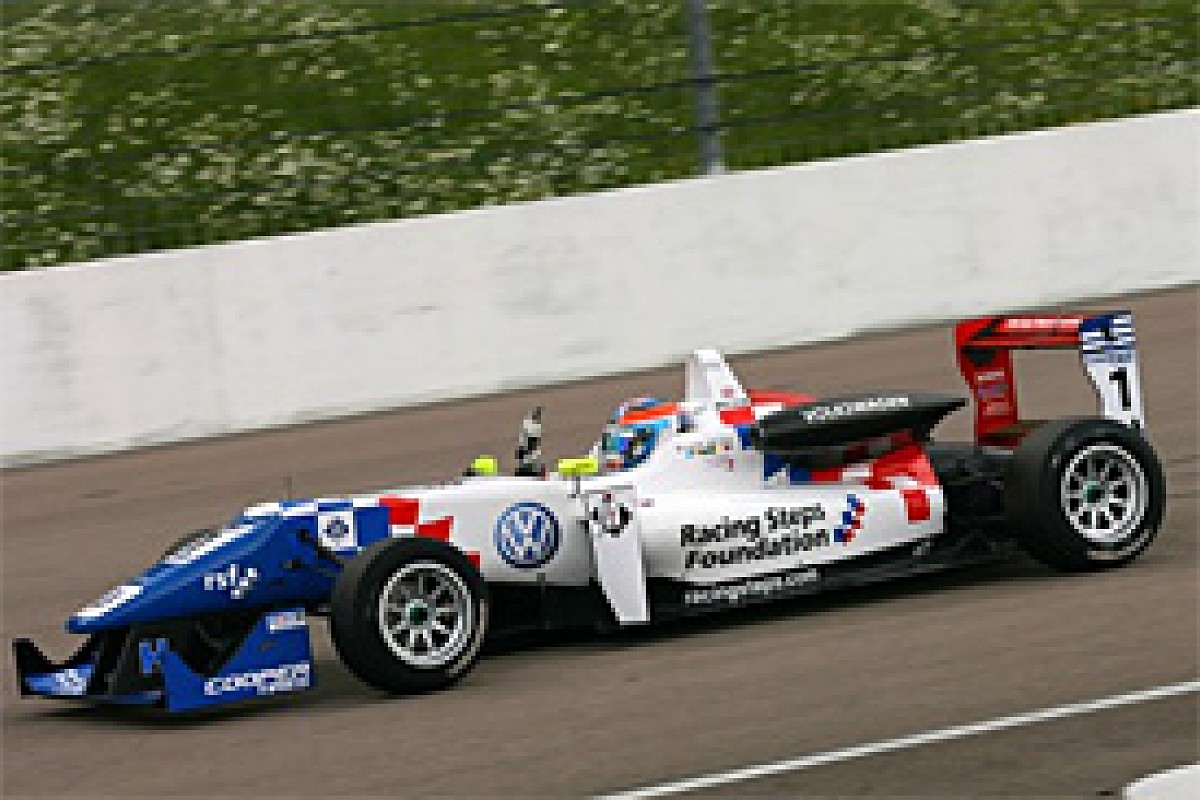 Sainz had a weekend to forget © LAT
Disaster! Track-limits penalty put him at back of grid for race one, then he tattered his nose and bent the front wing on the first lap, putting him way off the pace as he clung onto eighth - and that got another track-limits penalty. That deprived him of reversed-grid pole, and on his rooted tyres from race one he was struggling for pace before spinning off in a collision with Ilyas. Relieved to claim a podium in race three, although lost rear grip early on.
Pipo Derani (Fortec Dallara-Mercedes): 9th/8th/7th
After a strong Monza and Pau the Brazilian was a little adrift this weekend. Got a track-limits grid penalty for race one and was trying to pass Uhrhane at Chapman Curve when they collided and spun. Thought he had reversed-grid pole until evidence from T-Sport put McBride up there and bundled Derani down to ninth, so it must have been very sweet when he dived down the inside of the Aussie on the final lap at Deene hairpin to claim eighth. Passed Ilyas in race three to take seventh.
Felix Serralles (Fortec Dallara-Mercedes): 3rd/4th/6th
He says he doesn't like Rockingham much and didn't feel particularly on form there, but a very strong opening lap in race one gave him a third place from which he ran strongly all the way, sandwiched between team-mates Lynn and van Asseldonk. Took advantage of a van Asseldonk error in the reversed-grid race, then got McBride to claim fourth, but couldn't quite get on terms with van Asseldonk in the final race.
Hannes van Asseldonk (Fortec Dallara-Mercedes): 4th/5th/5th
At last, three good finishes and no crashes for the Dutchman. After strong pace in testing he was contrite in admitting he didn't get his act together properly in qualifying. Raced well to take fastest lap and hold off Harvey in race one, despite a mistake at Kirby that let the Brit onto his tail. Kept Jaafar comfortably at bay in reversed-gridder, then chased the Malaysian throughout the finale.
Alex Lynn (Fortec Dallara-Mercedes): 2nd/7th/2nd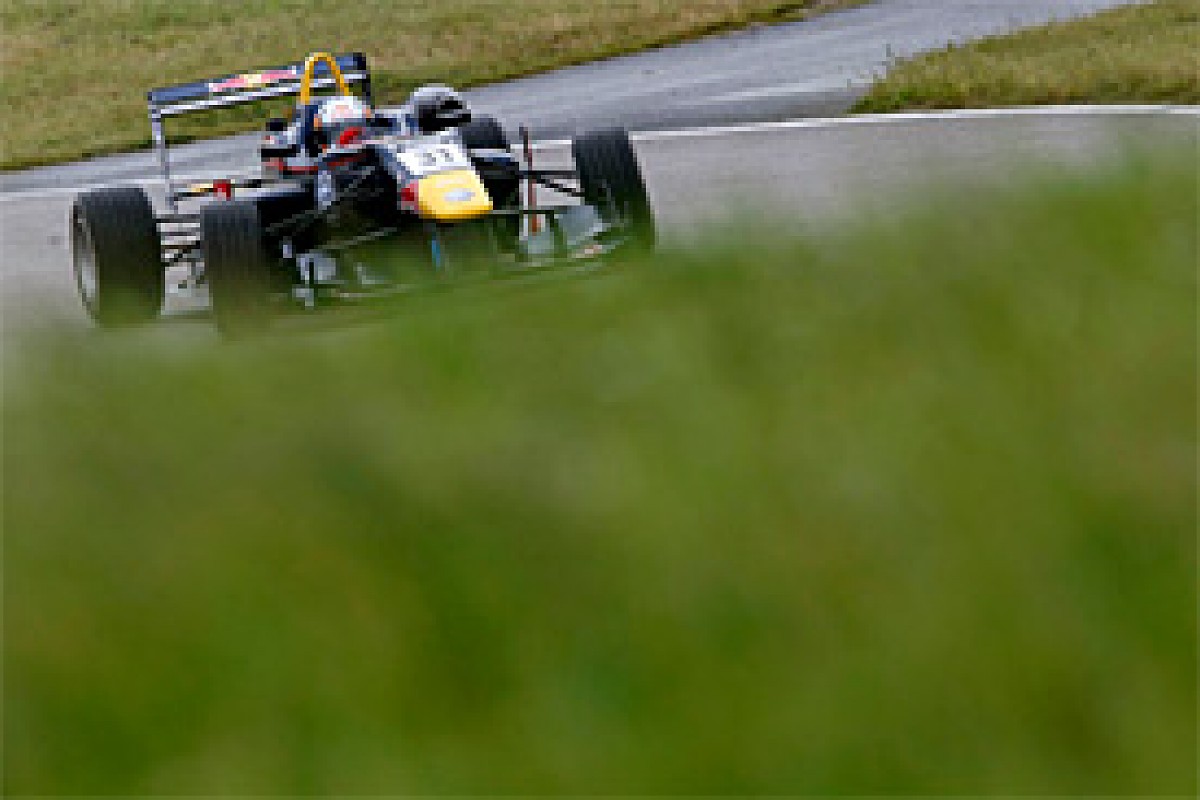 Lynn showed progress with two podiums © LAT
Lynn is really beginning to rack up some strong results now. Looked very good to notch up two front rows in second half of qualifying, after nightmare opening laps that included clipping the tyres and stalling at the Brook chicane! Did a good job in first-lap Deene shuffling to retain his second position despite poor start to race one. In the final race he couldn't keep Harvey in sight, but kept Sainz behind him.
Nick McBride (T-Sport Dallara-Nissan): 8th/9th/10th
Chased troubled Sainz in opening race, before being spun off by Ilyas (who was unlapping himself!), but grabbed reversed-grid pole with an eleventh-hour decision from the officials to rescind his track-limits penalty. But it was a disappointing race for the Aussie, who gradually sunk down the order to ninth. Kept Ilyas and Fantin on their toes in the final race but couldn't get close enough to make a move.
Spike Goddard (T-Sport Dallara-Mugen): 11th/14th/DNF
The National Class points leader kept rival Padayachee at bay in the first race, then had a great battle with his fellow Australian in the second before a spin at the Brook chicane with two laps remaining put him a long way behind. Collided with Uhrhane in the final race on the first lap, forcing him into the pits to retire with significant front-end damage.
Geoff Uhrhane (Double R Dallara-Mercedes): DNF/11th/12th
Went out of the opening race when he closed the door on Derani at Chapman Curve and, as a consequence, spun onto the grass. Kept team-mate Ilyas on his toes in the second race, and then lost more than a lap in the final after a collision with Goddard on lap one that resulted in a pitstop for a new nose section.
Fahmi Ilyas (Double R Dallara-Mercedes): DNF/10th/8th
A rather incident-packed weekend for the Malaysian. Needed a new front wing in race one after contact on the opening lap, then went quickly before colliding with McBride and spinning off while attempting to unlap himself from the Aussie. Lost a couple of places in the second race when he clashed with Sainz, then made contact with Tincknell on the opening lap of the finale, although he mounted a stout defence from Fantin.
Duvashen Padayachee (Double R Dallara-Mugen): 12th/13th/11th
His best weekend yet. Shadowed Goddard throughout first race, claiming National Class fastest lap, then took two category wins on Sunday. In the first he'd been swapping places with Goddard before his rival spun, then he was left to cruise it in the final race as the only surviving driver in the class.