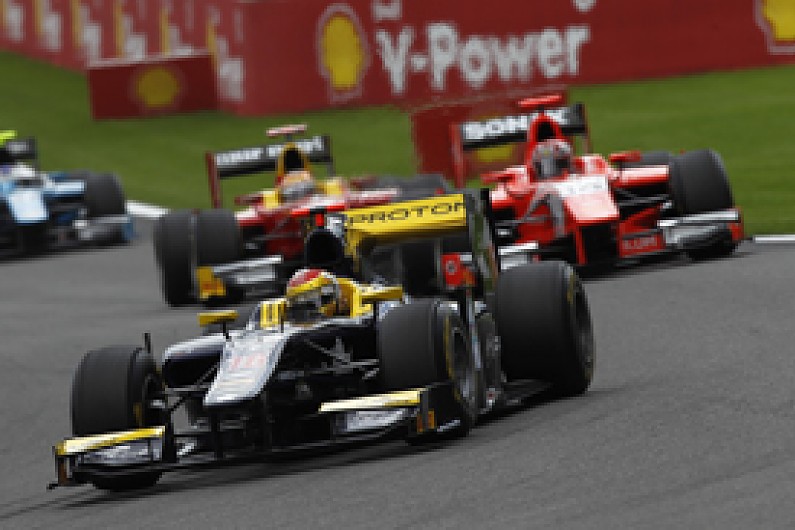 The GP2 series will use two different types of tyre compounds for its races from 2012, emulating Formula 1 regulations.
A total of four sets of Pirelli tyres will be available to each driver over the weekend, comprising three sets of the harder, prime compound, and one set of softer, option tyres.
Drivers will have to keep one set of prime for the sprint race, meaning they will be able to choose between the remaining two sets of prime and the one set of option to use either during practice, qualifying session and the feature race.
There will still be a compulsory pitstop in the feature race.
Like in F1, Pirelli will use colour codes to differentiate the compounds.
"The new tyre rule offers a fantastic opportunity to the drivers," said GP2 boss Bruno Michel.
"Our Series' main goal has always been to prepare them to Formula 1 and so far we have been very successful at it. More than ever, tyre management is key to how quickly young drivers can adapt to the pinnacle of motorsport.
"However, although we will introduce a second compound, we have decided to keep only four sets of tyres per race weekend in order to control the costs.
"It will be interesting to watch as our teams will put in place the best possible strategy. It will add even more suspense, but it will also make tyre management all the more delicate. We're very happy that Pirelli will help us achieve that."
The 2012 season will also see both GP2 and GP3 adopt the same scoring system as in Formula 1 (25, 18, 15, 12, 10, 8, 6, 4, 2, 1).
The top eight finishers in the feature race will be reversed for the sprint race and the top eight finishers will score points (15, 12, 10, 8, 6, 4, 2, 1).
There will be four points allocated for pole position and two bonus points in each race for fastest lap.
Autosport has produced a standalone special magazine to celebrate our 70th birthday. All current print subscribers will receive a copy for free. To order your copy of the 196-page Autosport 70th Anniversary issue, please go to: autosport.com/autosport70th