Williams Formula 1 driver George Russell has praised the Tecpro barrier system after the huge crash involving Luca Ghiotto and Jack Aitken in Sunday's Formula 2 feature race in Sochi.
Russell contrasted the outcome with what happened in the Belgian GP when Antonio Giovinazzi's Alfa Romeo rebounded off a tyre wall in front of him, and he was left with nowhere to go.
In Russia Ghiotto and Aitken made contact and flew off the track at the high-speed Turn 4.
The former's car went under the Tecpro and the latter's slipped between two sections, but nevertheless the barrier did its job in absorbing the impact, and both drivers emerged without injury.
"Obviously, it was really positive to see those guys get out of the car so quickly with such a huge impact," said Russell when asked about the crash by Autosport.
"It was a scary speed. I guess it shows what a great job the FIA has been doing and F2 have been doing to create such a strong car.
"And I think the Tecpro was also really interesting, it obviously took the speed out of it really well.
"What was probably quite nice was it didn't have a rebound effect, which is often what you have with tyres, like you saw with Giovinazzi's incident at Spa.
"He hit a tyre barrier and he rebounded into the track into the line of sight of others."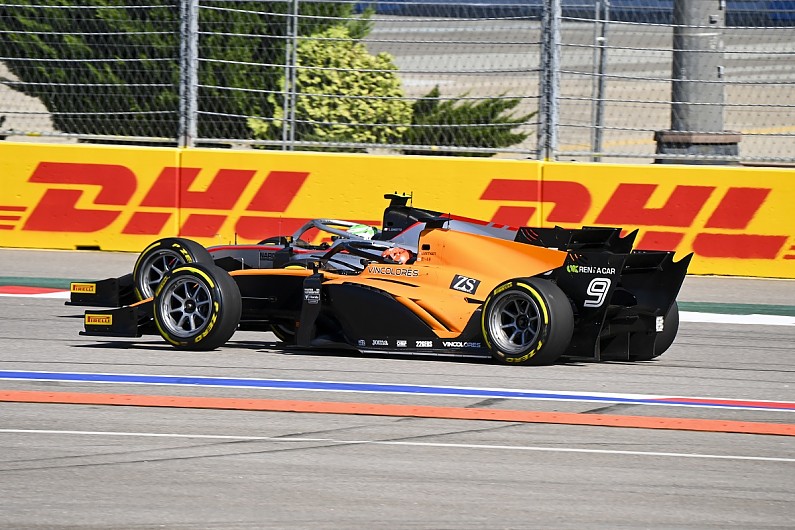 However Russell cautioned: "The only negative is obviously that Tecpro went over the top of the car. That car ended up on fire, and he [Ghiotto] was very fortunate to be able to get out of it.
"Had that Tecpro been over the top of his helmet, it may have been a different story.
"So all in all, I guess to see a crash at that speed is shocking. And the way they walked away from it was refreshing for drivers."
Renault's Daniel Ricciardo agreed that the barrier had performed well, and that it had proved its worth in absorbing the heavy impact.
"The crash was obviously very big," he said. "Tecpro I think was really good for that.
"I was quite amazed they got out so easily, which was obviously what everyone wanted to see. I would definitely say the Tecpro is very important on some of these high-speed corners.
"It does absorb a lot, and it lets the car kind of slow down gradually by the look of it."
FIA F1 race director Michael Masi said that the accident would be studied to further improve the application of modern barrier systems.
"I think you always learn different elements from different incidents," he said .
"To say here and now what have we learned is probably a little bit premature.
"But we've got all the camera angles, we'll have a look at all of the footage. We'll always learn something, be it small or large, you always learn."