Prema Racing Formula 2 driver Sean Gelael will drive a Citroen Racing-supported C3 R5 in the Indonesian Rally Championship finale, in the same place the World Rally Championship was held.
Gelael has competed in Formula 2 (previously GP2) since 2015, and has also participated in a handful of free practice sessions with the Toro Rosso F1 team in his single-seater career.
The Indonesian driver - who partners Ferrari junior Mick Schumacher in F2 - started his career in rallying before karting, and his father Ricardo achieved success at national level.
Gelael will compete on the Danau Toba gravel rally in the Indonesian Championship finale.
The event is held in the same place Carlos Sainz won both WRC Rally of Indonesia events in 1996 and 1997 in a Ford Escort Cosworth.
In 1994 and 1995 the rally ran as a candidate event before being accepted onto the WRC calendar, with Kenneth Eriksson and Colin McRae winning the event in consecutive years.
"The week before Abu Dhabi [F2 2019 finale] we have an Indonesian championship rally in North Sumatra of Indonesia, so the idea is to bring more life into Indonesian motorsport," Gelael told Autosport.
"Obviously it's a fun thing to do and it's always good to drive something, but also to help improve motorsport in Indonesia and make it bigger for the younger communities.
"We start testing next week with Citroen to start to adapt to the conditions.
"North Sumatra used to host the World Rally Championship, Carlos Sainz won there, [so] there's a lot of history there.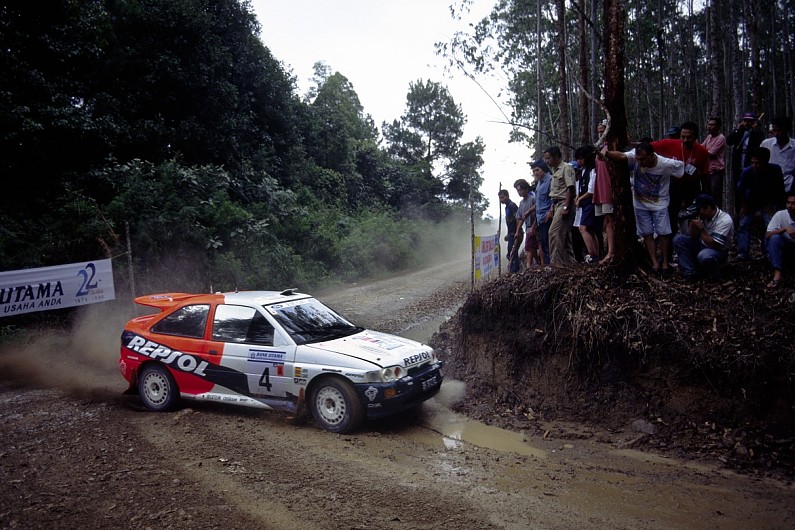 "It's kind of gravel-y so that's super interesting, windy roads. But also there's a lot of technical corners as well.
"I think it's a super-fun championship, especially if it rains as it will be the trickiest conditions ever, because the mud they have is not like dry gravel mud - it's like real damp mud.
"November is rain season in Asia so that will make it super fun to watch. But hopefully it stays dry for the fans."
Gelael will be co-driven on the event by Tony Sircombe, an experienced navigator who has guided the likes of "Possum" Bourne and Toshi Arai.
With F2's Abu Dhabi season finale next month, Gelael says his current focus is seeing out his single-seater season in the strongest way possible.
He has been linked to a DAMS F2 seat next year, but says his future is not yet decided.
When asked if he plans to return to F2, he said: "I'm not saying no to anything."