Honda Formula 1 junior Nobuharu Matsushita says he has no fear about getting back in a Formula 2 car after the Sochi crash that kept him in hospital.
Carlin driver Matsushita was caught up in an incident at the start of the Sochi sprint race at the end of last month when he was hit by Nikita Mazepin, who had in turn collided with Jack Aitken.
Matsushita and Mazepin were taken to Sochi Hospital but, while Mazepin - who was deemed to be wholly at fault for the clash - was released almost immediately, Matsushita was kept in for two days.
The Japanese driver has now resumed training ahead of the final F2 round of the season in Abu Dhabi, where he could finish as high as fourth in the championship - although for that to happen he will have to score maximum points and hope his rivals falter.
"The impact was quite big and probably my head has shaken little bit during the crash so I had constant headaches [for] about one or two weeks," Matsushita told Autosport.
"Fortunately, no physical damage and FIA gave us the OK [to race in Abu Dhabi]. And the gap between Sochi to Abu is almost two months - long enough to reset my mind.
"My mind situation is pretty good and ready. And I'm not feeling fear or hesitation to get back in the car. [I'm] ready to fight."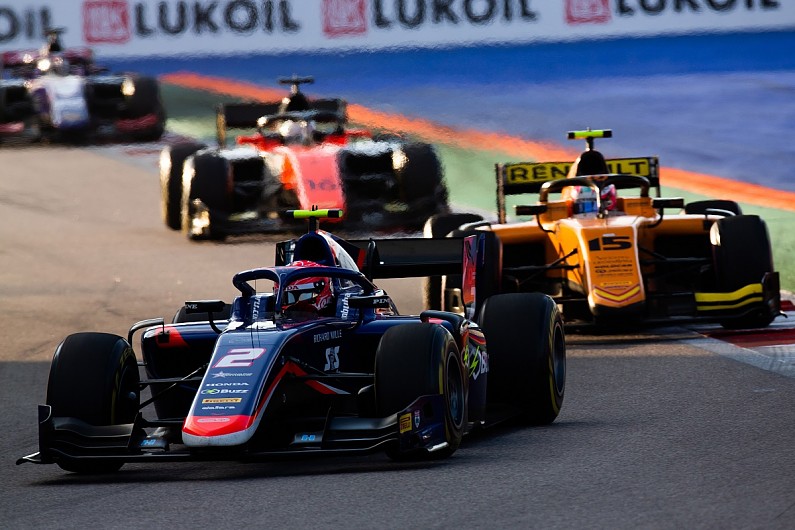 It is not yet clear if Matsushita will remain in F2 next season.
Red Bull and Honda junior Yuki Tsunoda has been tipped for a drive in the series, but Matsushita is the engine manufacturer's only other representative currently in F2.
Matsushita, who is in his fourth year in F2, was tight lipped on his plans for next season.
"Probably we will have good speed for qualifying and race pace as well, so simply I will push and go for the win and I'd like to finish the season in best way," he added.
"We are pushing hard to get a good opportunity for next year. But for the moment nothing to tell."