Mick Schumacher has credited the Ferrari Formula 1 Driver Academy with helping him to understand Pirelli's Formula 2 tyres, after taking his first series victory in Hungary.
The 2018 European Formula 3 champion made the most of a set-up change to reduce understeer in the second race of the Hungaroring weekend, and saw off Honda-affiliated Carlin driver Nobuharu Matsushita for the win.
European F3 cars ran Hankook tyres that rarely degraded, and Schumacher has had to work to adapt to the tricky Pirelli tyres, which have to be coaxed into a narrow operating window purely on feel, with less available track time this year.
Asked how much Ferrari's young driver training programme - of which current F1 driver Charles Leclerc was a long-term member - had helped his development, Schumacher said: "I think it would have been harder to get used to F2 and also the F2 tyres [without it].
"We work very closely and I am very thankful for that, getting all the help and the feedback we need before the race.
"I always get small tips around wind conditions and whatever, not going into too much detail but in general I do improve massively from their support."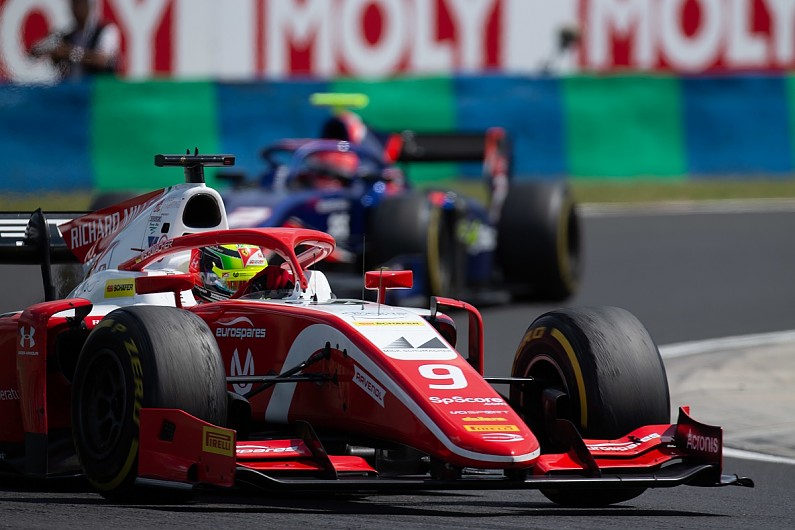 Schumacher added his Prema team had also contributed to his improved understanding of the tyres.
"I went into the season trying to learn as much as possible about the car, about the tyres, because that was really the one point that was really different to what I was used to in F3," he said.
"In general I think we have done well.
"There were races where we showed we were able to fight for wins.
"Obviously now we have won here which was something very special and shows you can step up from F3 to F2 and get used to the tyres.
"You need a good team to explain that for you."
Schumacher is 11th in the points, and 62 behind the leading rookie in the championship, Guan Yu Zhou, who he was team-mates with in European F3 last year.
Asked if he was ready to make a step up to F1 - having driven the 2019 Ferrari and Sauber F1 cars in testing earlier this year - Schumacher said: "Only time can tell.
"I think having my first victory in F2 is a great thing but I still need to work a lot on myself, whether I get into F1 in one year or two years or three years I don't know.
"I'll do my best possible and try to learn as much as possible so that when I do that step I'll be ready and feel comfortable in whatever team I go to."