The FIA will investigate a rule that allowed banned Formula 2 driver Mahaveer Raghunathan to race on in the series during the Paul Ricard weekend.
MP Motorsport driver Raghunathan infringed the virtual safety car rules three times in the Paul Ricard feature race, which meant he reached 12 penalty points.
Introduced in Formula 1 in 2014, the penalty points system stipulates that any driver who reaches 12 penalty points will have their superlicence suspended for the next round.
The rule was originally introduced solely for F1 and that meant the wording of 'round' was satisfactory as it only races once per weekend, but the F2 and FIA Formula 3 championships have two races per weekend.
This meant Raghunathan was able to contest the F2 sprint race at Paul Ricard but will be banned from competing at the Red Bull Ring next weekend.
---
How Raghunathan's penalty points were accrued
Bahrain: Did an extra lap after the race had finished at racing speed
Baku: Failed to stop for weighbridge in practice, passed a car before the control line on a safety car restart in race two
Monaco: Crashed into Jack Aitken, 20s added to race time
Paul Ricard: Infringed three virtual safety car procedures
---
FIA race director Michael Masi confirmed on Sunday that the rule would be looked into for the support categories for 2020.
"It is something that we had a long chat about last night [Saturday] and this morning [Sunday]," said Masi.
"I don't think it is a loophole, it is an unintended consequence when it is the penalty points regulations, from my understanding having not been around when they were designed, they were designed for an F1 event with one race, not two.
"And, the regulations are quite specific being a mirror, to an extent, of each other that it is non-participation in the next event and the next event is Thursday to Sunday, the entire weekend.
"It is [the Raghunathan incident] one of those that we had a long chat about, but he was allowed to participate [in race two].
"It is something we will look at with the steering group and go from there, which is how those regulations were formed."
Speaking in is post weekend debrief on the Formula 2 website, F2 and FIA F3 series boss Bruno Michel agreed that a look into the regulation is required.
"One of our drivers has received a suspension for next event before we've even reached mid-season, and I feel for Mahaveer Raghunathan.
"A few drivers have also accrued quite a lot of penalty points this far.
"I believe that together with the FIA, we should think how we can best apply the penalty points system for F3 and F2.
"I believe that what works for F1 does not necessarily work at our level.
"Obviously, this cannot be changed for this season, but will need to be addressed for the future."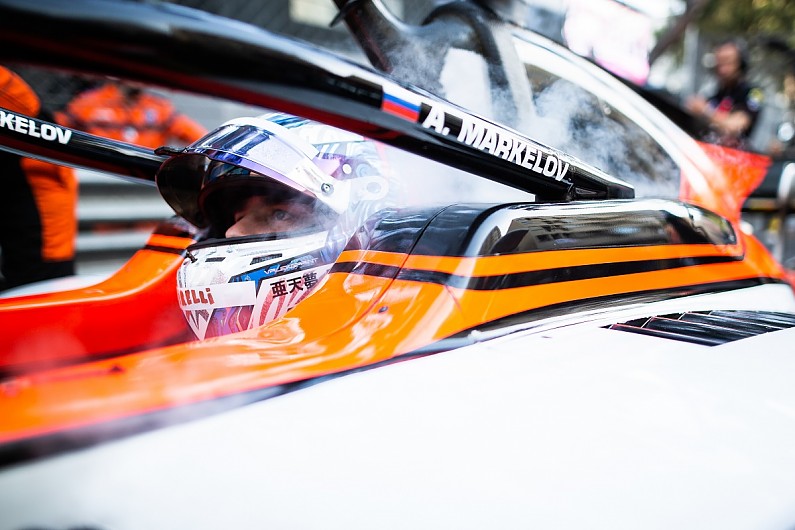 The MP Motorsport squad has not ruled out Artem Markelov returning to its F2 team for a second time this season, in order to replace Raghunathan in Austria.
The team previously brought Markelov in for Monaco, replacing Jordan King when he was racing in the Indianapolis 500.
Markelov - who finished 16th in Super Formula last weekend - took a sixth and a fourth in Monaco.
When asked if the five-year F2 veteran was an option, MP boss Sander Dorsman said: "Yeah, he could be. But to be really honest, it's still so fresh.
"We really haven't looked into it yet. We've just finished the races here and now and next week we look at it."
When asked if he had set a deadline for a decision, Dorsman added: "No, I'm not too worried about it, to be honest, it comes as it comes."
Markelov has experience of the current car and had a seat fitting prior to his Monaco cameo. He finished fifth in the championship with Russian Time in 2018 before his Super Formula switch for this season.