Sean Gelael has been disqualified from Formula 2 qualifying in Baku after he hit two marshals at low speed as they helped him restart his car.
Gelael had stopped at the exit of Turn 7 because "the engine just went off", and he tried to restart the car. A red flag came out just after.
Two marshals were pushing at the middle of the Prema Racing-run car and Gelael eventually got it restarted.
When he succeeded the marshals appeared to be taken by surprise and were hit by the rear wheels of the car as it moved forward.
He made it back to the pits but didn't take part in the remainder of qualifying.
An F2 statement said: "While being pushed to a safe location by the marshals, Gelael restarted his car - which resulted in a dangerous situation for the marshals.
"He was then prohibited from taking any further part in the session.
"Furthermore, it was decided that he was disqualified from the results, but the stewards have given him permission to start tomorrow's feature race from the back of the grid."
Gelael had a nightmare start to the season in Bahrain when his DRS stuck open in race one and he spun off backwards at Turn 1, miraculously avoiding any other cars but having his weekend ruined.
"Hopefully our misfortunes stop after this," Gelael said speaking before the disqualification.
"You learn patience and you learn perseverance and hopefully we can still get some points tomorrow.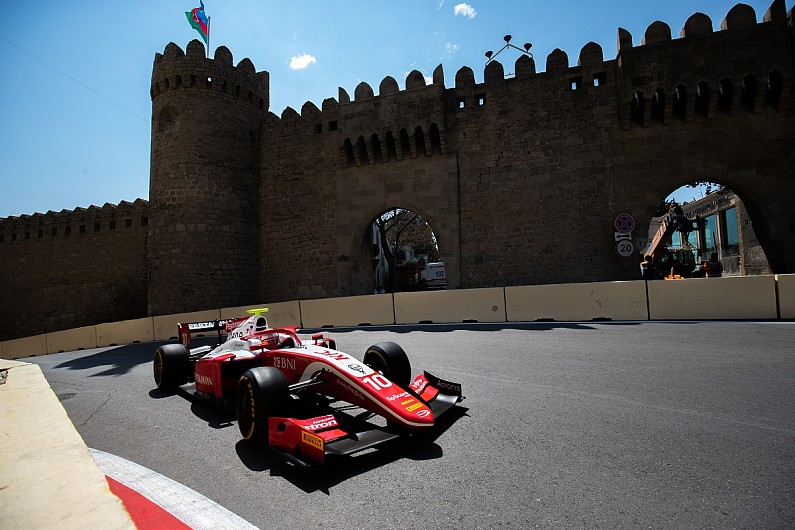 "It's a shame because I think in free practice we were quite competitive and with a cleaner run we could have been even faster.
"In qualifying, I was approaching Turn 8 and after going over a kerb at quite slow speed, the engine just went off.
"I don't know what happened.
"We saw the DRS [stick] open in Bahrain and now this so anything can happen, but anything can happen in the race too so we can still do a good job."
MP Motorsport driver Mahaveer Raghunathan was also penalised after missing a visit to the weighbridge.
He already had a 10-place grid penalty carried over from Bahrain - where he ran an additional lap after the chequered flag in race two - so he will start Saturday's feature race from the pits.