Arden's Norman Nato won a breathless Formula 2 sprint race in Baku after on-the-road victor Charles Leclerc dropped to second with a 10-second time penalty.
Nato - who led for most of the race once a gearbox problem had eliminated early leader Oliver Rowland - took his first victory of 2017 despite being passed by championship leader Leclerc, who was given a penalty for failing to slow for yellow flags.
DAMS driver Nicholas Latifi completed the podium as he finished over 10s behind the battle for the lead.
At the start of the 21-lap race, Rowland attacked polesitter Ralph Boschung on the run to Turn 1 but the Campos Racing driver defended hard against the pitwall.
The tighter line meant Boschung went wide at the exit of the first corner, which gave Rowland the chance to dive up the inside for the left-hand Turn 2 and the Briton grabbed the lead under braking.
Rowland began to edge clear and Boschung came under attack from Nato - who lost his right front wing end plate against the rear of the Swiss driver's car as he went by on lap three.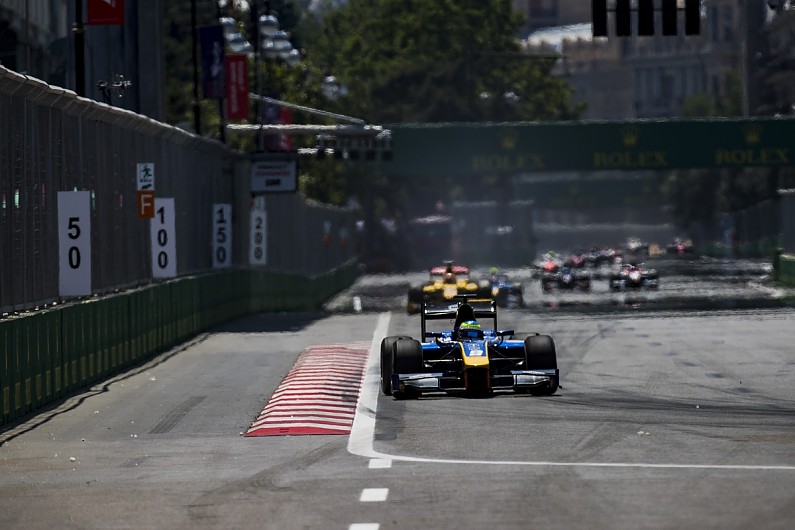 Nato then started to home in on Rowland while Leclerc, who started down in eighth place after winning Saturday's feature race, began to pressure a gaggle of cars including Artem Markelov, Sergey Sirotkin and Jordan King.
Rowland's race ended suddenly when he encountered gearbox issues at the start of lap eight, which allowed Nato to move into the lead.
At the same time, Leclerc finally began to make progress as he blasted past Markelov using DRS on the pit straight and defended hard when the Russian Time driver hit back.
Ferrari Formula 1 junior driver Leclerc moved up two places in a thrilling move as he and Sirotkin used their DRS advantage to sweep either side of Boschung heading into Turn 1 approaching half-distance, and Leclerc then dispatched ART Grand Prix driver Sirotkin around the outside of the left-hander.
Leclerc was 10s off the lead as he went past King with a familiar DRS blast on the main straight and he quickly closed in on Latifi, who was running second after Rapax's Nyck de Vries retired down the Turn 3 escape road.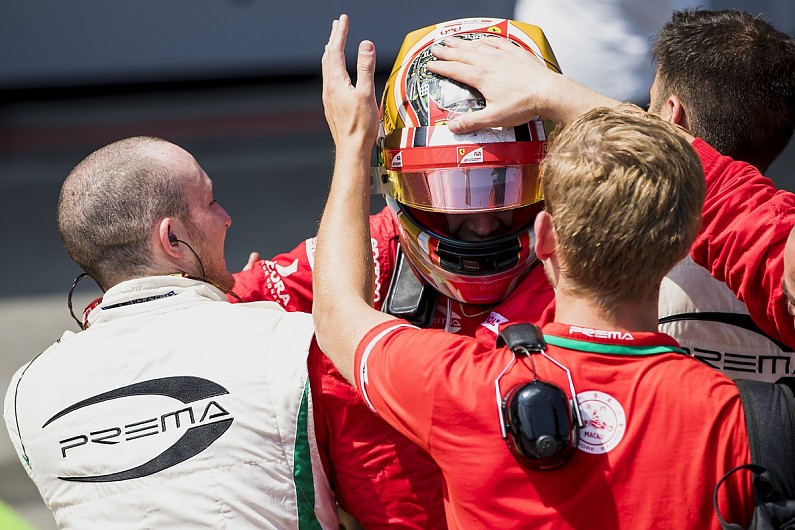 Prema Racing driver Leclerc eased past Latifi and then set fastest lap after fastest lap to chase down Nato for the lead.
But just as he was catching the French driver it was announced he was under investigation for failing to slow for yellow flags - the same offence that frustrated Rowland and three other drivers in the feature race.
Leclerc moved into the lead on the road with three laps to go but just a few moments later his penalty was confirmed and his chances of emulating Antonio Giovinazzi's double win in Baku for Prema in 2016 disappeared.
King finished fourth ahead of Sirotkin, Markelov, Nobuharu Matsushita, Luca Ghiotto, and Boschung.
Sergio Sette Camara rounded out the top 10 for MP Motorsport.
RESULTS - 21 LAPS:
| Pos | Driver | Team | Gap |
| --- | --- | --- | --- |
| 1 | Norman Nato | Pertamina Arden | 40m37.601s |
| 2 | Charles Leclerc | Prema Racing | 8.717s |
| 3 | Nicholas Latifi | DAMS | 11.574s |
| 4 | Sergey Sirotkin | ART Grand Prix | 12.792s |
| 5 | Artem Markelov | RUSSIAN TIME | 12.890s |
| 6 | Nobuharu Matsushita | ART Grand Prix | 14.472s |
| 7 | Luca Ghiotto | RUSSIAN TIME | 16.888s |
| 8 | Ralph Boschung | Campos Racing | 21.387s |
| 9 | Sergio Sette Camara | MP Motorsport | 27.343s |
| 10 | Sean Gelael | Pertamina Arden | 27.827s |
| 11 | Robert Visoiu | Campos Racing | 31.612s |
| 12 | Antonio Fuoco | Prema Racing | 32.664s |
| 13 | Gustav Malja | Racing Engineering | 34.645s |
| 14 | Johnny Cecotto Jr. | Rapax | 35.789s |
| 15 | Sergio Canamasas | Trident | 49.243s |
| 16 | Louis Deletraz | Racing Engineering | 57.152s |
| 17 | Nabil Jeffri | Trident | 1m38.931s |
| - | Jordan King | MP Motorsport | Disqualified |
| - | Nyck de Vries | Rapax | Retirement |
| - | Oliver Rowland | DAMS | Retirement |
CHAMPIONSHIP STANDINGS:

| Pos | Driver | Points |
| --- | --- | --- |
| 1 | Charles Leclerc | 122 |
| 2 | Oliver Rowland | 80 |
| 3 | Artem Markelov | 78 |
| 4 | Luca Ghiotto | 58 |
| 5 | Nicholas Latifi | 53 |
| 6 | Nobuharu Matsushita | 52 |
| 7 | Nyck de Vries | 45 |
| 8 | Norman Nato | 43 |
| 9 | Jordan King | 37 |
| 10 | Alexander Albon | 37 |
| 11 | Gustav Malja | 28 |
| 12 | Johnny Cecotto Jr. | 16 |
| 13 | Sergey Sirotkin | 9 |
| 14 | Ralph Boschung | 5 |
| 15 | Sergio Canamasas | 3 |
| 16 | Antonio Fuoco | 2 |
| 17 | Sergio Sette Camara | 0 |
| 18 | Sean Gelael | 0 |
| 19 | Louis Deletraz | 0 |
| 20 | Nabil Jeffri | 0 |
| 21 | Robert Visoiu | 0 |
| 22 | Roberto Merhi | 0 |
| 23 | Stefano Coletti | 0 |