Formula 2 driver Nicholas Latifi says the distraction of a lost mirror led to the error that cost him victory at Barcelona last weekend.
The DAMS racer was comfortably leading the 26-lap sprint race ahead of ART Grand Prix's Nobuharu Matsushita when his right-hand mirror fell off on the Catalunya circuit's main straight.
The mirror glanced his helmet - Latifi initially thought it was a piece of his front wing - and when he noticed its absence as he braked for Turn 5 a lap-and-a-half later, the momentary distraction led to him running wide into the gravel at the exit of the left-hander.
"The tenth of a second it took me to realise that it had snapped just switched my focus and I missed the braking point by just a little bit and I went off," he told Autosport.
"I'm just going to try and forget about what happened very quickly because it isn't going to do me any good.
"It's a huge disappointment but it is what it is, and I'm just really sorry for the team. The win was mine.
"I had no reason to look in my mirrors. I was just controlling the gap and then it happened."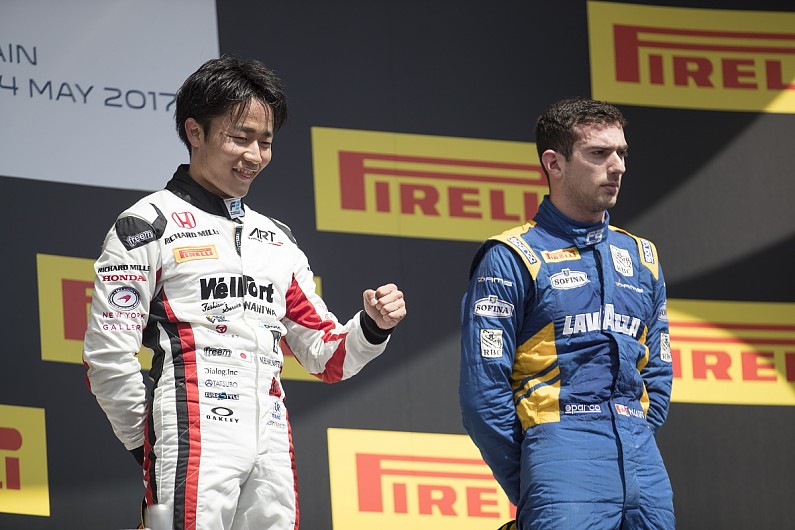 Latifi eventually finished third behind Nobuharu Matsushita and Oliver Rowland to pick up his first F2 podium of the season and his first in the rebranded championship since finishing second in the GP2 feature race at Barcelona last year.
Despite the disappointment of losing the race win, the 21-year-old was content with the rest of his performances in Spain - including a lightning quick start in the sprint race to seize the lead immediately from third on the grid.
"On Saturday night I was dreaming that I was going to be leading into the first corner - I felt confident with my starting procedure," he said.
"So yeah there are positives to take - my races last year were clearly my weakest points, and it's night and day difference between Bahrain [where he finished 11th and fourth] and this weekend.
"[In the feature race] I'm positive I would have been third if not for the safety car."