Nobuharu Matsushita won the Formula 2 sprint event in Barcelona after long-time leader Nicholas Latifi went off late in the race.
Honda-backed Matsushita scored his first F2 win of the season ahead of Oliver Rowland and Latifi, while race one winner Charles Leclerc finished fourth.
At the start, Latifi rocketed off the line from third on the grid and took the lead from polesitter Artem Markelov - who dropped to ninth place as a result of his poor getaway - on the long run down to the first corner at the Circuit de Catalunya.
Latifi was consolidating his lead when the safety car was deployed as the stricken cars of Nyck De Vries and Antonio Fuoco needing recovering from the exit of Turn 7 where they had spun off after the two Formula 1 junior drivers (McLaren and Ferrari) came together when the Rapax driver appeared to clatter the inside kerb.
The race restarted on lap three of 26 and Latifi surged clear of Gustav Malja as championship leader Leclerc swept around the outside of Jordan King to move up to seventh.
The Ferrari F1 junior then began a long battle with ART Grand Prix's Alexander Albon as Latifi extended his lead at the front.
By this stage Matsushita was third behind Malja after moving up from fifth at the start and the Japanese driver was being tracked by Rowland, who demoted Luca Ghiotto to fifth with a brave late move down the inside at Turn 1 on lap five.
As Albon and Leclerc continued to scrap - they both passed Ghiotto on lap 11 - Matsushita and Rowland closed on Malja, who was beginning to struggle in second place.
On lap 14 Matsushita moved into second when he attacked Malja at the first corner and the Racing Engineering driver locked up and ran wide, with Rowland getting by later in the lap.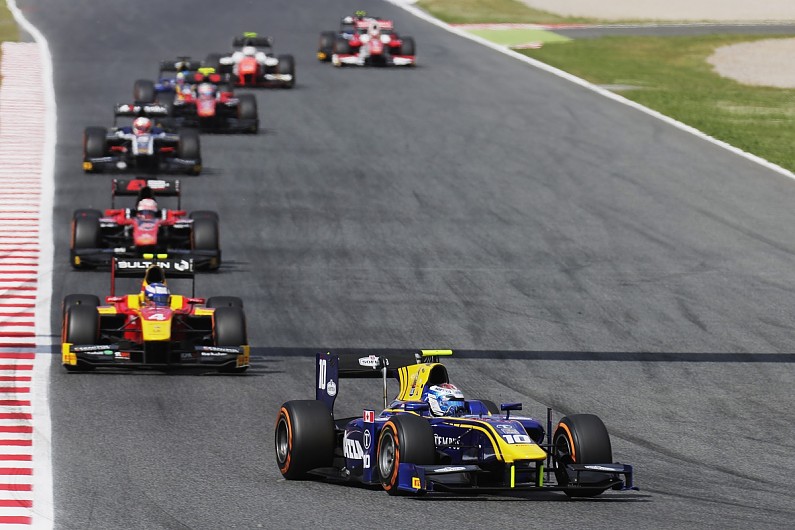 Latifi had a comfortable 3.4s lead and looked to set to claim his maiden F2 victory, but on lap 22 he went too deep in the left-hand Turn 5 and skated across the gravel.
He was able to escape but not before Matsushita had blasted by into a lead he would never lose.
Rowland then swiftly demoted his team-mate to third and went on to claim his second podium finish of the weekend.
Leclerc had eventually passed Albon on lap 20 after several thrilling attempts and then quickly moved into fourth by dispatching Malja at the exit of Turn 5 one lap later.
King pushed Malja down to sixth in the closing stages, as Ghiotto finished seventh in front of Albon, who struggled for grip late on.
Heading to the next round of the season in Monaco, Leclerc has 73 points and leads Rowland in the driver standings by 26, with Ghiotto third on 38.
RACE RESULT
| Pos | Driver | Team | Laps | Gap |
| --- | --- | --- | --- | --- |
| 1 | Nobuharu Matsushita | ART Grand Prix | 26 | 42m20.450s |
| 2 | Oliver Rowland | DAMS | 26 | 3.309s |
| 3 | Nicholas Latifi | DAMS | 26 | 4.621s |
| 4 | Charles Leclerc | Prema Racing | 26 | 9.177s |
| 5 | Jordan King | MP Motorsport | 26 | 15.333s |
| 6 | Gustav Malja | Racing Engineering | 26 | 17.987s |
| 7 | Luca Ghiotto | RUSSIAN TIME | 26 | 18.092s |
| 8 | Alexander Albon | ART Grand Prix | 26 | 21.135s |
| 9 | Artem Markelov | RUSSIAN TIME | 26 | 21.552s |
| 10 | Johnny Cecotto Jr. | Rapax | 26 | 30.744s |
| 11 | Sergio Canamasas | Trident | 26 | 31.549s |
| 12 | Roberto Merhi | Campos Racing | 26 | 34.434s |
| 13 | Norman Nato | Pertamina Arden | 26 | 35.271s |
| 14 | Louis Deletraz | Racing Engineering | 26 | 38.090s |
| 15 | Sergio Sette Camara | MP Motorsport | 26 | 39.446s |
| 16 | Sean Gelael | Pertamina Arden | 26 | 46.950s |
| 17 | Ralph Boschung | Campos Racing | 26 | 50.226s |
| 18 | Nabil Jeffri | Trident | 26 | 59.912s |
| - | Nyck de Vries | Rapax | 0 | Retirement |
| - | Antonio Fuoco | Prema Racing | 0 | Retirement |
DRIVERS' STANDINGS
| Pos | Driver | Points |
| --- | --- | --- |
| 1 | Charles Leclerc | 73 |
| 2 | Oliver Rowland | 47 |
| 3 | Luca Ghiotto | 38 |
| 4 | Artem Markelov | 34 |
| 5 | Nobuharu Matsushita | 31 |
| 6 | Nicholas Latifi | 28 |
| 7 | Jordan King | 26 |
| 8 | Alexander Albon | 21 |
| 9 | Norman Nato | 18 |
| 10 | Gustav Malja | 10 |
| 11 | Nyck de Vries | 6 |
| 12 | Antonio Fuoco | 2 |
| 13 | Johnny Cecotto Jr. | 0 |
| 14 | Sergio Canamasas | 0 |
| 15 | Louis Deletraz | 0 |
| 16 | Ralph Boschung | 0 |
| 17 | Roberto Merhi | 0 |
| 18 | Sergio Sette Camara | 0 |
| 19 | Sean Gelael | 0 |
| 20 | Stefano Coletti | 0 |
| 21 | Nabil Jeffri | 0 |