If you were to trace Jerome D'Ambrosio's changing fortunes during the course of 2010, you'd end up with something looking like a gradient chart from one of the mountain stages of the Tour de France.
If you haven't been paying attention, it goes something like this. 1) Sign up for third season of GP2 with DAMS, get Renault F1 reserve driver gig. 2) Start season badly. 3) Win sprint race in Monaco. 4) Struggle in races that follow. 5) Get replaced by Romain Grosjean in Germany and be told that you have two more rounds to prove yourself. 6) Come back and be extremely quick. 7) Land a Friday driver slot with Virgin for four races, starting with Singapore this weekend. Even by racing's admittedly odd standards, D'Ambrosio's turnaround has been dramatic.

No-one who paid attention to the Belgian in the past will begrudge him the opportunity. Solidly quick in the car; approachable and intelligent out of it, he was nonetheless dogged by a sense that he should have been on the GP2 podium more regularly than seemed to be the case. The problem was that it was not always clear whether the problem lay with the team or the driver.
It has since transpired that the same questions were being asked within the garage. The situation culminated in D'Ambrosio putting on a brave face in Germany as Grosjean took his car for the weekend and proceeded to make it go quicker than it had all year.
For D'Ambrosio, the pressure must have been enormous; not least because his return at the Hungaroring was accompanied by an ultimatum that if he couldn't demonstrate similar performance over the next couple of weekends, his season would end early. But he delivered. Straight into the points at Hungary and would have finished second in the sprint race had his car not developed a late problem. At Spa, he started from pole before retiring again, and at Monza he scored more points in race one and finished a close second in race two.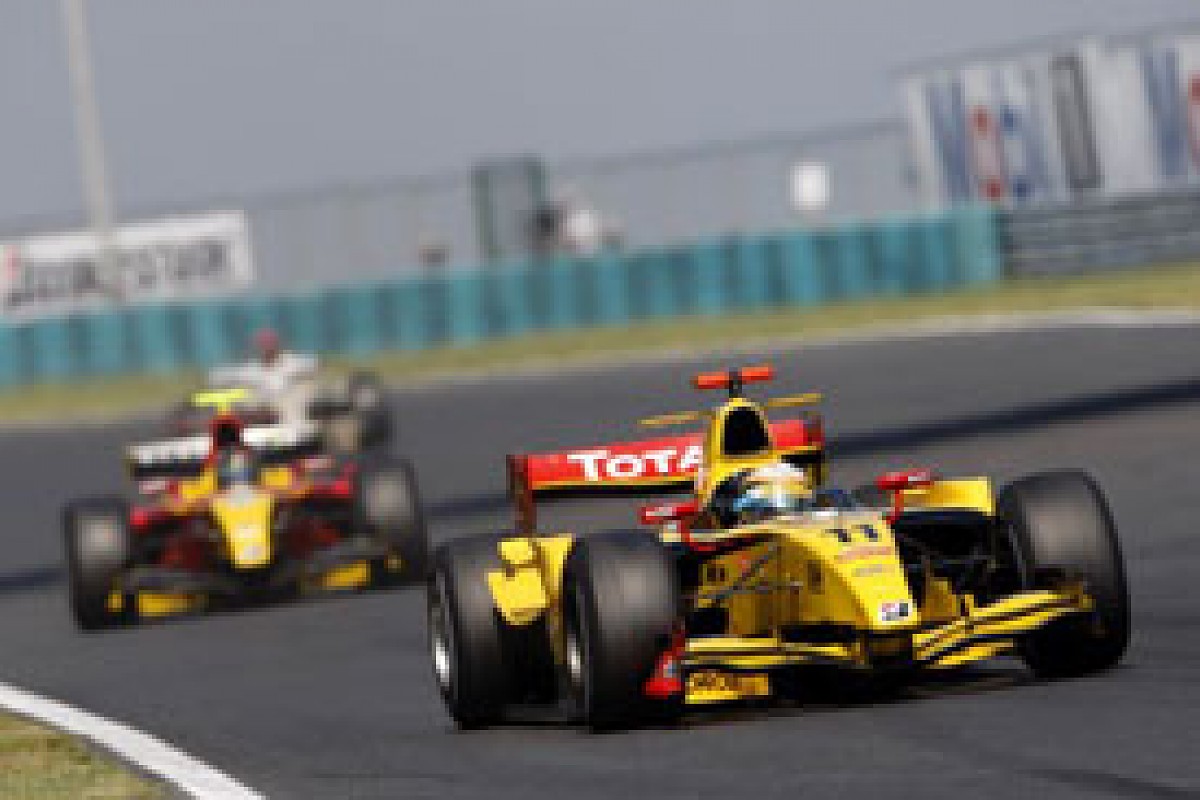 D'Ambrosio's GP2 comeback in Hungary © LAT
Compared with his sluggish start, the turnaround appeared just shy of miraculous. But D'Ambrosio isn't buying into that.
"This is how it looks from the outside, but magic doesn't exist," he says. "I don't believe in that. I think I'm good and the team is good, so there was no reason not to achieve the results.
"That weekend at Hockenheim was hard for me, but we had to analyse why we couldn't get results. There was just no reason for it. I believe I am a reasonably good driver and DAMS is a good team. We had to end the negative momentum that we had and bounce back. I spoke to the team in Hungary the following weekend and thanked them, because they really supported me. We all were really open in our analysis.
"It has taken some really hard work but also some strong mental efforts to turn things around. It's not like you can say, 'well, they've had five test days and they got their confidence back and everything'. It's not like that. We couldn't test so we had to be straight on it, and we were. It was really a good bit of teamwork."
As difficult as being sidelined in Germany was at the time, D'Ambrosio admits now that it was a vital catalyst for change on the part of both himself and the team.
"Sometimes at Hockenheim I really tried to look at things a bit from the outside and calm everything down, and say, 'well okay, it's like this'. Some people would have acted like the world was falling down on them, but this is where you have to say 'okay, right now I'm down, but I just have to see what I can do and stay focused on my job. Where can I improve? What do they want me to do?'

"This is what I tried to achieve and the team also tried to do it for themselves. This is what you have to do. If you only blame the driver, or you only blame the team, then you don't go forward. But they took a bit of the blame for themselves and I took a bit for myself. In GP2 it takes nothing to look really good or really bad."
Once he came back though, it was inevitable that he'd then have to deal with the credit for the team's turnaround being handed solely to Grosjean. He's since answered that on track by largely dominating the Franco-Swiss driver in recent weekends (by a quirk of fate, Grosjean was placed into the second DAMS car for Spa and Monza after regular driver Ho-Pin Tung was injured in a crash).
"Romain has great experience," D'Ambrosio says." I'm honest: the car hasn't been changed upside down. Of course the team changed it a little bit, but the fact of having Romain... he's done seven grands prix in Formula 1, and you can tell. He's a very strong driver in every respect.
"For me, in free practice I was often in the top five but then couldn't get that step in qualifying. When you have someone like Romain, then in free practice he's a bit quicker over here, I'm a bit quicker over there and you get it together. ART has two very strong drivers; Racing Engineering has two very strong drivers. And they pull each other to the top.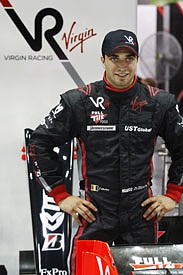 D'Ambrosio in his new Virgin gear © Sutton
"I'm not saying that Ho-Pin Tung is a bad driver; not at all. But he didn't drive for a year and that doesn't make it easy. He would always catch up to me, but he'd get into a car at the start of a weekend not having seen the track for three years or something, and it takes a little bit of time. That time in GP2 is crucial. At the end of the weekend he would always be on the pace. But at the moment with Romain, we go into qualifying he's quick here, I'm quick there and we look at it and both improve."
Barely two months since his career was balancing on a knife-edge, D'Ambrosio will today blast out of the Singapore pitlane with a Virgin VR-01 strapped to his backside. With his prior F1 seat time restricted to a few outings at Renault roadshows, it will be what he describes as his first "proper" drive of one of the cars. By the time he gets back into the GP2 car for the final round at Abu Dhabi in November, he'll have four such outings under his belt and, potentially, a few new options to consider over the winter.

Proof, perhaps, that sometimes you can make your own luck?