Forty years ago, Pedro Rodriguez scored a popular victory for BRM in the Belgian Grand Prix. It was the last Formula 1 race to be held on the daunting old circuit and, as it turned out, the second and last grand prix victory of the Mexican's career. Just 13 months later he was killed in a sportscar race at the Norisring.
Incredibly, since then his country - which has a population of around 109 million - has produced just one grand prix driver. But now there are two talented Mexican youngsters knocking on the door of F1 - and they share the same serious backing. On the anniversary of a famous Mexican win, both can use success at Spa this weekend as a springboard to greater things.
Sergio Perez currently lies second in the GP2 Series, while Esteban Gutierrez is leading GP3. Along with Pablo Sanchez Lopez, who is also racing in GP3, they are sponsored by Telmex - the telecoms giant whose privatisation in 1990 propelled new boss Carlos Slim into a fight with Bill Gates for the honour of being the richest man in the world, give or take the odd share price fluctuation.
Fortunately for us, Slim and son Carlos Jr are racing fans and over the years they have directed some of the company's cash into the sport. And, as always, money talks.
Pedro and his younger brother Ricardo came from a privileged background, which is why they were racing at Le Mans as teenagers. They were also precociously talented.
Ricardo alas never had a chance to fulfil his potential. In five outings for Ferrari his best result was a fourth - at Spa co-incidentally - in 1962, before he lost his life in a Lotus in practice for his home grand prix later that year. By the time of his death, however, Pedro had proved himself one of the great talents of the age, not least in sportscars.
Nobody followed in his footsteps until Hector Rebaque first appeared on the F1 scene in 1977. He was no great talent, but he had a budget and after two seasons with his own private Lotus he had a couple of years as Nelson Piquet's team mate at Brabham.
And then... nothing. Since Rebaque's last start in Las Vegas in 1981 no Mexican has competed in F1, or ever really come close to doing so. Josele Garza and later Bernard Jourdain had some success in Champ Car, and over the years a few drivers have raced in the lower leagues in Europe. But none has been able to achieve ultimate success at F2, F3000 or GP2 level, never mind make the final step.
The man who might have made it was Adrian Fernandez. He did the groundwork by coming to England and competing in Formula Ford, but when the money ran out, he returned home. He then tried Indy Lights, which led to Champ Car and, eventually, success. He paved the way for others, notably Mario Dominguez, Michel Jourdain Jr and Luis Diaz. There were CART races in Mexico, lots of TV coverage and the United States obviously worked for the sponsors. But F1 has remained untapped. Dominguez had a half-hearted test in a Jordan-Toyota in February 2005, but that was pretty much it.
Sergio Perez scored his third win of the GP2 season at Hockenheim last month © LAT
It's a strange situation, given that Mexico has such strong historical links with the sport - having hosted world championship grands prix from 1963-70 and again from 1986-92. And it has always had a busy domestic racing scene.
Slim and Telmex decided a few years ago that the time had come to rectify the situation, and the chosen path was to find some talented teenagers and patiently groom them. It's been very much along the lines of the Red Bull model, except that there's a focus on fewer drivers and they all have the same passport.
Gutierrez tested a BMW Sauber at Jerez last December, the prize for winning the previous year's Formula BMW Europe title. He has ongoing links with the team and naturally that has led to speculation that Telmex will be the sugar daddy Peter Sauber has been searching for.
But Perez is one step closer to F1, now in his second year of GP2. He's second in the points behind Pastor Maldonado and for him the only way is up.
"Gutierrez and myself did our motor racing careers in Europe, we did nothing in Mexico," he says. "I hope both of us can get into F1 so the sport in Mexico can get better. I don't see how I could get so far if I had stayed in Mexico."
Perez had a head start in that his father is a well-known racing marketing and PR man who has been around for ages and worked with Fernandez, among others. Sergio thus did some important networking at a very early age.
"I've known Carlos since I was five or six years old because my father worked with them for a while when they were involved with Adrian," he explains. "Telmex picked me up in karting. I was leading their championship, but I had a special permit because I was racing against very old guys and I was only 13.
"Then I had a crash with one of them and they took my permit out. There were two weekends left so I lost the championship. Telmex took me away from there. They took me to a test against the champion and I was quicker than him, so they sent me straight to America."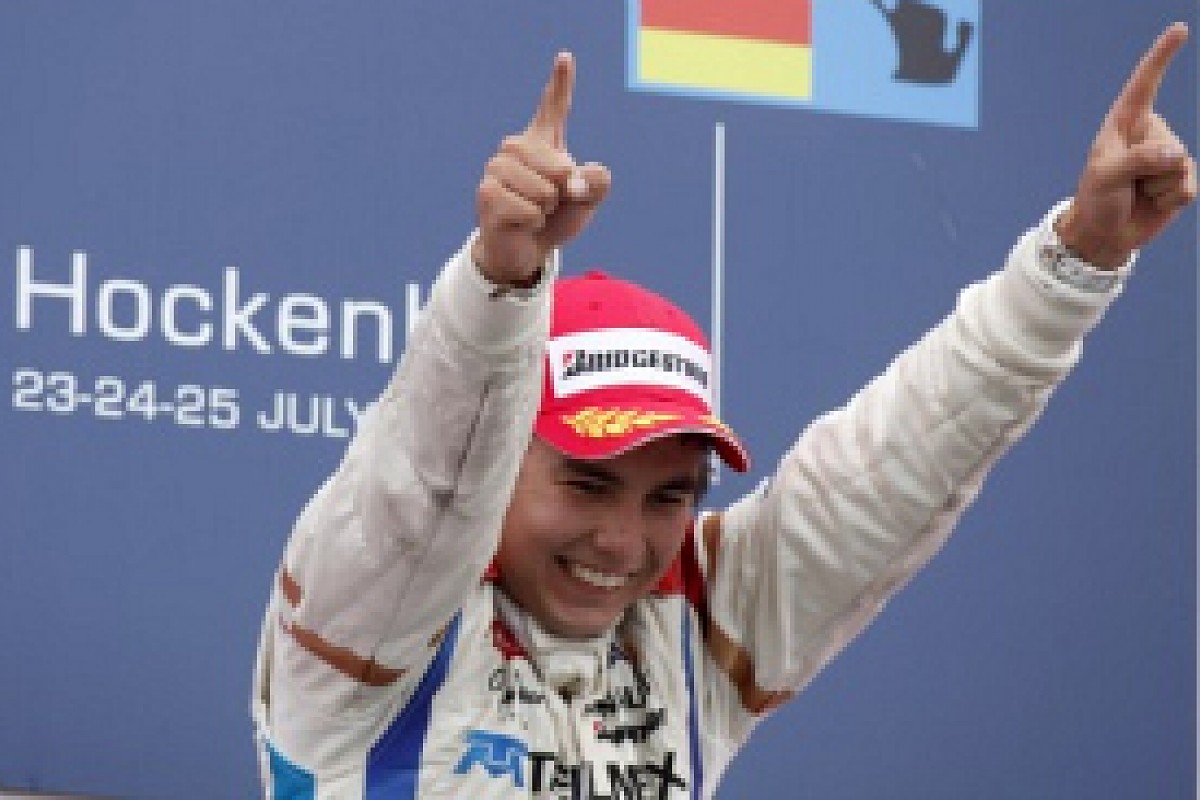 15-year-old Sergio Perez in Formula BMW Germany © LAT
Aged just 14, he raced in the Barber Dodge series. He then went to Germany to compete in Formula BMW. The rule was that you had to turn 16 that year to be eligible to compete, but he missed it by a few weeks. So on the paperwork he switched his birthday from January 1990 to December 1989 and he was in.
"In the beginning, Telmex didn't want to send me directly to Europe as they didn't want to spend much money. So they sent me to Barber Dodge for a year to learn. I did quite well and then they sent me to Germany to a very small team, with a very small budget. The team had a restaurant and we were very short of money so I had to live there for one year.
"I came completely alone. So a little Mexican was in a very small village with 100 people. It was really tough because it was my first year. I thought it was going to be very easy to live in Europe and to be racing. I started to realise how hard it was going to be to get my dream when I was really young.
"To be honest I chose to go to Germany. I had the impression that BMW there was very strong, so it was going to be the best for me. It really educated me a lot, it really gave me the vision that to get into F1 was not going to be easy. Coming from Mexico you think in five years I'm going to be in F1 and six years I'm going to be in Ferrari and seven years I'll be a world champion.
"It's not like this, you really need to work hard to get it. I realised very early when I was 15 that I would have to do a lot of work and make a lot of sacrifices, especially for me as a Mexican. As a European you are with your family and when you finish the races you go back home. When I finish a race weekend I go to my place and I'm completely alone. But now I've got used to it."
It's clear that Telmex makes its drivers work hard and the company didn't buy its way into all the best seats, which is what Red Bull - understandably - seeks to do.
After BMW, his next step was British Formula 3 in 2007 with the T-Sport team, initially in the low profile National Class.
"I did really badly in BMW, it was not a good year for me. I didn't learn enough, then we decided to do National F3 to really learn how to drive, how to set up the car, and this is where I really started to learn."
He won the title, but instead of then jumping into a guaranteed top seat with a team such as Carlin, he moved up to the main class with the same team. Both had to learn, and that may have cost Perez a shot at the title, which ultimately went to Jaime Alguersuari.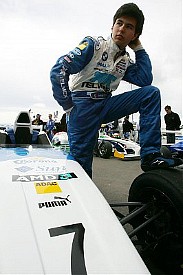 Perez twice won from 18th on the grid in Formula 3 at Monza in 2008 © LAT
"In 2008 I won four races and I was leading all the championship. It was tough because Dallara had a new car for that year and we were the only team with one car, so we had to develop just with me, while Carlin had five good drivers. In the beginning I dominated the championship but in the end I couldn't get close enough to Carlin."
Over the winter of 2008-9 he contested the GP2 Asia Series with Barwa alongside Vitaly Petrov. He won twice, but Romain Grosjean was lined up for the main series, so he moved instead to Arden. It was another year of learning in a series where rookies always need time.
This season he was able to return to Barwa, where he has been a front runner from the start. He's finally in a Spanish-speaking environment, but he says that doesn't make a difference.
"To be honest it doesn't matter to me. I'm very used to different cultures, different people. In this sport you really get used to working with different people all around the world. When we all speak Spanish my team-mate doesn't understand anything, so it's quite bad for him."
It's hard to believe that Perez is still only 20, given that this is his seventh season of car racing at an international level. He's clearly matured, benefiting from Telmex's clever approach. Being sent overseas to fend for himself and not always being handed the best drives on a plate, has all been part of a rounded education.
"It's very strange, because people think it's quite easy - that I have a very rich guy behind me and everything easy, everything is cool. It's not like this. I still have to find my sponsors to live and it's quite tough to find money in Mexico.
"Now it's getting better and the sport is getting quite big with me and Esteban winning races. Hopefully in the next years it's going to be better, but it's not going to be easy to have a guy like him for six years. You can't imagine how hard sometimes they put pressure on me.
"It's been really tough my career so far, because I've never been in a top team until now. It's my first year in a really top team and it's really showing in the results. There's a point in your career where you have to show what you can do. If you are not better than this, then you can get home next year."
Slim is a hands-on supporter: "I speak to him quite often, he knows every single detail, so it's quite good to have a sponsor like him that knows what's going on. If you have a bad day, he understands why, and if he has to give you a hard time, he does."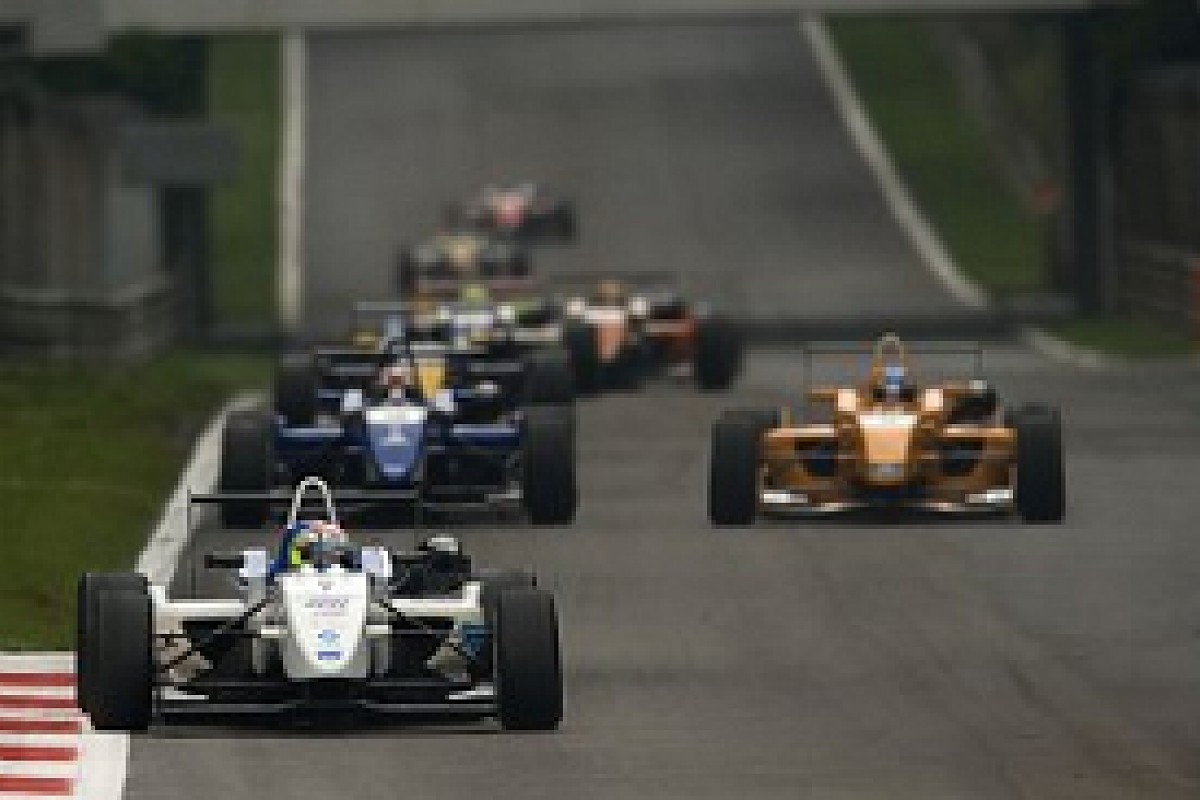 Perez hasn't yet tested an F1 car and nor does he have any links with any teams. He's got time on his side.
"We've been working for six years to get me into F1, so now there's a good chance to make it. Hopefully we can do it for next year. I have to keep working very hard in GP2, and at the moment my only thought is GP2 - I'm not thinking anything else. I try to do my best to win this championship."
The big catch with Red Bull is that from a huge pool of talent, only a few make it. Even then it's very easy to fall out of favour. Is Perez ultimately in competition with Gutierrez for the Telmex F1 budget?
"No, not at all. I think there are 20 other drivers as well that are trying to get a seat in F1. The competition is very tough and if you start thinking about the others, you don't do as well as you should do. So I'm really focusing on myself, trying to be as good as possible in the car and out of the car, to be as professional as possible, and try to get into F1.
"My sponsors have talked to some teams, but on the other hand they don't really tell me anything because they don't want to distract me. I don't really ask for any information. I want to do my job, I want to finish this year and when the time comes to think about F1, I will talk about F1."