Mercedes shuffles F1 technical team as Allison/Elliott swap jobs
The Mercedes Formula 1 team has shuffled its senior technical personnel with key figures James Allison and Mike Elliott swapping jobs, Autosport can reveal.
The switch, which forms part of a raft of changes the team is making to help it return to the front of the F1 grid, will see Allison return to the role of technical director, while Elliott is to take up the position of Chief Technical Officer.
The bold change, which comes 20 months after Allison originally moved into the CTO position, has been prompted by Elliott concluding that the skills he had were not best suited to his position as technical director.
Read more: What "gladiator" Allison's reappointment reveals about Mercedes' current F1 shortcomings
With the squad having done some soul searching after a difficult start to the 2023 season, Elliott agreed with Allison that the team would be better set if they changed roles.
Speaking about the move, Mercedes team principal Toto Wolff told Autosport: "This was very much driven by Mike Elliott owning the process.
"So, we have reversed the roles. Mike has moved up to CTO, as he has a brilliant switched-on scientific mind. And James Allison has returned to his technical director position, reporting in to Mike."
While Allison's previous role as CTO meant he only worked three days per week, Elliott will be committed full time. It is also understood that Allison will retain a level of involvement in the America's Cup project that he was working on during his time as CTO.
Wolff explained that Elliott believed Allison was far better suited to the technical director role, where there is more hands-on responsibility for the car, and it would be advantageous for him to focus on wider organisational technical developments that play to his own strengths.
"What Mike's assessment was, and the introspection is really admirable, is that with James we have a gladiator on the field and the troops are going to go through the fire for him and with him," added Wolff.
"Mike came to the conclusion that the way he approaches things, his skill set, is best utilised in developing the organisation going forward: from technical capabilities to human capabilities and putting together the structure that can be successful for many years to come.
"It's about creating a structure that can be sustainably successful going into the next generation. We're seeing huge changes in the technical developments, artificial intelligence and machine learning.
"And at the same time, looking at how is a modern Formula One team going to be organised and structured: what kind of innovation can be brought in.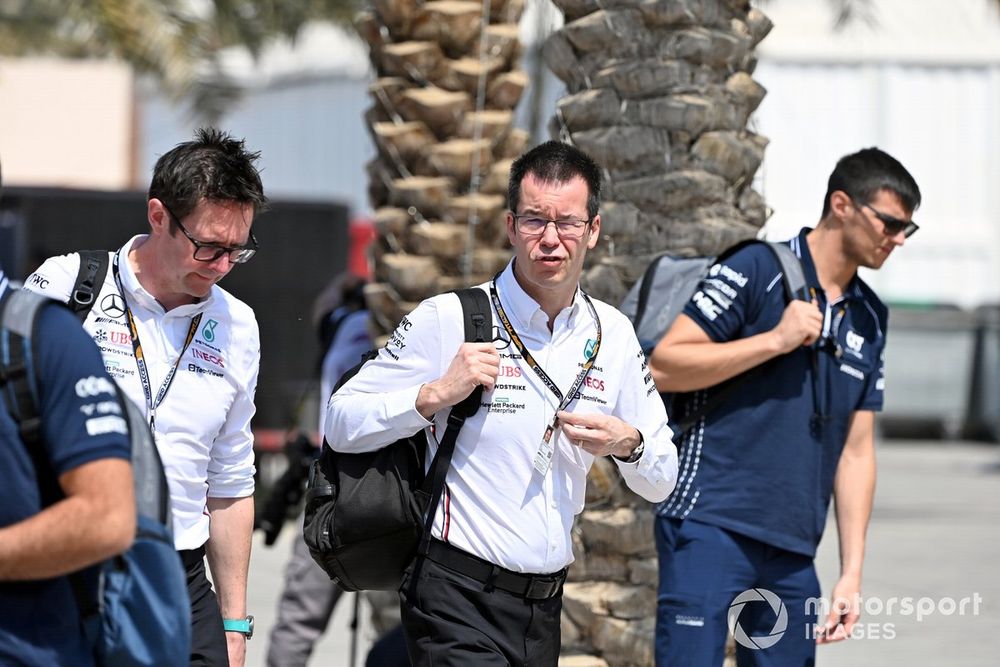 Mike Elliott, Technical Director, Mercedes-AMG
Photo by: Mark Sutton / Motorsport Images
"Mike sees himself very much in his sweet spot there and obviously he's a super capable engineer, very credible and respected in the organisation. He is going to be a coach and sparring partner for the most senior people.
"And I'm actually very happy that Mike took this decision by himself to put himself in this role, with both him and James coming to this conclusion, as we are having both of them in their genius."
As well as Allison and Elliott switching positions, Mercedes has also changed the job profiles of its senior designers to better adapt the team to the cost cap environment.
Wolff added: "John Owen as the director of car design had a very different job profile under the cost cap because, in addition to the creative part of designing a car, you have a tonne of extra work that comes with it.
"What happened is that the chief designer became a cost cap administrator.
"So, we've split the role. John stays as the chief designer, but we have mandated [his deputy] Giacomo Tortora to become the engineering director.
"It means John can concentrate on the specifics of the car design, and Giacomo looks after the design office, and the organisational development."
Mercedes is currently working on a raft of updates for its W14 that it hopes will help it close the gap to pace-setter Red Bull. The changes to the car are set to include a revamp of its sidepod concept.
Wolff said that Allison's return as technical director would see the team continue with its current development direction.
"We have a path now that we believe is the right one," he said. "It's just different personalities and a different management structure."
Subscribe and access Autosport.com with your ad-blocker.
From Formula 1 to MotoGP we report straight from the paddock because we love our sport, just like you. In order to keep delivering our expert journalism, our website uses advertising. Still, we want to give you the opportunity to enjoy an ad-free and tracker-free website and to continue using your adblocker.
Become a subscriber.
Disable your adblocker.