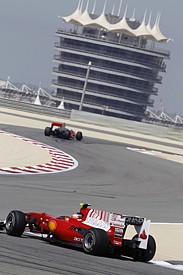 Bahrain's circuit boss thinks it vital that the Gulf state's Formula 1 race goes ahead, because he believes the nation as a whole will benefit.
Despite an increasingly tense political situation in the country, Bahrain International Circuit chairman Zayed Al Alzayani is adamant that holding the grand prix would actually be a help to the population in its move for reform.
"It is very sad what has happened; but we cannot go back and change history, we have to learn from it and move on," he told BBC Radio 4. "I think the grand prix is required for Bahrain because we need to get started back on track. The country has suffered, the economy has suffered."
Alzayani has also hit back at claims that the Bahrain GP is being used as a political tool by the government to show that the state has returned to normality.
"I don't think so, I disagree," he said. "The race is not taking place for the authorities, the race is taking place because Bahrain has been the home of motorsport in the Middle East. We have hosted seven previous grands prix and a majority of the attendance is not the authorities or the royal family, it is fans of F1 and motorsport in general.
"We have a regional event, so quite a few spectators come from neighbouring countries, and it would not be right to deprive them of this event."
He added: "I don't know why we are being dragged into the politics of the event. We are a social event, we are a sports event and we would like it to stay that way."
Motor racing's governing body, the FIA, said on Friday that it was monitoring events closely, but had been assured by the Bahrain authorities that there were no safety concerns.
"The FIA is constantly monitoring and evaluating the situation in the Kingdom of Bahrain," an FIA spokesman was quoted as saying by Reuters.
"We are in daily touch with the highest authorities, the main European embassies and of course the local promoters at BIC (Bahrain International Circuit) as well as the international promoter.
"The FIA is the guarantor of the safety at the race event and relies, as it does in every other country, on the local authorities to guarantee security. In this respect we have been repeatedly assured by the highest authorities in Bahrain that all security matters are under control."