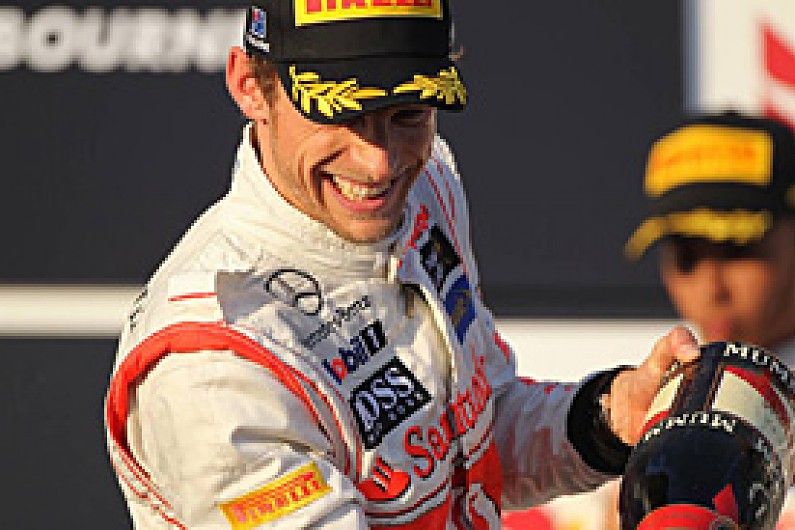 McLaren boss Martin Whitmarsh has revealed that his drivers could have been even quicker in the Australian Grand Prix if his team had not made a mistake with its fuel calculations.
Jenson Button dominated the first race of the season in Melbourne, with Lewis Hamilton coming third after losing a place to Sebastian Vettel under the safety car, but the pair had to limit their pace from early on because they were using more fuel than the team had calculated they would.
"We were more than marginal," revealed Whitmarsh. "Had we raced unfettered we would not have got to the finish line with either car, so from lap eight we were in severe fuel saving mode.
"I think unquestionably we could have gone a little bit quicker. We had a quick car here, and we should have got a 1-2, but we are not too displeased with where we are."
Whitmarsh paid tribute to the way that Button controlled the race from the front - with the Briton running error free
"Jenson did a fantastic job," he said. "He turned it on when he needed to. When he thought that Vettel after the safety car was going to get into a DRS zone he just opened the gap, so I think it was testament to him. He drove a really beautiful race: smooth, controlling, and he pressed when he needed to - just like a champion would."
Whitmarsh also thinks that Hamilton would have finished second if it had not been for his misfortune to have pitted the lap before a safety car - which helped Vettel overtake him in the pits.
"The loss of place was simply that unfortunately we pitted with both cars, and immediately a safety car was called - which cost us 10 seconds," explained Whitmarsh. "Had we decided not to double shuffle and keep him out for one lap, then we would have stayed ahead of Seb.
"We had the pace and performance. This is quite a tricky track to overtake on, so we could have held that and got ourselves a 1-2. So we were a little unlucky - and Lewis will not like being on the lower step of the podium.
"But he has had a strong weekend and I am sure he will be even more determined to go to the next race, show how quick he is in qualifying and get the job done there."
Autosport has produced a standalone special magazine to celebrate our 70th birthday. All current print subscribers will receive a copy for free. To order your copy of the 196-page Autosport 70th Anniversary issue, please go to: autosport.com/autosport70th