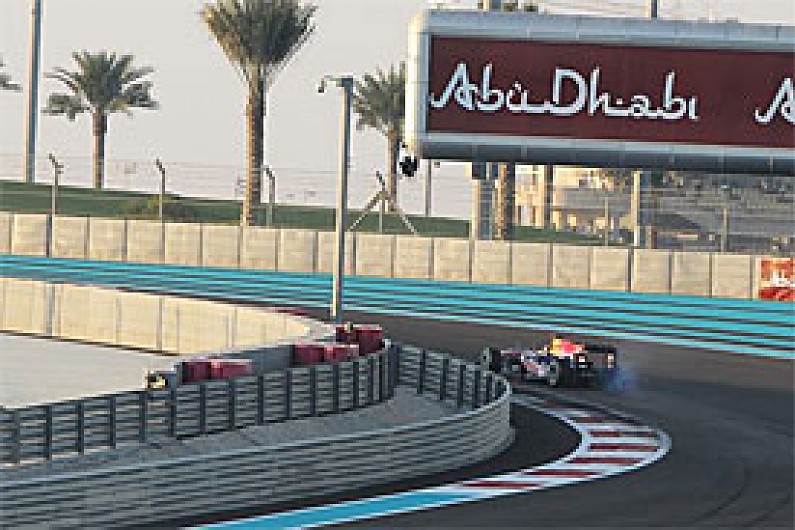 Red Bull Racing had no early warning about the tyre failure that put Sebastian Vettel out of the Abu Dhabi Grand Prix - after revealing its data showed it was an instantaneous failure.
Vettel was leading the Yas Marina event from pole position when his right rear tyre lost pressure on the exit of Turn 1. With the tyre flat as he turned into the second corner, Vettel was pitched into a spin.
Red Bull Racing team principal Christian Horner said post-race analysis of the car had not indicated an obvious explanation for the failure.
"Basically all we could see at the moment from the data is that he has had a tremendous start," said Horner. "He had gone into Turn 1 and, on the kerb, there has been an instantaneous loss of pressure.
"So, by the time he has arrived at Turn 2, there is no tyre pressure and that has caused the car to spin. That is what has damaged the suspension and ultimately that is why we had to retire the car.
"At the moment we don't know if it was a bit of debris from one of the support races, as he wasn't particularly high on the kerb or anything like that. He just appears to have been unlucky today."
When asked if there was any indication from telemetry that something was wrong with the tyre before the start of the race, Horner said: "No, no, no. The tyre was fine, going into Turn 1, and then you can see just an instantaneous loss of pressure."
Horner said that damage to the rear suspension meant it was impossible to let Vettel continue once he had returned to the pits.
"The damage was from where the rim has dug into the ground as he was spinning," he said. "It just damaged the track rod being able to run it, and it would have been unsafe to continue."
Despite seeing Vettel suffer his first retirement of the year, Horner acknowledged that the incident would have hurt more last season - when he was battling for the world title.
"It is a good job it happened this year rather than last year I guess," he smiled.