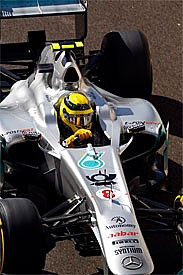 Nico Rosberg will prove himself as a regular grand prix winner as soon as Mercedes GP can deliver him with a car capable of taking victories.
That is the view of Mercedes-Benz motorsport boss Norbert Haug, who says he is convinced that the German is now ready to triumph given the right equipment.
"Nico has never had a car to win with, and most of the drivers in F1 do not have a car to win with," said Haug, speaking after Rosberg extended his contract with Mercedes GP until the end of 2013.
"But give him a car and he can probably win 10 races in two seasons, or even one season.
"If you have a car to win with, and you are not [winning], this can be a big problem in your mind. But if you know you are extracting the best possible result, and the performance is generally going in the right direction, then that is different."
Haug believes that Rosberg could experience a similar situation to that enjoyed by Mika Hakkinen - who waited a long time for his maiden victory but then produced a run of form that delivered back-to-back world championships.
"I think it is very much the same," explained Haug. "He [Mika] did not have a car to win with; it was David [Coulthard] who won the first GP at the time, 1997 Melbourne.
"Mika won later in the year, he had the Jerez win, and it was a breakthrough. After that he won race after race. I am not predicting that for Nico, but it is possible. If you get the right ingredients around you it can be like it is for Sebastian Vettel this year."
Haug added that Rosberg needed little convincing that Mercedes GP was the right place for him in the future - even though it is still without a victory since taking over Brawn GP.
"Nico has the same targets that we have, and he feels comfortable in the team," he said. "He is very convinced and this is his target, this is his dream, to develop things together with us.
"We have to realise that we are a young team of course. Brawn won the championship in 2009, and it was a completely different period of time. Now we have RRA, we are structured in a different way, and the team is completely financed by the sponsorship money, and from FOM money.
"We are spending one third of the money we spent in 2005, and this is the basis of our works activities in F1.
"But it needs building up time. The wish was to be a challenger from day one, and you have to voice this wish as well, but the reality is that there are three very strong top teams, six cars with six strong drivers, and to just enter in that group means something."