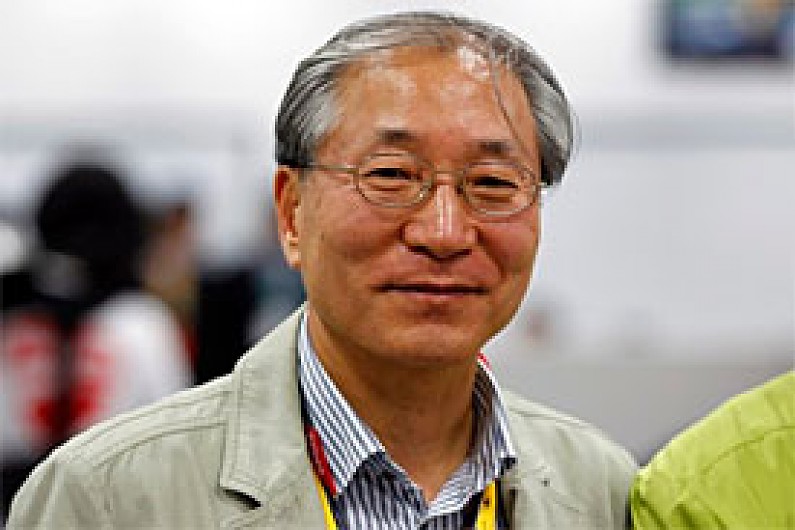 AUTOSPORT talks to Korean Grand Prix promoter Won-Hwa Park following the second Formula 1 in the country.
Q. What was the verdict on the success of last year's inaugural Korean Grand Prix, because on the day it seemed to be very positive with the Prime Minister attending?
Won-Hwa Park: Last year we had the visit of the Prime Minister. It was the first big event in this region and for the whole country it was good for Korea. For this year we wanted to have more [paying] spectators, more publicity. We wanted to work more on improving the flow of the traffic and for this we made a circular road around the track to help those spectators inside the circuit. With the new management, it means we could save more money than we spent for the preparation of the event last year.
Q. There was talk last year of the local government or national government investing money in the event. Was there any movement on that front?
WP: We are still seeking for bigger support from the national government. They have provided us with a certain fund, but it is not as much as we expected. However, the national government has enacted a specific law to help the F1 event here in this region. With his law, we have set up the Formula 1 Korean organising committee, which is now in fact the organiser of this race now.
Last year, KAVO was the organiser as well as the promoter. Now, as CEO of KAVO, I took over those two positions, but earlier this year I transferred the organising role to the organising committee. But in fact, for now, I am the acting organiser and the promoter.
Q. What was the background to the big management change last year? It was only a few weeks after the Korean Grand Prix had won the FIA Race Promoters' Trophy that there was a big overhaul in the organisers?
WP: I would say, to be blunt, that there was sloppy preparation last year plus a big financial loss. So, the management lost the confidence from the provincial government of South Jeolla, which is the largest equity holder of this company KAVO. That was the reason.
Q. So the new management, including yourself, has been brought in to try and make the event more financially viable as a project going forwards?
WP: Yes, as much as possible I am trying hard and cutting all the unnecessary expenses. At the same time I am operating the company and the preparation in a smooth way and a better way - using my experience as a civil servant for more than 30 years.
Q. What have you changed then in terms of processes, and what work was done at the venue ahead of this year's Korean Grand Prix?
WP: My main focus has been on reducing the costs as much as possible. This is the core issue. Some local people in this region are against the race because of a big financial loss in hosting the race and organising this event. Those citizens, who have a background as farmers and are normally poor, want to have the funds distributed for other purposes rather than be used for this so-far unpopular event. At the same time, I must increase the awareness of motor sport so that people and citizens understand what we are doing. This would be an indirect way to convince the national government. Motor racing is not known here as much as it is in other developed countries.
Q. Will the losses of hosting the race be less this year?
WP: We are trying hard, but we need the co-operation of Mr. Bernie Ecclestone. We certainly want to continue with this event because it is a big event, even though we have losses. We want to give this region momentum by holding this event to help boost its economy and to boost the image, and to change our farming background in this region.
Q. Is the key focus then on the Formula 1 race and the benefits of that, or is there an effort to use this track every weekend?
WP: We want to make use of this circuit as much as possible, to let it be used by national races and international ones. We plan to host at least two international events next year [Asian Festival of Speed, F3, or Japanese Super GT], and maybe one or two more, but mostly it will be used for national races and rented out to big automotive brands like Porsche and Hyundai, and for tyre testing. We need more demand for this circuit from national and international interests.
On the other hand, as it was planned originally, we are going to continue to enter into the second stage of development here, the resort, the marina, the city with offices, but this will take time. This is a long-term project.
Q. Had the venue been used at all after last year's event, because a lot of teams came here and said it looked as though it had not been touched since the 2010 race?
WP: We used the track this year, if I am not mistaken, for about 80 days. It cannot be used in the winter from December until February, but from early March, and mostly at weekends, it was used by national teams, national car makers and tyre makers.
Q. Are you looking to increase the number of days it is rented out next year then?
WP: Yes, that is right. Next year we hope for more than that [80 days], but it is still not as much as we would want.
Q. The talk of the city being built inside the circuit, as was in the original plans. What is the timescale for that now?
WP: It is on hold for the moment. But we are trying to reinvigorate this plan. We now call it the second development plan of this project. We hope to have it funded by the provincial government, but the provincial government cannot do everything at one time. We are looking for investors, and if they are foreign investors it would be much better.
Q. In terms of making the Korean Grand Prix financially viable, does it ultimately revolve around the price of the contract with Mr. Ecclestone, and the escalating fees each year?
WP: That is correct. That is why we want to have very close talks with Mr. Ecclestone. We need his co-operation.
Q. To try and bring the cost of the deal down? WP: Yes. If possible.
Q. Do you think the original contract was too much then, that the fee was too high?
WP: In a way, yes. I would say yes.
Q. Have you spoken to Mr. Ecclestone already about this?
WP: He knows perfectly well our current situation, and I hope he is more co-operative.
Q. So how committed are you going forward if the terms of the contract do not change?
WP: It is too early for me to say at the moment.
Q. But the future of the race ultimately hangs on this? WP: Yes. That is right. But we wish to continue.
Q. There were rumours over the weekend that this could be the last F1 race here. But it is fair to say you want this to carry on?
WP: Yes, we want to go on. We invested a lot to build this circuit.
Q. What about the funding to build the circuit. Is that paid for already, or is there a large debt there?
WP: It has almost all been paid for. About, four fifths have already been paid for.
Q. In terms of economic benefit for the region, is the government happy with that?
WP: The provincial government is happy because there are more tourists. The occupancy rate of motels and hotels is higher than ever, and the restaurants are happy. There is more traffic too. It gives us a booming atmosphere which is good for the economy.
Q. How was ticket interest this year?
WP: We expected 70,000 on Saturday and 80,000 on race day. That is higher than last year. In 2010, we doled out tickets free of change, because we wanted attention to fill up, to a certain extent, the space. But this year we did not take that tactic because the demand was already high. If we continued to dole out tickets free of change, it would play to the detriment of our interests. So we did not give away any free tickets this year and we sold about 80% of occupancy rate. Out of 120,000 seats, we closed two big stands, so when we take into account that conditions, the available seats were 105,000. Out of 105,000, about 80,000 are being occupied.
Q. Are you optimistic about the future of this event, because a lot of decisions were made before you arrived?
WP: That is a good question I try hard.
Access even more news on Autosport.
Register for free to increase your monthly limit from 15 to 25 stories - or subscribe today and get unlimited access.
Get unlimited news
Full access to our news and in-depth Autosport Plus features - all in an ad-free enviroment.
Subscribe to Autosport Plus
Get 10 free extra stories
A quick upgrade and you'll boost your monthly news limit instantly - for free.
Register for free