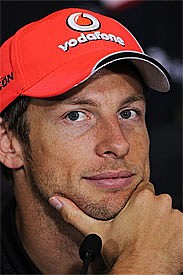 Jenson Button is eager to end a run of disappointing races at Silverstone and fight for his first home win this weekend.
The McLaren driver is yet to finish higher than fourth in 11 races at the British track, and he admits a home victory would be very special.
"It is nice to be here at Silverstone. I haven't even got on the podium in an F1 car, so that would be my first aim and obviously it is one you want to win," said Button.
"We all want to fight for the championship. We all want to win Monaco and all want to win our home GP. It is one not achieved yet so one I am fighting for."
He is also adamant that he will get a chance to fight on top this weekend, although he admitted how strong his car will be it is not year clear.
"There is always a chance, whether it is a big enough chance we don't know. Looking at the last race Red Bull was strong and we were quite a bit behind them.
"We have updates for this race which will help us and have different blown diffuser and electronics which might help us more than other teams."
Button also denied championship leader Sebastian Vettel is dominating despite his six wins in eight races, the Briton believing the German is being pushed to the limit to stay in front.
"He is still pushing hard, he is on the limit. He's done a very good job in qualifying, and it's very impressive to put it on pole every race but one.
"It has been a little bit more difficult for them. We have challenged them a few times. Four times we have challenged them, two races we beat them, two races we didn't. It isn't a walk in the park for him, and we hope it continues like that."