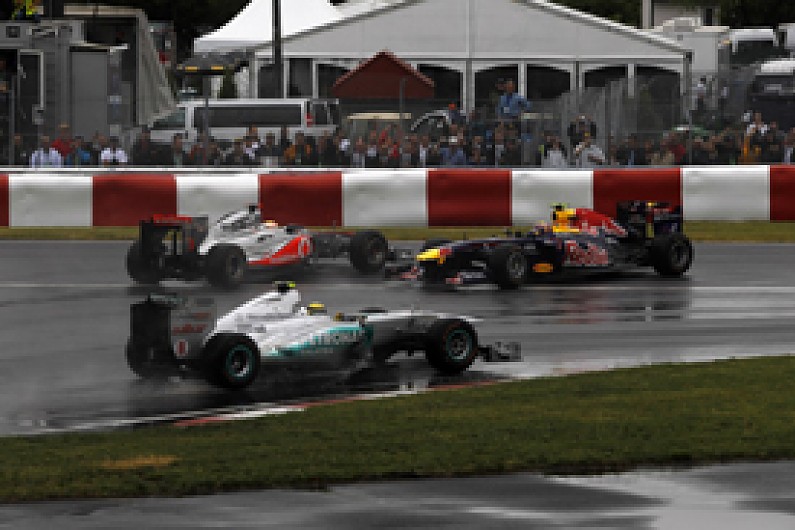 Mark Webber felt Lewis Hamilton's move on him at the original start of the Canadian Grand Prix was 'clumsy', though the Australian was delighted that he was able to make up all the positions the incident cost him by the end of the epic, rain-interrupted race.
Webber was spun down from fourth to 12th at the first corner in the contact with Hamilton, but made it back to third by the finish.
"I think Lewis thought the chequered flag was in Turn 3!" Webber joked.
"We made contact and it is not easy - I think it was a bit clumsy early in the race.
"I lost a lot of positions, managed to get them all back, decided to pit and put another set of full extremes on before the suspended race."
The decision to put on new wet tyres just before what turned out to be a long red flag proved costly as several other drivers were able to switch tyres during the stoppage and stay ahead of Webber.
"[Kamui] Kobayashi, the two Renaults and [Paul] di Resta, guys I passed already, they got me with a free pitstop with the suspended race and a new set of tyres," said the Australian.
"I got back past them, and with a dry line appearing it was difficult to pull those moves off."
Webber was one of the first drivers to switch to slick tyres at the end of the race, a move he admitted was a gamble, but which brought him up to third behind Michael Schumacher. Although he passed the German, eventual winner Jenson Button also got past them both amid a spectacular dice.
"I then decided to roll the dice, decided to put the dry tyres on," he said.
"I knew parts of the circuit were going to be tricky, and then if get on grass it is all over.
"I then arrived on the back of Michael, we had a reasonable battle getting the dry line in the last chicane.
"Eventually we got it but JB arrived, he was very, very quick and I think ultimately even if I had got Michael earlier, he would have got me as well."
Webber felt the final result of a win for Button ahead of the two Red Bulls was apt for the events of the race. Sebastian Vettel had led in the other Red Bull until sliding wide under pressure from Button on the very last lap.
"In the end this is the result we all deserved today," he said. "Seb did a phenomenal job but it's easy to make a mistake in those conditions."
Autosport has produced a standalone special magazine to celebrate our 70th birthday. All current print subscribers will receive a copy for free. To order your copy of the 196-page Autosport 70th Anniversary issue, please go to: autosport.com/autosport70th