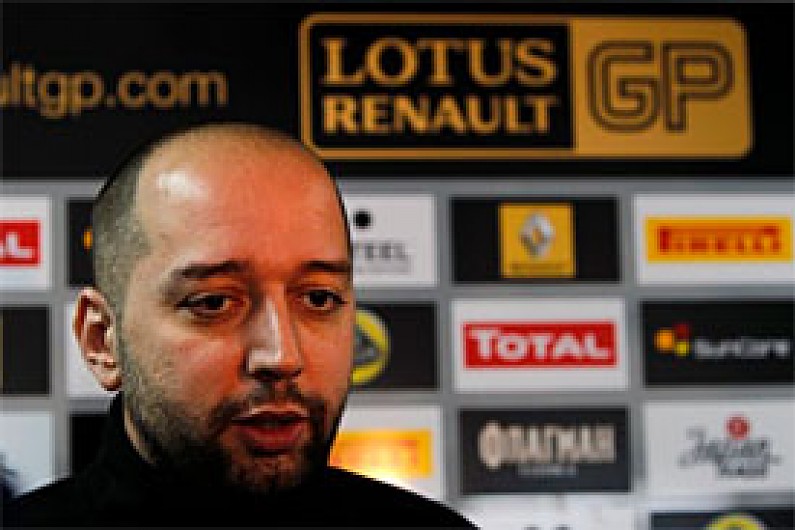 Renault team owner Gerard Lopez has expressed his frustration at the ongoing row over the use of the Lotus name in Formula 1 - and has urged his rival Tony Fernandes to come clean about the real reasons behind the dispute.
Ahead of a court case that will start in March to decide the fate of the Lotus brand in F1, and whether Fernandes can use the Team Lotus moniker, Lopez says he is frustrated that the matter has overshadowed the build-up to the new season.
And although the controversy between his own Lotus-sponsored Renault outfit and Team Lotus has caused much confusion among fans, Lopez is adamant that arguments about heritage and passion are disguising the real reasons behind the situation.
Lopez insists that the fight is purely about money - and that Fernandes is only determined to keep using the Lotus name because otherwise he would have to sacrifice television rights money that could be due to him after finishing tenth in the Constructors' Championship last year.
"I can tell when somebody is trying to twist things - and it is a shame because we've never twisted things in any form or fashion," said Lopez at the launch of the new Renault at Valencia on Monday.
"We've just said that we have a partnership with Lotus - Lotus are a great car company and I think they have decided to be quite aggressive in terms of development. They want to have a business association with F1, they want to promote their brand and, honestly, there is only one Lotus car company. Anything else is a bunch of BS.
"I am aware of the negotiations that took place and I know that money is essentially the centre piece of this. It is not passion; it is not taking over Colin Chapman's legacy or whatever.
"It is a fact that if 1Malaysia Racing changes its name, it loses its FOM money. And yeah, it is an issue for them - and one that probably I would not take too kindly to if I was in their shoes. Obviously I would be fighting.
"But just admit to the reality - and the fact is, it is about money and nothing else."
If a constructor changes its name without approval from rival outfits and the sport's commercial chiefs, including Bernie Ecclestone, then it has to sacrifice its rights to a share of F1's commercial income.
AUTOSPORT understands that Lotus could be eligible for as much as $36 million in future prize and television rights money for its performance last year after breaking into the top ten - although such payments also depend on its performances in the next few seasons too.
Lopez thinks the public arguments about the fate of the Lotus name have only served to damage the brand's name.
"I don't think there is any question about who is going to be who on the race track, but I still think it is damaging to have that go around the Lotus name," he said.
"And what I believe is quite damaging is to act as the small team that has been beaten up, as David and Goliath. Hello? We are a private team. We do have a sponsor but we are privately owned and we just happen to be bigger.
"But the whole thing about being the poor kid who gets beaten up at the back of the room? That makes me laugh sometimes. The fact is it is all about money. They stand to lose money if they change the name, and they should be honest and say that."
Lopez says the issue with television rights money was why Renault decided not to try and changes its name to Lotus, despite the major sponsorship tie-up and plans by the car company to become a future shareholder in the outfit.
When asked by AUTOSPORT about whether a constructors' name change was considered, Lopez said: "No. Because we are honest about it. We would have lost money. And rather than BS, we would rather tell the truth.
"The fact is we have a Renault engine, we have a Renault partnership and we are Renault's preferred team in terms of development for the future for the 2013 engine, so we have a right to keep the Renault name.
"But at the same time, if we tried to change, it we would have had issues with the television rights. We are honest about it and never claimed anything else."
Lopez also confirmed that his Genii Capital company was the 100 per cent owner of the Renault team, despite an initial announcement that Lotus had become a major shareholder in the team when its sponsorship deal was revealed.
"We bought the 25 per cent left from Renault, so we own today 100 per cent," he said. "Lotus is a sponsor number one, and they have actually purchased an option that gives them a right to purchase a certain stake in the team within the next two years.
"But as we speak and, for the foreseeable future, we are totally the owners. We have a lot of relationships at Proton above the F1 level and that is really what makes this work. Whether they own 1 per cent or 51 per cent or 101 per cent , at the end of the day, it is a bigger picture that has really put this together, so in that sense it is less of an issue."
Autosport has produced a standalone special magazine to celebrate our 70th birthday. All current print subscribers will receive a copy for free. To order your copy of the 196-page Autosport 70th Anniversary issue, please go to: autosport.com/autosport70th