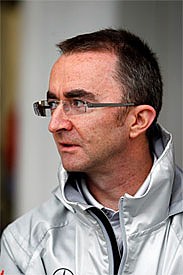 McLaren has undertaken a staffing reshuffle ahead of the 2011 season, as former engineering director Paddy Lowe becomes its new technical director.
With the team eager to lift its game as it bids to return to world championship glory, the Woking-based outfit has redefined the roles of its senior technical personnel in a bid to boost its cause.
Lowe's promotion means that Tim Goss, who was the chief engineer on last year's MP4-25, will become director of engineering to help play a larger role in car development.
The pair will continue to work in close co-operation with McLaren stalwart Neil Oatley, who will continue in his position as director of design and development programmes.
Speaking about his new role, Lowe said: "It's great for Neil and me to be joined by Tim as another director on the technical side.
"With the three of us, we'll not only be able to more efficiently spread our workload, but, through Tim & me, we'll also share race attendance. It's very important to have senior technical management at the racetrack, because that's where you score the points, but, equally, if you spend all your time away then you risk overlooking some of the hard work that happens back at the factory."
Goss's new position came after his duties at the team expanded last year following the departure of Pat Fry - who moved to Ferrari.
"I used to be jointly responsible for the direction of our cars with Pat Fry," said Goss. "Now I've taken on both roles - but there's obviously been some shifting of responsibilities within the team as, clearly, I can't do the work of two people.
"As director of engineering, my role will be to co-ordinate a small team of project engineers who are responsible for the specification, design and development of our cars."