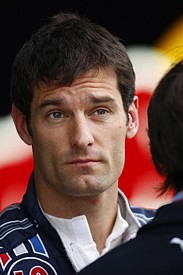 Mark Webber's manager Flavio Briatore believes the Australian was wrong to have revealed his late-2010 shoulder injury several months after that event - and should have either announced the problem when it happened or not spoken out at all.
Shortly before last year's Japanese Grand Prix, Webber fractured his right shoulder in a cycling accident. The injury only came to light in a book he published at the start of December.
Although Webber fell from first to third in the championship during the races following the incident, he was adamant that the fracture had not been a factor in his performances.
But Briatore, who has continued to oversee the careers of Webber and Fernando Alonso after his exit from the Renault team, thinks Webber should have handled the situation differently.
"It would have been better had he not revealed that," Briatore told Gazzetta dello Sport. "Otherwise he should have said that immediately."
Briatore does not believe the injury cost Webber the title, as he thinks the Australian would still have prevailed had he not crashed out in Korea.
"He didn't lose the title, however, because of that [injury], but because of the mistake in Korea. Otherwise he would have won," Briatore said.
The Italian expects both Webber and Alonso to be in the thick of the title fight again this year.
Asked if he saw Ferrari as the favourite for 2011, Briatore replied: "It's early to say. I expect Red Bull to still be strong and McLaren to be competitive once again. I see a four-way battle: [Sebastian] Vettel, Webber, Alonso and [Lewis] Hamilton."
He thinks Alonso will have a stronger title campaign this year than in 2010, when he had to come from behind after a run of problems in early summer.
"Fernando is motivated, and Ferrari wants to give him a winning car from the start, without the need of chasing the others," said Briatore. "That's what he wants and deserves. Alonso has the resources to win the title in 2011."
Autosport has produced a standalone special magazine to celebrate our 70th birthday. All current print subscribers will receive a copy for free. To order your copy of the 196-page Autosport 70th Anniversary issue, please go to: autosport.com/autosport70th