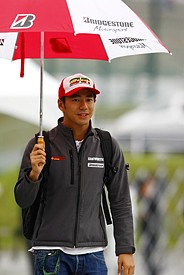 Formula 1 is bracing itself for a rain-disrupted day at the Japanese Grand Prix, with big storms predicted to hit Suzuka before qualifying.
As expected, the clear weather from earlier this week was replaced with steady rain on Saturday morning as teams prepared for another vital battle for grid positions for the race.
But although Saturday morning's free practice session started on time following a morning inspection by the FIA, radar predictions suggest a major storm is scheduled to hit the track in the next few hours.
Drivers took to the track for exploratory laps on Saturday morning, but there were complaints about rivers running across the track causing aquaplaning.
Lucas di Grassi told his Virgin team that the rivers made the track: "very, very dangerous."
Mercedes GP team boss Ross Brawn said he could not imagine qualifying going ahead if practice conditions were replicated this afternoon.
"We don't think qualifying will start if it is this bad, we don't think there are merits to running in these conditions because we don't think qualifying will run if it is like this," he told BBC Radio Five Live.
The bad weather is bad news for the five title contenders who may have hoped for a straightforward dry qualifying day - and the wet conditions could lead to a mixed grid ahead of what is expected to be a dry race.
Robert Kubica reckoned that the poor weather could turn qualifying into a bit of a lottery.
"When it is mixed conditions and changeable cars it adds some lottery, and normally in a lottery you have to be lucky," said the Renault driver on Friday. "This could be also the case here.
"It will be quite tricky tomorrow looking from the weather forecast but it is difficult to predict what will happen."