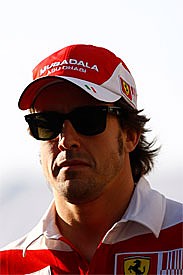 Despite having thrust himself into contention for the championship with two consecutive wins, Fernando Alonso believes it will be hard to beat Red Bull this weekend in Japan.
The Spaniard rated his chances on Thursday, and AUTOSPORT was there.
Q. It's been a crazy year with jump starts, engine problems, and crashes. When did you know that you would still be able to fight for this championship?
Fernando Alonso: After Silverstone. We made some improvements to the car and it felt good. Before that we had some up and downs, but the car was feeling okay although not at the level of Red Bull Racing. After Silverstone, knowing it was a difficult weekend for us with the characteristics of the circuit being very good for Red Bull, we were still quite competitive there. With that car I had much more confidence in fighting for the title, than before. So after Silverstone I was more optimistic than before.
Q. How much more confident are you now, given that we are at a circuit that may suit Red Bull Racing?
FA: I think no surprises here. Red Bull Racing are favourites again. The characteristics are again very good for Red Bull but it does not mean that they will win the race very easily. We saw this year - some circuits that were good for Red Bull, it was not a 100 percent [certain] victory for them because normally always something happened. So we need to keep pushing them.
Of the four circuits remaining, maybe Suzuka is good for them - and then the other three are a little bit of an unknown - especially Korea. It will be tough. It will be difficult for us, but hopefully difficult for everybody else as well. There are five drivers with possibilities - McLaren will come back very strong, I am sure, pushing a lot in the remaining races. But it is still a very open fight.
Q. Do you consider yourself favourite, as you won the last two races and you have the power of Ferrari behind you? Does that help?
FA: I think if you see the last two races, yes, because you arrive in a good moment. It seems that you need to keep the momentum now for more races, but we saw this year that people that win two races, or have two or three podiums in a row, then they have some bad results and then they come back good. No-one had consistently six or seven races in a good level for different reasons, so we expect there will be difficult moments for us. What we need to do is be prepared for those moments, not panicking, and score as many points as possible at every race. We know sometimes it will be a podium, sometimes maybe a fifth position - it is in those moments when we need to be united and not panic.
Q. In your previous title battles it has normally been you against one other rival. What difference does it make now that there are five drivers going forward with four races to go?
FA: It is different in a way because you need to control more drivers - more teams in terms of strategy. Fighting with one driver only is easier in terms of covering him - if he goes out at the beginning of Q1 then you go out as well just in case something happens, so you have the same possibilities. Now with five it opens a little bit more the window for different things - and it is difficult to control all of them. Sometimes one of the five, or two, they are not completely in control in terms of strategy as well. It is difficult in terms of strategy for the engineers, in terms of strategy for people - but from a drivers' point of view, it is not a big change. You try to do the best you can every time you are in the car and it depends on how competitive is your car that weekend. We drive all the time at 100 per cent, sometimes it is better and sometimes it is bad depending on the competitiveness of the car.
Q. At this moment there remain doubts that Korea will go ahead. If you are leading the championship you want as few races as possible, if you are behind you want as many. Where do you stand on this?
FA: I think personally we will race in Korea. We have no other news - the teams or drivers, we think that it is all confirmed. I know there is an inspection soon but I think it will be okay. If not, to be honest, it is not a big worry for us at the moment. We are not fifth and as you said that is the worst possibility if you have one race less. But if you are in the top three, it doesn't change too much with the points system that we have this year. We will see what happens.
Q. If you come in the last few races into a similar situation to what Lewis Hamilton and Mark Webber found in Singapore, where you fight side-by-side, do you take risks at all costs or play it safe?
FA: I don't know - it depends on the situation. All situations are unique and difficult to compare to any other one. If you see clearly that you have an advantage into the corner and think you are okay then you go for it. If you are at a disadvantage in that corner then maybe you go off the throttle because you need to finish races. [Mark] Webber was very lucky in Singapore. I saw the picture of the tyre, and that was luck!
It was okay, but 99 per cent of time during incidents like that both cars would be off. And if both cars were off then maybe now there would be different talks the week after - because now it seems that it was bad for Lewis [Hamilton], and if both cars were off then maybe it was not so much on Lewis. I think Hamilton was unlucky in that incident and Mark was lucky, but no-one was at fault.
Q. Compared to Red Bull Racing and McLaren where both drivers are fighting for the title, you have the whole of Ferrari behind you. In what way could that be an advantage?
FA: I don't know. I don't think there is a big difference. If you do well, as we did in the last two races, you can see clearly in Monza that Felipe [Massa] was third, so it was good because he took points from [Sebastian] Vettel and [Mark] Webber. In Singapore, Felipe [Massa] after a problem with the car started last and we won the race the same and scored 25 points. So having the team-mate close or not close is not a big difference if you do well. If you do bad, as we did in Spa, we were 10th - it doesn't matter. The important thing is to be competitive that weekend, it is not crucial to have both cars competitive or not. If both cars are on the podium it is good for me, as we score many points, but I don't think there is any special advantage or disadvantage.
Q. What do you think of Luca di Montezemolo saying that Felipe Massa will always be a number one driver?
FA: There is no surprise. The President always says that both drivers are at the top of the performance of the car, and both drivers will have the best Ferrari to try and win. It was this year, it will be next year and it will be forever.
Access even more news on Autosport.
Register for free to increase your monthly limit from 15 to 25 stories - or subscribe today and get unlimited access.
Get unlimited news
Full access to our news and in-depth Autosport Plus features - all in an ad-free enviroment.
Subscribe to Autosport Plus
Get 10 free extra stories
A quick upgrade and you'll boost your monthly news limit instantly - for free.
Register for free