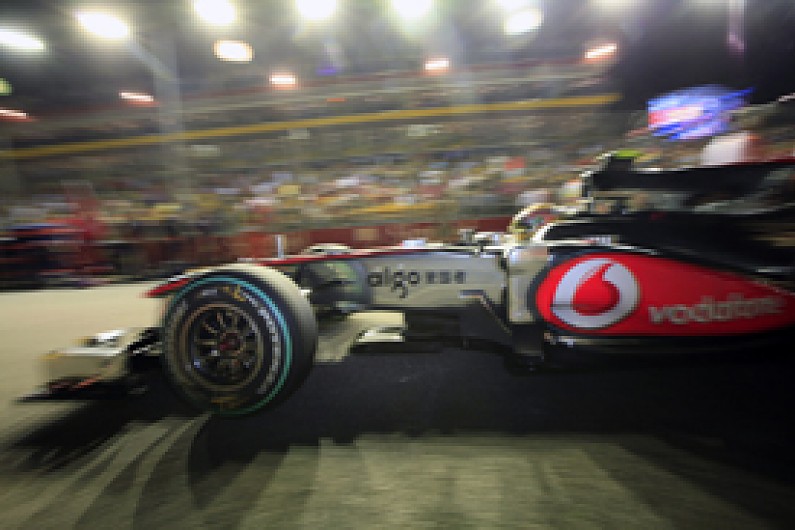 McLaren managing director Jonathan Neale says the team will squeeze everything it can out of its technical resources as it tries to claw back an advantage over Red Bull and Ferrari in the title run-in.
The Woking based outfit has scored just 80 points over the five races since Germany, compared to Red Bull's 136 and Ferrari's 153, and its drivers Lewis Hamilton and Jenson Button have slipped to third and fifth in the standings.
A further upgrade package will be introduced for Suzuka this weekend, and Neale admitted that McLaren was now willing to take more gambles with its developments.
"We're throwing everything and the kitchen sink at it," he told the Vodafone McLaren Mercedes phone-in teleconference.
"If we can pull a modification forwards, even if we've only got limited components, I'd rather have the drivers have that fraction of a second in lap time.
"We are running on the very lean edge of what we've got."
Neale is sure that his team made a step forward in Singapore last time out but reckons the characteristics of the circuit and the way the race unfolded masked the full effects of the upgrades.
"Last time we were at a circuit with those characteristics, we were 1.7-1.8 seconds off the pace. Our race pace [in Singapore] wasn't bad actually," he said.
"I think the safety car bunched up the field a bit, which made us have to run longer on the option tyre than we would've liked. We certainly saw a higher degree of degradation on those, which was a bit anomalous compared to the rest of the field. In the aftermath and analysis of that, we understand why that was."
He added that McLaren would not decide how much of its Suzuka development package would actually be raced in Japan until it had been evaluated in practice.
"What we've got is a big test package for Friday," said Neale. "We'll be in a better position to say what we're going to run in anger [after practice]. Certainly we're taking everything that we took to Singapore, and some more, to Japan."