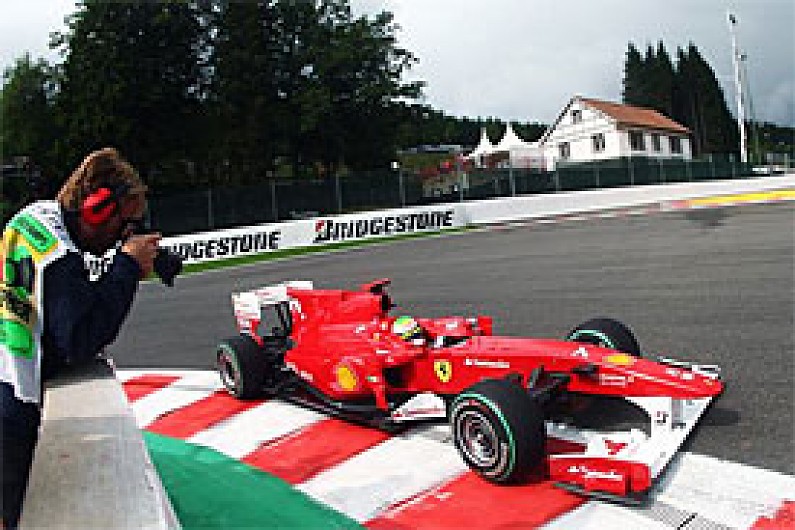 The FIA has launched an investigation into why Felipe Massa was able to start the Belgian Grand Prix slightly ahead of his grid slot without the error getting picked up at the time.
Amateur video footage that appeared on the Internet in the days after the race showed that Massa came to a stop on the grid slightly in front of where he should have been.
Massa's wrong positioning was in theory a breach of the regulations, but FIA race director Charlie Whiting received no information from the marshals at the track that the Brazilian had stopped in the wrong place - and the electronic systems in place on the grid did not detect it either - in time for a jump start penalty to be imposed.
With rival teams unaware of Massa's error, so not complaining to the FIA, the matter was not looked at in any more detail before the Belgian GP results were made official on Sunday night - which means no further action on the incident could be taken.
However, although Massa escaped punishment for what happened, the FIA has promised to look into why the wrong positioning was not picked up at the time.
"The problem was not brought to the attention of the FIA race director by either the marshals nor the automatic jump start system in time to be able to apply the appropriate penalty for jump starts," said an FIA spokeswoman.
"As no further information or complaints were received before the publication of the official result on Sunday night, the classification of the Belgian Grand Prix will now remain unchanged.
"The FIA are investigating the causes of the apparent failures in communication with race control in order to ensure a repetition is not possible."