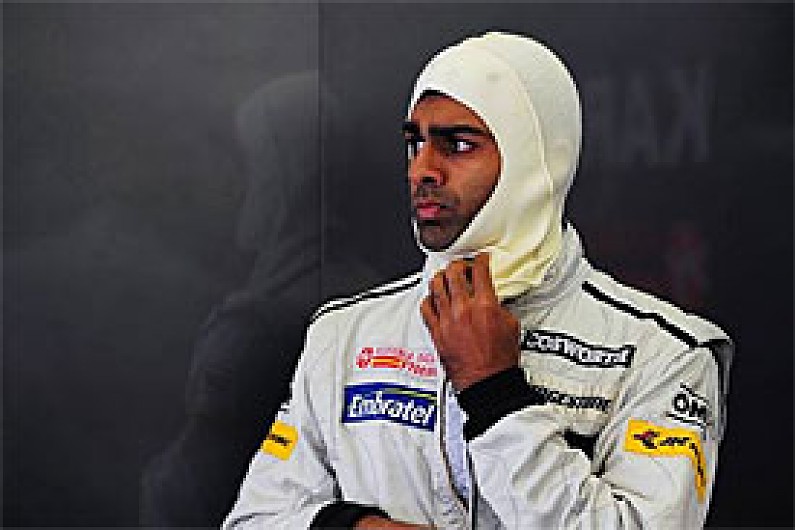 Karun Chandhok has set his sights on landing a seat at Force India next season - in a move that he thinks would ramp up commercial interest in Formula 1 from his home nation.
The current HRT driver thinks a number of Indian sponsors are eager to get involved in grand prix racing, with the country's first F1 race scheduled for next year, but don't want to commit themselves because they are unsure about where they should focus their efforts.
Chandhok said: "Do they back an Indian driver who will clearly have more support from the public and clearly is getting more media attention but unfortunately at the moment is being at the back of the grid? Or do they back an Indian team without any Indian influence apart from the name but who is further up the grid?
"I think because of that, sponsors are sitting on the fence on both counts. They don't want to commit to either of us, look at what is on our cars - Vijay [Mallya] has his own companies and mine has Brazilian companies.
"I would love to drive for Force India at some point in my career, whether next year or not. I think I am in some ways an ambassador for the sport in my country - and to have an Indian driver in an Indian car at the Indian Grand Prix, it is a no brainer in terms of ticket sales."
Chandhok says that his future plans are currently wide open - and that HRT could yet convince him to remain there if it sees through on its ambitious plans for the future.
"If these guys carry out their plans which they have talked to us about, then they can be a very competitive team in the future," he said.
Chandhok has also revealed he will be using a new chassis in Canada this weekend after suspecting his old one was damaged in his Monaco GP accident with Jarno Trulli.
"After the shunt in Monaco it wasn't bad but we've had a few question marks about the chassis," he said. "We used it in Turkey and there were a few odd things with it, so it's a new chassis for me."