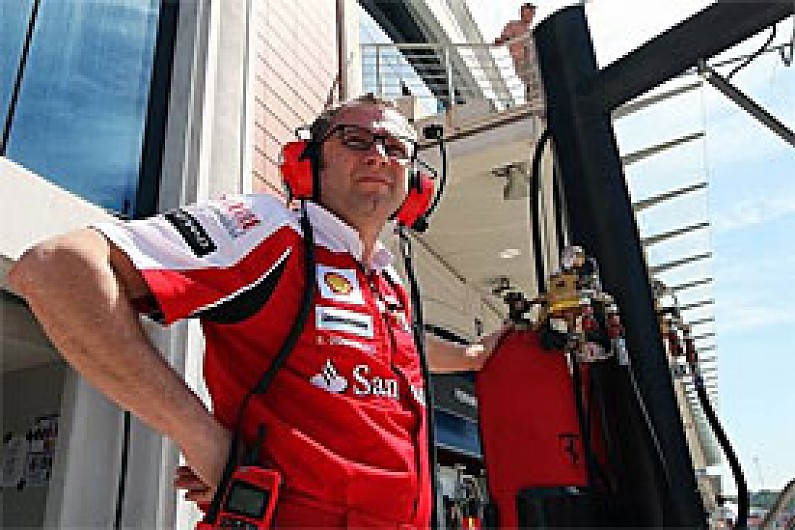 Ferrari was left licking its wound in Turkey, as the Italian squad dropped down the order and struggled for a decent points finish.
Now team boss Stefano Domenicali says it's time to react.
AUTOSPORT heard from the Italian about Ferrari's current situation.
Q. Up until this weekend, Ferrari has been a team fighting with McLaren as the main challengers to Red Bull Racing. Does your disappointing performance this weekend mean you have lost ground, or do you think it was track specific?
Stefano Domenicali: I think that we need to be realistic about this. For sure the weekend was very hard for us; there is no doubt about it. We need to analyse the reason why we stepped back from the performance that we were expecting to have. That is the point that we need to analyse very carefully.
As always we don't have to be too emotional with these things. But we need to address the issues, because we have the time to react and absolutely the time to work out that in these conditions, when you need the downforce, that it is important to bring that home. This is for sure the area that at the moment we are lacking.
Q. From the outside it would appear that the car is not getting a lot of new development parts. In Spain there wasn't a big change apart from the F-duct. Is there a big upgrade package coming? What is the reason for this?
SD: It is for sure true that we have invested a lot in the new system with the wing, but it is not enough and it is not perfect yet. What should happen in the next month is that in Valencia we should have a big update where there will be a lot of new parts on the car. But it is true from the fact point of view that the bits we tried to put in place were not enough to cope with the pace of the development that the biggest teams have done.
Q. Your president said last week that he was looking at strengthening the technical department. How do you square that up with the Resource Restriction Agreement?
SD: For sure this is a very difficult organisation limit that we need to take into consideration. It is for sure something, that as the big teams - not only us - we have to face the reality that we never had this kind of situation to live with before. This is for sure one of the challenges of the next year. It is never easy but we need to do it because it is something we agreed to respect.
Q. You said you expect big improvements for the next few races. What happens if these upgrades are not effective? What does it mean for Ferrari's season?
SD: It means that we need to find something more - because we don't want to give up after six or seven grands prix. Two thirds of the championship is still open. We have seen that everything can happen and we have seen how different situations can emerge in the races. So I think that we need to take this bad weekend for us in a productive way - reaction and not depression. Depression is for the people who do not want to achieve the targets that we set at the beginning. This is for sure that atmosphere that we have to live with in Maranello.
Q. Red Bull Racing keeps bringing a lot of developments for each race. Should Ferrari take a more aggressive approach?
SD: For sure Red Bull Racing has done a fantastic job on that. It is sure that if we want to recover the situation we need to be more aggressive and we need to find the performance. We cannot rely on the fact that, if we want to win, that the others must have a problem in themselves, because this is not the philosophy that we want to apply on our side. We need to work on finding the performance of the car.
Q. What was your reaction to the Sebastian Vettel/Mark Webber crash today, and do you think that team-mate rivalry could be an Achilles heel in its title challenge?
SD: I have a lot of respect for the others so I don't want to comment on that. They were always trying to steer between Fernando [Alonso] and Felipe [Massa] a situation and at the moment they are facing a different situation on their side. I don't want to comment - I just want to say that we feel the team spirit is the most important thing. We will see. For sure against McLaren they lost important points in the championship.
Q. In terms of engine, is Ferrari behind in the power stakes of the other teams?
SD: To be sure the major issue that we have now is to find more downforce of the car. It is not really - if I could put the priority, it is not the performance of the engine. It is really the way that you can have the traction and use the power.
Q. A few months ago we were told it is already too late to decide on tyres...
SD: And also last week!
Q. What is going on? Why is there such a delay?
SD: We are pushing like hell in order to make sure that every day it is advancing. But unfortunately negotiations are still going on. I hope it is not another weekend when we have to sort it out - I hope it is this week. It is already very, very late for us.
Q. Is it too late?
SD: We are already too late, but whether it is more than too late is difficult to say. So we need to decide.
Q. You say you won't get depressed about what is happening, but considering you stopped development of last year's car so early to focus on this year, don't you have to be disappointed?
SD: For sure I am not happy. How can you be happy with a performance like this weekend?
Q. Is it acceptable though, considering what you thought last year?
SD: It is not about being acceptable or unacceptable. It is fact that we don't have to be complacent. We have to react and try to understand why in our aero department we didn't bring the things that we were supposed to bring. It is not a case of being disappointed or not disappointed. We need to make sure the team is working hard and reacts straight away. The time is there, that is not the problem.
Access even more news on Autosport.
Register for free to increase your monthly limit from 15 to 25 stories - or subscribe today and get unlimited access.
Get unlimited news
Full access to our news and in-depth Autosport Plus features - all in an ad-free enviroment.
Subscribe to Autosport Plus
Get 10 free extra stories
A quick upgrade and you'll boost your monthly news limit instantly - for free.
Register for free