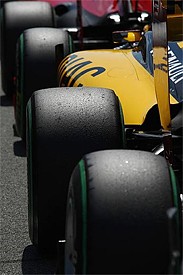 Formula 1 teams are hoping to reach a final decision on tyres today, with meetings scheduled to evaluate which direction they would like the sport to go for 2011.
With proposals from Pirelli, Michelin and Avon Cooper all on the table, teams are hoping that detailed analysis of which offer is best will allow them to pick a preferred option in the next few hours.
Although no final decision has been made, AUTOSPORT understands that Pirelli has emerged as the favourite candidate as the Italian tyre company pushes to return to F1 for the first time since 1991.
As well as the Pirelli offer being more competitively priced than the Michelin deal, teams are also understood to be keen on it because the company is willing to commit to F1 trackside advertising as well - which means teams will see a further revenue boost through the profits share with Bernie Ecclestone's companies.
Mercedes GP team principal Ross Brawn said time was of the essence to get a decision made, with outfits eager to get on with designing their 2011 cars.
"I think we had a very good proposal from Pirelli which needs looking at seriously, so we are in a better position than we were several months ago," he said in Monaco. "F1 has now got some serious proposals, whereas a few months ago we had nothing.
"We are greatly encouraged by the interest, and both the tyre companies and designers want to get on and start doing things now or else there will be compromises. It will start getting expensive and, worst of all, someone might get lucky and they design their car around a tyre and get it right and other people don't through no fault of their own at the time."
McLaren boss Martin Whitmarsh, who is chairman of FOTA, hoped that a decision could be made in Sunday's meeting.
"We are going to discuss it," he said. "Fortunately we have some options, so a decision is nigh."