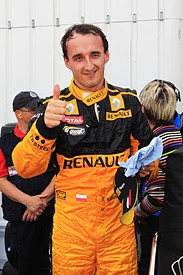 Robert Kubica admitted he was amazed that he was able to split the Red Bulls and take a front row slot in Monaco qualifying, just a week after he was 1.5 seconds off the pace and back in seventh on the Spanish Grand Prix grid.
Only a late charge from Mark Webber prevented Kubica taking a shock pole in Monte Carlo today.
"If the same car is 1.5 seconds quicker in Barcelona there is no reason why we should qualify in front of them," said Kubica. "I was surprised by the pace in practice but miracles don't happen in F1. Normally when you are very close there is a bit of upset but we have to be realistic, the team has done a great job."
Kubica thinks the Renault will perform even better in race trim tomorrow.
"Generally the characteristic of the car is similar to this morning, this morning I felt the car was a bit better with changes more for the race," he said. "I was scared with a lot of fuel we would have a lot of bottoming, we raised the car a bit so a bit of disadvantage for qualifying but for the race it should be better.
"Of course in Monaco the race is a bit different, it is not about race pace but bringing car home, pitting at the right moment, getting out of pitstop without traffic. The race pace helps but even if you are one second quicker it doesn't matter, you have to pit at the right moment, and get out ahead of everybody. That is how it works in Monaco."
He said he there was no disappointment over being pipped for pole despite having come so close.
"I am not disappointed, of course I am here for qualifying as best as I can and today we achieved it," said Kubica. "The first one is what counts but second or third is still good. We have to be realistic, for me, for us, it is a great achievement and we hope for good points tomorrow."
Kubica also played down the disadvantage of starting on the dirty line in second place.
"I don't know to be honest, our starts in the beginning of the year were very good but unfortunately lately we were not as good as we were," he said. "In Barcelona we managed a good start but lost out some distance.
"In Monaco it is not far to first breaking. Dirty side, clean side... we will see tomorrow, there is a bit of difference but it is so small that we shouldn't worry too much."