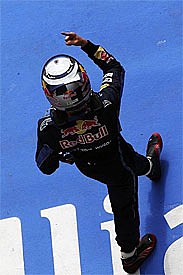 Sebastian Vettel hailed his final qualifying lap as "fantastic" after securing pole position for the Chinese Grand Prix.
The German claimed his third pole in four races, also making sure Red Bull has secured the top spot in all the grands prix of the season so far.
Vettel, who had struggled with his car's set-up before qualifying, admitted his lap had been superb, especially on the first sector, where the German had had more trouble this weekend.
He qualified nearly three tenths ahead of team-mate Mark Webber.
"It was tough today. I was not so happy yesterday and this morning especially Mark was quite a bit quicker than me," said Vettel.
"We did some changes and went a little bit in Mark's direction but it was extremely difficult. "I was struggling in the first sector especially but now in qualifying I was purple in sector one.
"I found a line like last year a little bit. I had two very good runs in Q3, the last corner on the first run I was a bit too wide, otherwise it would already have been a good time, but the second run was a bit better everywhere.
"It was a fantastic lap, and the fourth consecutive pole position for Red Bull. We are proving we have a very good car independent of the circuit type. We are always up there.
"Special thanks to the mechanics because they had zero lunch as we required a lot of changes that they had to work from free practice to qualifying."
Vettel said he is confident he will be strong in any conditions in tomorrow's race, when rain is expected to hit the circuit.
"I think it will be raining tomorrow, it's just a question of when," he added. "It will be similar to the last two races. We are not afraid of any rain, for Sunday it looks quite bad if you look at the weather.
"The question is will it be wet throughout the whole race or after the start? We have good memories of the wet conditions last year and if the rain comes it is best to start at the front because you are the one who sees the best. Dry or wet we should be well armed for tomorrow."