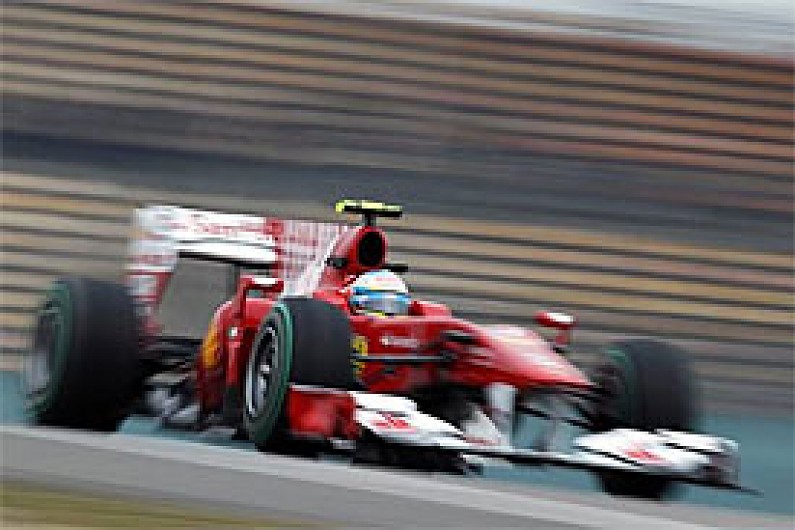 Fernando Alonso says he has 'zero' worries about Ferrari's engine reliability, despite another failure in practice for the Chinese Grand Prix.
The Spaniard has already lost two of his eight power unit allocation in the first four events of the season - with his remaining six engines now needing to last for another 15 grands prix after this weekend's Shanghai event.
One of his engines blew up in the Malaysian Grand Prix, as a result of the gearbox problem he suffered in the race, while the unit that failed in China was the one replaced after Bahrain qualifying because of fears about its health.
But despite the prospect of now being on the back foot regarding engine usage, Alonso is confident that the contingency plan being put in place by Ferrari - to only use old power units in Friday practice - will see him through the year without problems.
"My worry is zero," said Alonso. "With the race engines, with the ones we use for Saturday and Sunday, we are still working as planned and the Friday engines will have to do a few more kilometres from here to the end of the year, but always within the limits we reached during winter testing.
"Zero worries, as I said yesterday. If we break more engines then we'll start thinking, but right now there are no worries, and this engine was going to reach its end sooner or later. That's why we removed it in Bahrain. We knew it was dying."
Alonso is also confident that Ferrari's practice programmes will not be hurt by having to run in a conservative mode.
"I don't think it will be a big problem," he said. "In winter we were pushing the engines to the limits of mileage, and after finishing the life of the engine we did some tests also in the dyno and we saw the performance loss was very, very low - so in terms of performance and driveability, the old engines will not require anything special.
"It will be quite transparent for us and, as I said, everything is according to plan so far. Unfortunately we lost the two engines, but maybe this one was expected. The Malaysia one was a bit more of a surprise."
Alonso also said that the first evaluation of Ferrari's F-Duct system would need careful analysis from the team's engineers, with only the engine cover unit being run so far.
"The F-system was not active," he said. "We tested some parts of the engine cover and the rear wing to validate them and to check they worked fine, but the aerodynamicists will now gather data. But the system was not complete.
"I had nothing inside the cockpit because the system is not complete. We tested the engine cover to compare it with the standard one. I didn't notice anything. I guess there will some new numbers from an aero point of view."