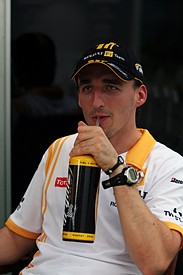 Robert Kubica's breakthrough second place in Australia was exactly what Renault needed after a very tough end to 2009.
The result owed something to the unusual circumstances in the race, but Kubica still had to fight extremely hard for it. In a straightforward race, he still reckons Renault is off the pace, as he told reporters including AUTOSPORT at Sepang today.
Q. How does your second place in Australia rank among your performances in your career?
Robert Kubica: To be honest, I was quite pleased with my driving. I think it was a whole team effort and also a big effort from myself to take this second place. Of course it was a big opportunity for us after a good start and [the] Turn 1 [crash], where I jumped into fourth place. I think it was a good call to change tyres, it was not easy in the pitstop - very tight, all the crews were out there. I managed to miss the leg of our lollipop guy by 10cm I think and some blankets from Williams by less than this.
I managed to gain a position over Felipe [Massa] and then it was quite a tricky race. It looked very easy and smooth but it was quite tricky. I had to keep the pace up, but on the other hand I had to take care of my tyres, and on some laps I had to take care of the drivers who were attacking me, so it was a mix of everything.
But I managed to not do any mistakes, which was for me quite normal, but after reviewing the race I think most of the people had done some mistakes or lost positions due to mistakes. It was not easy because especially in the first half of the race the track conditions were tricky and off-line it was damp, so it was very, very easy to do mistakes - which of course in the position I was running was not ideal. So I was trying to just keep up a good pace and take care of my tyres, and drive the car home.
Q. Were you surprised when Lewis Hamilton stopped for tyres?
RK: Yes. To be honest I was quite pleased about it because the McLaren was definitely the most difficult car to keep behind. Our top speed is good, so it helps me to defend, but the McLaren's [straightline speed] is even better. Looking at it after the race, he managed to overtake nearly everybody in quite a smooth and easy way. So for sure it was not easy [to defend]. I think in the early laps when he came behind me his tyres were still in good shape and he was really, really quick. Then I think his tyres were just starting to degrade and that's why he stopped. I don't know. It was good for us.
Q. Would you class this as an opportunistic podium rather than a genuine step forward?
RK: It's clear that the pace of our package is not up there and everybody realised that Australia was our chance, for now. For sure if you put up all cars on pure performance, we are not there. This is quite clear. But races are races, points are the same for each race, so if it was an opportunistic podium or pure pace, it doesn't matter.
We brought 18 points home, which I think is a great achievement for everybody in the team, especially after a hard winter for everybody on the race team and in the factory. We've had a big push in the last two months to improve the car. There's still quite a long way to go, but I think it was a great achievement.
Q. Does the car look better now than it did in testing?
RK: I don't think so. I think winter testing, especially in the beginning, we were maybe a bit closer to the top. But of course testing is quite difficult to judge. We have seen cars at the top of the list in testing and thinking that they will be fighting for podiums, and they are far behind. We have seen cars who, like we were, were not very quick in testing. But I think the truth is in the middle. I don't think in testing we were much worse or much better, we were just there.
Q. So if you're still a bit off in performance, what sort of result is realistic in normal circumstances this weekend?
RK: I think we are not just a bit off, the gap is quite big. Fortunately we are in a position to be in front of the kind of second group, where it's Williams and Force India. Maybe if Mercedes doesn't get it completely perfect and we get it completely right, we'll be able to fight with them. As we saw in Bahrain - if we'd put everything together we could have qualified and or even raced with Mercedes, but we have to make sure we get everything right and we have to hope that they still have some problems.
There are many cars around that are very quick - we saw Williams with [Rubens] Barrichello in Australia, [Adrian] Sutil has qualified two times in the top ten, so I think the pack is very close together. That's why I think we have to keep pushing, and the guys have done a very good job bringing some upgrades every race, which is helping us to improve and maybe one day close the gap.
Q. Comparing Melbourne to your second place with BMW in Brazil last year, which car was more competitive?
RK: I think both races were very similar. Both races were not normal races, they were races where for one reason or another the pace was quite slow, and where many people did some mistakes, so this was kind of two races where you can have a chance to score good points if you haven't got a top package. I think the gap was pretty similar. We were around 1s off, maybe a bit less, in Brazil, and around 0.8s off in Australia. So pretty similar.
Q. Will the weather help you on Sunday?
RK: I think nobody can know if the rain will be helpful or not. If it will be raining, I think we are ready to race in the wet, and we hope to score good points. But how it will be, I don't know.
Q. How confident are you about Renault's development?
RK: I'm pretty confident about our programme of development but I cannot have any information about the others. You can develop the car very quickly, but if the others develop in the same way, you will not gain ground to them, and you will not become closer. So it's very, very difficult to judge.
As I said, I feel pretty confident about the work we are doing on development and the speed we are bringing with the upgrades. The direction is good, but the top teams are not sleeping, and for sure they will be working really hard as well. So it will be very difficult for sure. We knew it would be a big challenge this year, and we are still working on this challenge. We will not give up until the point where we see we are not able to close the gap.
Q. What are your personal targets this year and are you looking to switch to a top team after Renault?
RK: Personal targets are as every year to deliver good pace and consistent driving, which I think is what I can deliver. We have seen in the pace that I can drive consistently for many races without doing any silly things, and also the race in Australia shows that when there is an opportunity I can do well. So for sure this is important, especially if you have no other way to get on the podium.
About next year, we are only two races into this year so I think it's the wrong time [to discuss it].
Q. Will it be another one-stop race here?
RK: Everything will depend on the tyre situation and tyre degradation. For sure it's clear, especially if you are at the front, you do everything to try and stop just once because by stopping twice you are losing so much time and positions. For sure we have seen in Bahrain and Australia that we try everything to stop just once, and it will also be the case in Malaysia.
Q. Were you surprised that the tyres lasted from lap eight to the end in Australia?
RK: I think if it was normal driving, like we were driving last year, I don't think it would have been possible. Just knowing that you are stopping in 20 laps, the tyres would be gone in 15 laps... But if the tendency is to get to the end, then you do everything to help the tyres, with your car balance and everything, in order to finish the race as quick as possible. So it's different driving and it's also different balance-wise - you are trying to take care of the tyres and depending on which stage of the race you're in, you're driving in a different way.
I think Australia was a good experience, which I'll take with me. Bahrain was, as I said after the race, a good lesson and good experience for the future, and I think Australia was as well.
Q. How difficult is it to keep your tyres going while defending?
RK: To fight with a guy who is much quicker and really pushing hard, you have to somehow take care that you don't go off by defending, first of all. And second, you have to keep your tyres still in good shape for the remaining laps. So it was not easy.
But I think it was also not easy for [Hamilton]. Being behind is a worse situation because you lose so much downforce and you stress the tyres even more, so somehow I knew that the cars behind me would sooner or later get to the point where they would struggle with the tyres. I think that's why they pitted because in the end it was not easy for anybody - for the drivers who were behind, for myself, for everybody it was a tough race.
Access even more news on Autosport.
Register for free to increase your monthly limit from 15 to 25 stories - or subscribe today and get unlimited access.
Get unlimited news
Full access to our news and in-depth Autosport Plus features - all in an ad-free enviroment.
Subscribe to Autosport Plus
Get 10 free extra stories
A quick upgrade and you'll boost your monthly news limit instantly - for free.
Register for free