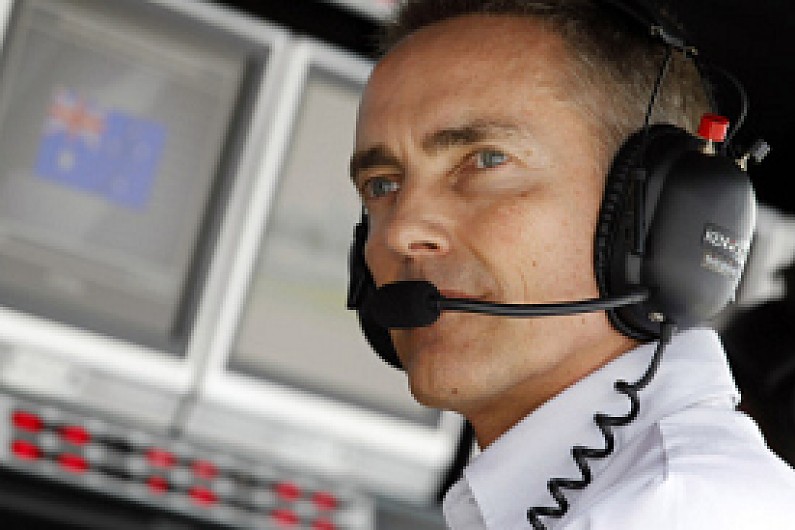 Martin Whitmarsh had an eventful race in Australia. One of his drivers scored his maiden win for the team in just his second race, while the other had a brush with the police, was critical of the team's decision-making during the race and was hit by Mark Webber two laps from the end, costing him fifth place.
AUTOSPORT was there to hear the reflections of the McLaren team boss after the race on Sunday.
Q. You said on Saturday that you were confident McLaren would win a race this year. What's the feeling after achieving that target in less than 24 hours?
Martin Whitmarsh: To be honest, winning is what you are about. If you come to the first race and you are not that close to it, then the pressure builds. For the team and everyone who has worked hard at Woking for this, and for Jenson [Button] as well - coming to McLaren, you've won races and you've won world championships elsewhere, it is quite important that you get that first victory.

I think the great thing, what a fantastic role he played in achieving that first victory. He made the call - we offered him the opportunity to make the call for that stop. It seemed quite early, but he was brave enough to do it - and that strongly contributed to his win. But he also had to keep calm, make the tyres last, drive smoothly and keep the pace up. It was a masterful drive today - he kept cool in very difficult conditions.

Q. Jenson said when he came into the pits that he thought he had blown it immediately. Did you think the same thing?
MW: No, we knew it was a long race - and there could have been further rain. You don't think like that. You think - what is going to happen and how do you react to it. When he slid off in the first sector it was a little bit of a worry, but it was a gamble - and it was a well judged gamble on his part. He has to take every credit. He made that call. He was the call guy. He drove fantastically and this was a win that was great for the team, great for Jenson and one that he was significant achieving.

Q. In Lewis Hamilton's stop, was that a case of covering both bases?
MW: No. Lewis's stop - he went on the option tyre early and it was a long race. You could see at that point that Lewis was losing time behind [Robert] Kubica, you could see he had graining of his rear left tyre and you could see that Michael [Schumacher] had stopped and was going purple, Webber had stopped and was going purple and more than one second per lap quicker.
With the information we had at the time, given where Lewis was, we felt that it was the right call. I think in retrospect and hindsight, if we look at how the race played out, if Lewis could have made those tyres last then he could have finished at least second today and we would have a one-two. Inimitably in McLaren style, you look at a win and say - 'damn, it could have been a onw-two'.
It was disappointing because it was a fantastic drive by Lewis. We as a team made that decision, I have to be accountable for that and I am disappointed with the outcome, but I am not disappointed by the process because I thought it was the right decision at the time.

Q. Did Lewis have an emotional outburst on the radio against the team?
MW: Lewis passionately expressed himself on the radio. I think that is how Lewis is - he is passionate, he likes to win. He likes to do everything well, he is hard on himself and he is hard on the team, and that is how Lewis Hamilton is. That is how he ticks and that is how he functions.

Q. What was the reason for that?
MW: As the race wore on, he felt that the decision to stop was wrong. And as the race wore on we could all come to that conclusion, but at the time that we made the stop, we felt it was the right decision.

Q. What sort of nick were Jenson's tyres in in the end?
MW: They were pretty shot, but he looked after them. He had built up a decent buffer and he just drove smoothly, looked after himself. I don't think we would have wanted to have pushed too hard on the rears at the end of the race.

Q. Was there any damage on Lewis Hamilton's car after the collision with Felipe Massa's rear wheel?
MW: I haven't seen it and I didn't see anything fall off. I imagine the footplate on the endplate was taken off and we could see about a 10-point balance shift, so he lost a reasonable amount of front end. But he still did a fantastic job given that his car was wounded after attacking - and just great driving. He just clipped it on one of the Ferraris.

Q. What about damage to Jenson's car after the collision with Fernando Alonso?
MW: We don't think so - but we haven't seen the car yet. I think it was a wheel-to-wheel contact and fortunately we could not see anything on the data that suggested it was damaging.

Q. Pace wise last year, Red Bull had events where they were dominant on pace but could not get the results in the races. Are we seeing a similar pattern this year?
MW: A little bit. Unquestionably, they have got fantastic qualifying pace, and that is something we have to work on. We will work hard on that one. In the race we thought we would be closer and we were, undoubtedly. We were in a position to attack and I think with the great call that Jenson made, we were in the position to beat them even without Sebastian's problem.

Q. A lot has been made about Jenson's smooth driving style and Lewis's greater aggression which played a part in today's result. Are we seeing races where it could switch - and being more aggressive could be a benefit?
MW: I think a lot is made of it. I think it is over-stated, frankly. There are times when you have to be aggressive to get temperature into the tyres and that is the right way. If you are trying to get an option to last most of the race and you are sliding around then you have got to be very careful.

Q. But there will be days when Lewis is on top of it, won't there?
MW: Yes, and that is fantastic. Those are the dynamics were like. Providing it is clean, honest and fair - which I am sure it will be - then it is fantastic. It drives us on.

Q. It only took Jenson two races to win for you. Is that a surprise?
MW: I am not surprised. We hoped to have won the first race but we were not quick enough. I think today Jenson did a fantastic job - joining a new team, getting used to that team, the car, having an understanding of it. It is something that he has done a great job with - integrating. And he well deserved the result he got today.

Q. This race has made F1 look a bit better. Do you think it is a one off because of where we are?
MW: No, I don't think it is a one-off. In any season, if you throw safety cars, rain and difficult circumstances into any event, they are always great. It was an exciting race here last year and there has been one here again this year. We got ourselves off to a start in Bahrain where we didn't think that it was such an exciting start to the year, but we have demonstrated today that in the right circumstances we can do it. For anyone watching, it must have been tremendously exciting.

Q. How do you see Sepang from your perspective?
MW: It is an opportunity. We have hopefully got to improve the car a little bit, try and get a little bit closer in qualifying and we've got two great racers. We look forward to it.
Access even more news on Autosport.
Register for free to increase your monthly limit from 15 to 25 stories - or subscribe today and get unlimited access.
Get unlimited news
Full access to our news and in-depth Autosport Plus features - all in an ad-free enviroment.
Subscribe to Autosport Plus
Get 10 free extra stories
A quick upgrade and you'll boost your monthly news limit instantly - for free.
Register for free