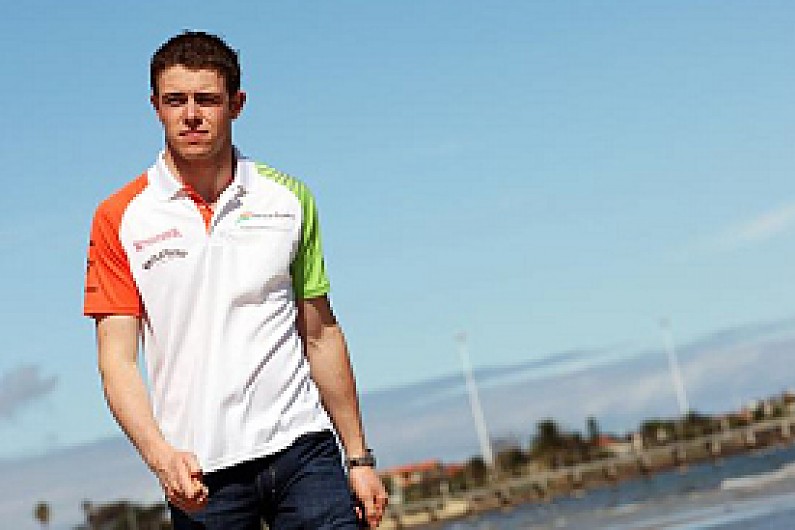 Paul di Resta will move a step closer his ambition of racing in Formula 1 this weekend when he takes to the track in Friday practice for Force India.

His first weekend of official duty got off to an eye-opening start, however, when a promotional appearance on St. Kilda beach on Wednesday was overshadowed by a shark in the water.

The Scotsman put the excitement of that moment behind him, however, as sat down with the press to discuss his weekend, his hopes for the future and why DTM has been a big help to him. AUTOSPORT heard what he had to say.
Q. So are you excited?
Paul di Resta: Yes, very excited. Naturally I am very excited about it. It has been quite a good winter. I've been trying to prepare myself as best as possible for this day. And I think I would love to have driven on the Friday in Bahrain, but coming here having being involved in a GP weekend, how the structure works and what the team's format is over a weekend, I feel a bit more comfortable about the situation.
But I just have to play it by ear, use the time as effectively as possible and try and gain the experience from it. That is what we are trying to achieve. Build myself up nice and gently and I think certainly try and help the team with their preparation for the grand prix weekend.

Q. Were you expecting the opportunity to come so soon?
PDR: Originally, it was going to start right from the off but when the track changed in Bahrain, the team decided it was going to be a better view that the race drivers drove on that track. Looking back, they needed that, because it was quite a difficult section they put on with the bumps and stuff, so there is a logical side behind it.
We are up and running now for these Fridays so I am looking forward to getting on some new tracks, they are all new to me - the only one this year that I am going to have an idea of is Hockenheim. It is about gaining experience and learning circuits.
Q. It's quite a compliment to you that Force India is so willing to go down this route to give you some track time?
PDR: Hopefully, this year we are going to gain a lot of experience and hopefully I can show the team that I am capable of being in a race car at some point in the near future. This year is about trying to gain the experience on the tracks so if a race drive should come up, then I am in the scenario without thinking of it too much.
It also gives a different view over the grand prix weekend, with me in the car. So I suppose it can work in many different ways and have benefits to it - but also some disadvantages for the race drivers because they are not getting the full amount of running. I am just excited to be in the car and that is where I am focused right now.

Q. So what is your programme?
PDR: The next few races are about getting myself up to speed and feeling comfortable. I've not driven the car in the dry since Jerez last year, so this car is new to me. I've driven it in the wet, got a little bit of an impression of it and I've had a small amount of time in the simulator to try to get myself back up to speed. Hopefully it comes to me quite quickly. I believe when you do get comfortable in it you should be able to get up to speed quite quickly at this level.

Q. What have you made of Albert Park from the simulator?
PDR: It has surprised me - a few of the corners have definitely done that, having watched it on TV. It is quite challenging for sure. I think the other thing that will be challenging is that I am going to be running quite early, so the track isn't going to be rubbered in. I believe there is a huge effect here, even lap by lap.
It is just being sensible with the situation and not having too much of a focus on the times. We will see where we are at the end of the session on Friday and see what positives we can take from it for the next time we are back out in the car.

Q. You are doing DTM as well as F1 this year. Is that going to be a problem switching between the two?
PDR: I've done it a few times already this year. I was driving the DTM car quite recently and the jump is so big that I don't think you feel it. I think it would be harder going from a GP2 car to an F1 car - because they are similar. The DTM is a completely different animal.

An F1 car is by far the best engineered single-seater in the world and the DTM is by far the best engineered tin-top in the world. So there are two aspects to it. I don't even notice the jump anymore. DTM, there is nothing new really to me, whereas F1 is something new - and clearly there will have to be a lot of focus on that side of it.
It is a good positive stress I believe - it keeps me sharp and up and running. It is a year I am looking forward to. I believe I am young enough and fit enough to take up the challenge. I am not sure how many years you could do it for.

Q. What advice has [your cousin] Dario Franchitti given you?
PDR: Dario and I are very close, not only from a racing side of things - but a family side. I suppose Dario has never really been in a situation in F1, so it is a different approach you've got to look at. Dario has achieved a huge amount in motor racing in the States and he can only give advice in some things.
At the end of the day, it is a different adventure for me. You just have to be switched on, take positives from life and learn from the negatives. That is the approach I've had, and I want to keep learning and get the goal I want to achieve at the end of it.

Q. And you goal is to be in the car full time next year, isn't it?
PDR: Absolutely. I just want to do what it takes to get in the car and achieve what I can to do that. I will try everything I can. At the same time, it is not only about what you do in the car, you also have to have a very intelligent mind outside of the car - and even working and building a relationship with every individual in the team to make everyone comfortable with the situation.

Q. Has the DTM helped in you learning how to work in big organisations?
PDR: I think that is the thing that people miss coming through GP2. For three years now I have been involved in a factory-run team where development is the key - building new cars, going forward and working to deadlines. I went into DTM when I was 19, had to learn pretty fast but it has all been positive - and helped me tremendously.
Each year I go on, I say, 'was I ready for F1 back then?' Well, now I am - and you grow with maturity. Mercedes-Benz has been a key factor in achieving that out of me, and helping me deal with it in the best possible way. I love my relationship with them and I hope it continues whichever way we go.


Q. And you had a bit of an encounter with a shark today?
PDR: It is the first time I have been to Australia and the first time I've been to a beach here - and within two minutes I see a shark. It doesn't give you much confidence to go in the water!

Initially I wasn't sure what it was, but it was quite a big shark to be fair - big enough to worry about it. It was within about six feet of us - and it was stuck. I think a Dutch commentary guy was going to go in and push it out - it was nearly two metres long!

I was the first one to notice it. Tonio said to me, 'it's not a shark, don't be stupid' - well about 30 seconds later you realise what it was. It swam for a good 10 minutes, and enough to call the police and get a helicopter in to see it!
Access even more news on Autosport.
Register for free to increase your monthly limit from 15 to 25 stories - or subscribe today and get unlimited access.
Get unlimited news
Full access to our news and in-depth Autosport Plus features - all in an ad-free enviroment.
Subscribe to Autosport Plus
Get 10 free extra stories
A quick upgrade and you'll boost your monthly news limit instantly - for free.
Register for free