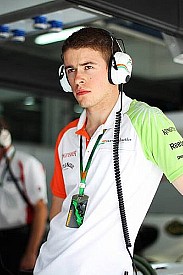 Paul di Resta has no doubts that he is ready for anything that Formula 1 can throw at him - despite being slightly put out after encountering a shark during his first PR appearance for Force India.

Di Resta gets his first opportunity to drive on a race weekend in Australia this weekend, when he takes over Adrian Sutil's car for the first free practice session.

But his introduction to F1, and Australia, did not get off to the best start when a promotional event on St. Kilda beach in Melbourne was upstaged by a shark in the water.

"It is the first time I have been to Australia, and the first time I've been to a beach here - and within two minutes I see a shark," he said. "It doesn't give you much confidence to go in the water!

"Initially I wasn't sure what it was, but it was quite a big shark to be fair. Big enough to worry about it. It was within about six feet of us - and it was stuck. I think a Dutch commentary guy was going to go in and push it out - and it was nearly two metres long!

"I was the first one to notice it. Tonio [Liuzzi] said to me, 'it's not a shark, don't be stupid' - well about 30 seconds later you realise what it was. It swam for a good 10 minutes, and enough to call the police and get a helicopter in to see it!"

Di Resta says he is genuinely excited about his Friday driving opportunity this year, and makes no secret of the fact that he hopes he shows enough to convince the team to sign him up for a race seat in 2011.

"Hopefully, this year we are going to gain a lot of experience and hopefully I can show the team that I am capable of being in a race car at some point in the near future," he explained. "This year is about trying to gain the experience on the tracks so if a race drive should come up, then I am in the scenario without thinking of it too much.

"It also gives me a different view over the grand prix weekend, with me in the car. So I suppose it can work in many different ways, and have benefits to it - but also some disadvantages for the race drivers because they are not getting the full amount of running. I am just excited to be in the car and that is where I am focused right now."

Di Resta believes his years of racing in the DTM have given him the maturity and experience to cope with the pressures of F1.

"For three years now I have been involved in a factory-run team, where development is the key - building new cars, going forward and working to deadlines," he said. "I went into DTM when I was 19 and had to learn pretty fast but it has all been positive - and helped me tremendously.

"Each year I go on, I say, 'was I ready for F1 back then?' Well, now I am - and you grow with maturity. Mercedes-Benz has been a key factor in achieving that out of me, and helping me deal with it in the best possible way. I love my relationship with them and I hope it continues whichever way we go."