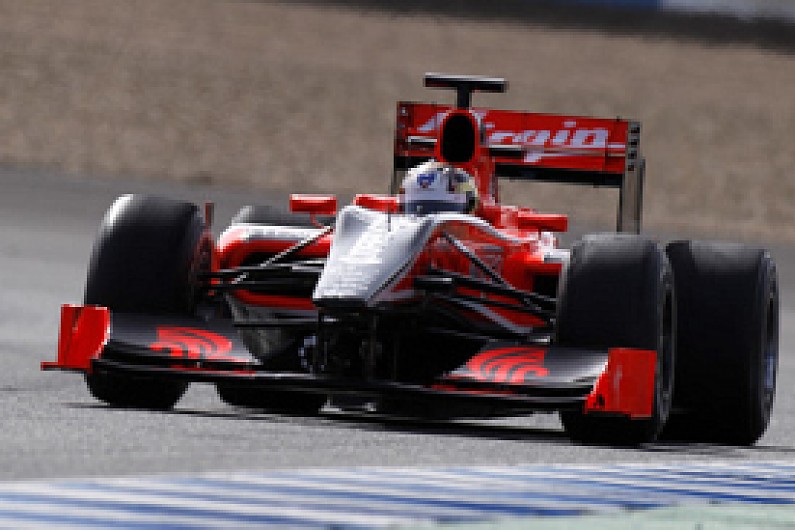 Timo Glock believes CFD design will not prove itself until Virgin Racing implements a major aerodynamic upgrade onto the VR-01 during this season.
He says the updates the team has made so far have worked as planned, but thinks it will take the success of a significant package before Virgin's windtunnel-free design approach is accepted by the rest of the paddock.
"So far, we haven't had any problems with it," Glock told AUTOSPORT. "We've had some little updates with aero parts that straight on worked, so that's a positive sign. But I think when the big steps are coming, it will be quite interesting to see.
"The way of operating with CFD is just a bit quicker than windtunnel time. A lot of stuff in the windtunnel takes quite a lot of time to make the model and test in the tunnel. That goes much quicker with CFD, but we still have to show people that it is definitely working."
Glock added that he has been impressed with the technology since joining the team, even though it made for a nervous first test drive.
"When I came over to the factory and saw the different way to develop a Formula 1 car it was a really interesting project," he said.
"The first time I jumped in the car at the Silverstone Stowe circuit, in the first moment there was a strange feeling. You know it hasn't been in a wind tunnel, it's just CFD. If the computer was in the wrong setting the car could take off after 200km/h, which it didn't!
"The first feedback was good, the feeling was okay. So it shows the way of CFD is working. It's a completely different mentality of working and developing the car than by a windtunnel. In terms of driving the car, I didn't feel any difference."