Former Force India technical director James Key is to replace Willy Rampf as head of Sauber's technical team.
Key announced yesterday that he had decided to leave Force India - having been with the team since its Jordan days in 1998. Sauber has now revealed that Rampf is to step down as head of its technical team at the end of April, with Key joining shortly beforehand to take his place.
The 38-year-old Englishman said he had been convinced by the facilities available at Sauber, which substantially increased its technical resources during its four years under BMW ownership.
"The first time I saw the facilities in Hinwil, I knew straightaway the kind of opportunities open to me there," said 38-year-old Key. "The wind tunnel, the supercomputer, the machine park and the expertise of the team were extremely persuasive.
"There is significant potential at Sauber, and with the ever-changing world of F1 I think the team is very well placed at present.
"I am grateful to my old team for the past 12 years I spent with them, but now I very much look forward to starting my new job. I would like to thank Peter Sauber and the team for this great opportunity."
Team owner Peter Sauber said he had been impressed by the achievements of Key's Force India squad in 2009, when it rose from the back of the grid to fight for victories and podium finishes on fast tracks.
"Despite his young age, James looks back on more than a decade of experience in Formula 1 - and the 2009 car in particular proved quite a revelation," said Sauber.
"James comes from a private team and knows how to work around a limited budget. With us he will enjoy high-level technical opportunities."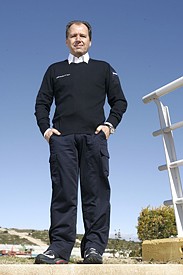 Rampf clarified that it was his own decision to step down from the team.
"When you're technical director of a Formula 1 team, the job comes first and everything else is subordinate to it," he explained. "I have done my job with a passion for ten years, but now it's time to hand over the baton.
"Peter Sauber gave me the chance to enter this league of motorsport and I greatly value all my years spent working with the team."
Sauber thanked Rampf for his contribution to the squad, and expects a smooth transition when Key arrives.
"Willy and James will be devoting April to the handover," Sauber explained. "I have known about Willy's plans for some time, of course, and fully understand his decision. He has achieved great things for our team.
"I had managed to get him on board as race engineer for season 1994. Then in 1998 he temporarily left the team to pursue his Paris-Dakar Rallye dream and ran BMW's motorcycle involvement - a successful interlude, as we know.
"In 1999 he returned to the fold with the clear aim of becoming technical director. It was practically his first Formula 1 car that was out on the grid in 2001, and we finished fourth in the constructors' championship as a privately-run team. We have Willy to thank for a great deal."