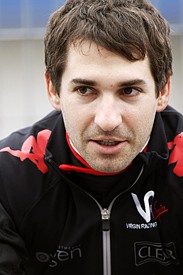 Virgin Racing became the first of Formula 1's new teams to hit the race track with its new car on Wednesday, when its VR-01 completed a few installation laps of the Jerez circuit.
Although the late arrival of parts and poor weather hampered its day, Timo Glock had the honour of officially starting Virgin's efforts as an F1 team.
AUTOSPORT heard from Glock as he spoke to the media about his day, his first impressions of the car and the state of the team.
Q. You did a few laps of the Silverstone National circuit and one timed lap here. How is it working out so far?
Timo Glock: Unfortunately, due to the weather, a bit slow because we decided to do not much in the wet conditions. We are still in the first week here, and a bit low on parts, so that means if we have a crash we are more in trouble for the next test. So we decided to not do much running today and unfortunately parts didn't arrive until quite late yesterday - 11 or 12 o'clock - and the mechanics had to work 24 hours a day to get the car ready for this morning.
We just did some installation laps today to check if everything is alright, but in the two or three laps I did and the one timed lap, the car felt okay, not bad in wet conditions, so the first impression is that everything worked well. I hope it stops raining. What I know is that it will be better tomorrow, at least no rain, but I don't know if it will be dry.
Q. This is a bit of new territory for you because at Toyota there were no such problems and resources were almost unlimited, so how do you feel about this situation?
TG: It's different you know, it makes no sense if you sit here and think 'bloody hell, bloody hell I want to drive!' because this situation will not change. You just have to back off yourself a little bit, just stay normal and help the team - give the team confidence in what they're doing. The mechanics are pretty well and for me it's easy to adapt because I know we can't do something special in the first year - this is just not possible in Formula 1. It is normal that it will be a slower start, but I think when we build up everything in a rhythm and it's running smooth then we should be not too bad.
I think the way Nick Wirth, who has designed the car, and all the guys back in the office do a proper job, they know what they do.
For the first test we have just a solid baseline car, there is nothing magic on the car, but I think it will come in the future. We have some good stuff to come for the first race, I'm sure there are some updates coming, but the question is how far we are away from midfield running teams? Where is our starting point? That is what we have to wait until it's dry for - to see where we are.
Q. How much of this whole building process do you feel you are a part of?
TG: Quite a big part of it, I mean that's what I see. I'm talking to the engineers in the week, in the winter time, and I'm spending a lot of time on the simulator. I did a lot of work there and after five laps the debrief is quite long - there are lots of discussions, a lot of small stuff and technical stuff, so they are quite interested to know what I think about the car and what I think is the right direction. It's good fun because they are quite open and listen to what I am saying. Nick Wirth is a really special guy and so far I've enjoyed quite a lot working with them.
Q. How many days have you spent in the simulator?
TG: Eight to 10 days.
Q. And how long have you spent with the team?
TG: From 9 until 7 o'clock.
Q. And you didn't get seasick? Because most people have felt seasick when they first go in a simulator.
TG: They have a good simulator!
Q. Toyota didn't have one?
TG: Now I can say officially they did have one, but I didn't have any problems there as well.
Q. Is it the same level as Toyota or better?
TG: I think the new one that is coming up at the end of the test is a step ahead of the Toyota one.
Q. How realistic is it from the driver's point of view?
TG: I have to say it's pretty realistic. The point is you don't have the g-forces, which plays quite a big role in it, but for me I'm quite used to that. I've played when I was younger a lot of computer games and I think this helps. It is a different generation maybe. But the new simulators are quite close to the car, just the g-forces are the main thing missing.
Q. Toyota was a well established team. Do you feel like this team has got its routine or do they seem like they are new to it?
TG: Here we have a second car crew working at this test for the first time properly on the car. There is a lot of stuff that has to be fine-tuned as well, but the main problem was they had quite a late night last night with parts arriving and they had to work the whole night through. They were just a bit down in the afternoon - it took time and concentration out of them, but I think for tomorrow everything is ready and they can recover overnight.
When Toyota started they needed a couple of months or even a year to get the perfect scenario and rhythm into the team, but I think for a new team we have a lot of experienced guys like John Booth, Christian Silk and Nick Wirth, who stand on the outside and just see every little detail where it's not working well enough. They go straight in and say 'we have to do it like this' and I think that will help develop the car and the team quite quickly.
Q. These early days in the wet: are they good for a new team, because you are not under the pressure to deliver the lap times, or are they bad?
TG: Due to the problem we had today it was good it was wet because the others could not do as much testing as they did in Valencia, but I think even if it is dry we don't have the pressure on lap times because we are realistic enough to know that we will be off the pace to the top teams. So far we just have a baseline car - a baseline aerodynamic package that will be updated for the first race.
For us it is just important to get mileage on the car, to see if it is working as we expected, so we don't really look at lap times.
Q. The car looks special. It looks different to all the others, what do you make of it?
TG: I think the wheelbase is shorter than the others. There's some good stuff on it that maybe didn't feel so bad in the few laps we did, but we need a baseline. We know the car is driving around a corner as it should be and it's important to do all the baseline stuff.
I think the first three or four races, or even the first year, will still be a test for us. Every race will be a test for us rather than a real proper race.
Q. What was the problem today?
TG: It was just that the parts didn't arrive until 11 or 12 o'clock last night and the mechanics had to work the whole night and this morning to get it ready. So we decided not to drive much in the wet conditions, just some installation laps because we are a bit short on parts. Every day the parts are arriving and we don't want to take the risk if anything goes wrong and we crash. We said we had nothing to lose today in the wet conditions, so we decided not to run.
Q. What is your impression of the new engine?
TG: The engine I'm quite surprised in terms of driveability in the wet. We didn't have to do much adjustment on it. Power-wise I think it's not too bad, it feels strong, it feels good, but it's not enough laps to have a proper read on it.
Access even more news on Autosport.
Register for free to increase your monthly limit from 15 to 25 stories - or subscribe today and get unlimited access.
Get unlimited news
Full access to our news and in-depth Autosport Plus features - all in an ad-free enviroment.
Subscribe to Autosport Plus
Get 10 free extra stories
A quick upgrade and you'll boost your monthly news limit instantly - for free.
Register for free