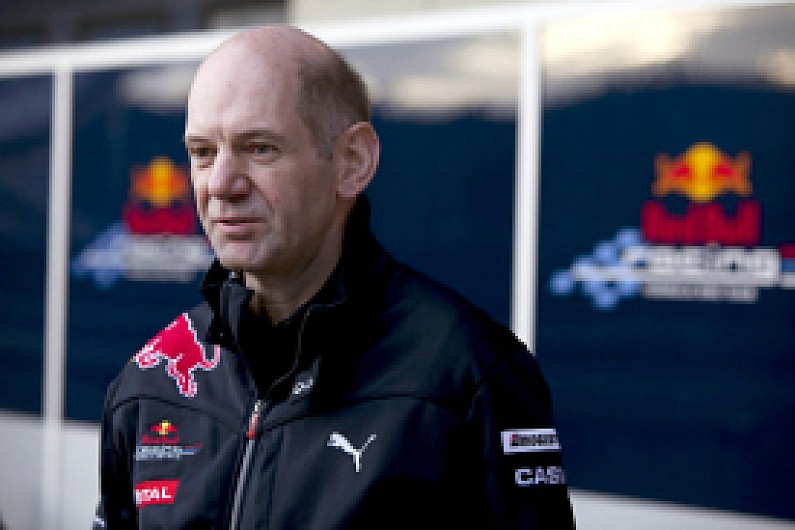 Formula 1 fans, media and teams were all eagerly awaiting the unveiling of Red Bull Racing's new RB6 on Wednesday - with technical chief Adrian Newey having asked for an extra week of development time for his new car compared to much of the opposition.
The Renault-powered machine certainly did not disappoint with its looks, and Newey himself spoke to journalists at the track shortly after the launch at Jerez to explain its philosophy and his thoughts for the year ahead.
Q. It was no secret that Red Bull Racing tried for a Mercedes-Benz engine, but it didn't happen. How much did that compromise your plans for 2010?
Adrian Newey: Yes, last year Mercedes clearly had a performance advantage compared to other people. They kept developing very heavily during the frozen era, whereas Renault took the spirit of the regulations as they were originally intended and didn't develop the engine very much from the end of 2006. As a result of that, they fell behind somewhat. We then looked at other manufacturers, Mercedes-Benz principally, and it looked as if that would be the route that we would go.
So we looked at the installation of that engine, and at the same time Renault came back with a plan for how they were going to step forwards. We always had a very good relationship with Renault, and always have said that their support has been very good. If we have asked for something they have always provided it, and at no time have we felt like a customer. We have always had, as far as I am concerned, complete parity with the Enstone-works team. So we were very happy with that relationship.
[At that time we felt] if they can now reduce the performance deficit, which they have been working very hard on, then we will be very happy to stay with the Renault engine. So, on that basis, Mercedes became more and more politically difficult in terms of supply, and at the same time Renault was coming forward. So we decided to go with Renault. There was a bit of a delay as we looked at both packages, but I am not sure how much.
Q. What do you expect racing against Ross Brawn and Michael Schumacher - on track and off track it?
AN: What can I say? Obviously that combination of Schumacher, Brawn and Ferrari through the early 2000s was a very successful combination, and at times they seemed to have a little bit of friendliness, let's say, from the governing body. But times have changed. [Jean] Todt is now president, Ross and Michael have moved and it is a fresh start.
Q. Starting from scratch, how much have you been able to extract from the double diffuser concept?
AN: Certainly last year we took the decision very early on that if we were to fit a double diffuser to the RB5 we would not change the gearbox or the rear suspension, because we didn't have the time or resources to do that. This time around we have been able to design the gearbox and suspension from the outset with that mind. And like most other people, we have been able to fit a bigger and more expanded diffuser than we were able to do last year - but I am not going to give you numbers.
Q. How different is the wheelbase to the RB5, and what other modifications did that force?
AN: Like everybody else, the near double-size of the fuel tank is a straightforward packaging problem. You can either go longer, higher or wider - or a combination of all three. Like everyone else, probably, we have done a combination. One of the downsides of going wider means that you have to make the radiators smaller if you are not very careful, which can compromise cooling.
We are somewhat longer in the chassis, but I don't think it is a big effect on the rest of the car. Everyone is now in a position where they have a wheelbase of somewhere around three metres, so an extra 100 millimetres, 3 percent of that, isn't a big factor.
Q. Last year's car was very different to the others. How different do you think this year's one is?
AN: This year's car, as you can see, is an evolution of last year's car. We've tried to look at which bits we feel we can still improve, but it has been more a question of packaging the fuel tank and optimising the double diffuser than the more normal evolution.
Q. How do you design a car that has to go from 160kg of fuel to zero, but be fast all the way through a race?
AN: It is obviously about trying to produce a wide envelope, but it is one thing saying it, it is another thing doing it. It is not an easy change.
Q. With the narrower front tyres, the fans can't see much difference but there must a big aero change?
AN: Surprisingly, the aerodynamic effects of the narrow front tyre are quite small. The main difference of course is less front grip, which means a change in the weight distribution and a change in the set-up of the car. But it has not been a big effect on the aerodynamics.
Q. When you saw the other cars that had come out looked similar in concept to the RB5, was that satisfying?
AN: I suppose yes it is satisfying, that is the honest truth. But of course we have to keep moving forward to try and stay competitive.
Q. What have you made of the other cars?
AN: I think what is interesting, and I haven't had the chance to have a really good look at the other cars yet, is that despite being the second year into the new regulations, although the front end of the cars have started to converge a little bit, the back ends of the cars are still very different. There are a lot of different solutions, particularly around the diffuser area.
And it is clear that in many areas, the understanding of what is the best solution is still in its infancy. If you look at the end of 2008, when we had all had a stable set of regulations for a long time, all the cars were converging to have similar solutions, that is still not the case at the back of the car with these rules.
Q. You have worked with Mark Webber and Sebastian Vettel for quite some time now. What do you think of them now they have matured?
AN: I think they are a great driver pairing. Mark is obviously very experienced and Sebastian is a very bright young lad, and he is learning in leaps and bounds.
One of the most important things always for team-mates is that they are in the position of being able to push each other - because we all know that the first goal of any driver is to beat him team-mate. They have different strengths in terms of their testing feedback, which is great. That means we can really examine what they say and that helps us understand the car better.
Q. Have you stuck with the pull rod rear suspension this year or have you gone for a move conventional layout?
AN: We've stuck with the pull rod. Obviously with a single diffuser, I think the pull rod is a very elegant solution. But with a double diffuser it is a bit more difficult. There are far more pros and cons - but we felt overall that it was still a good solution.
To be perfectly honest, had we been push rod in the first place we probably would not have been pull rod, but having been on pull rod for a year, and trying to understand its strengths and weaknesses, we felt it was the right way to continue.
Q. There are suggestions that some of the diffuser concepts are pushing the boundaries of what is legal. What are thoughts on that?
AN: Without knowing exactly what people have done and how they have done it, it is very difficult to answer that question. Certainly in the case of the McLaren and Renault, they have got huge outlets which clearly means that they have big inlets. But until they are kind enough to hang their car from a trailer it is difficult to say anything further.
Q. The Virgin Racing car was produced without seeing a wind tunnel. Are you surprised by the result, or has it turned out as you expected?
AN: I am afraid I haven't seen too many pictures of it, so it is difficult to comment on what it looks like. I think CFD is a very powerful tool, there is no doubt about it, and it is another way of simulating the real environment. A wind tunnel is a simulation of the real world.
CFD is an electronic simulation of a real environment, but it still has pitfalls - not least that every single run in CFD for a given attitude of the car, or ride height, or whatever it might be, is a discreet run. Whereas in the wind tunnel, what we call a normal run, will have 20 or more data points in it.
In other words, that is equivalent to 20 runs in the CFD. That is a limitation of size really, so your CFD cluster has to be that much bigger to do that many runs. And there are some areas that CFD physically doesn't capture as well as a wind tunnel - like basic aerodynamic properties. So how well it turns out, we shall see.
It is a different route, and my personal belief is that you still need to combine the two at the moment. But maybe their car will go very well and I will have to revise my opinion.