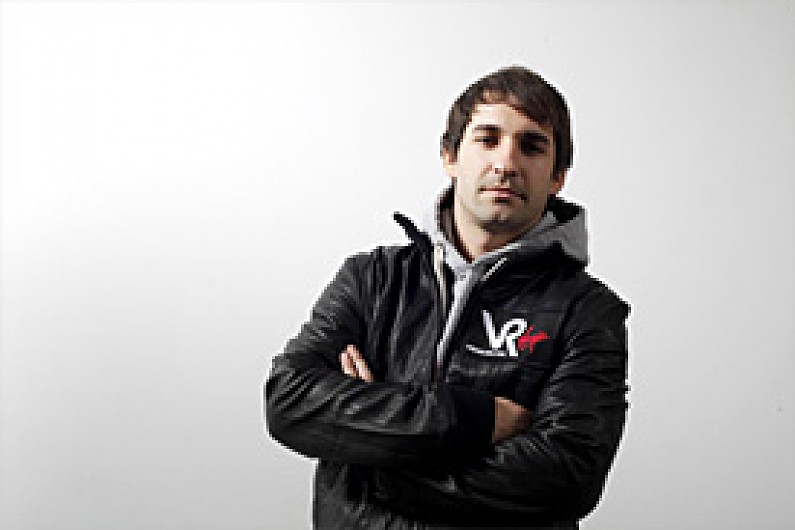 After years racing for Toyota, a team with one of the biggest budgets in Formula 1, Timo Glock took the surprise decision to take a step back and commit himself to life at a more close-knit operation for 2010.
But rather than feel that his move is a step down, the German thinks his switch to Virgin Racing will bring fresh impetus to his career. AUTOSPORT heard from Glock when he spoke to the media at the launch of Virgin Racing's F1 plans in London on Tuesday.
Q. What it this fresh start in Formula 1 going to be like for you?
Timo Glock: I think it is a great opportunity for me. I am really looking forward to it, and I have to say it is different. It is different to all that I have done before, but in a fun and positive way. As you can see, the launch is different from a normal F1 team, but it is good.
Q. What are your feelings about leading a F1 team?
TG: It is different if you come to a team and you are the number one driver and leading a team, or coming to a team where the driver has been there for four years, like it was at Toyota [with Jarno Trulli]. That can be quite difficult to get yourself into the team. It worked for me until a certain point, but then you start to run against a wall. It will be different for me here. The first time I came up to Virgin Racing, they told me they wanted to have me and no-one else. They were really, really pushing for me and that was a good feeling for me. I am looking forward to that experience of being a leading driver at Virgin Racing.
Q. There is a lot of talk about doing simulator work this year. Are you looking at moving to the UK?
TG: No. That will not happen for me. I will be in January quite a bit here in England, but I will not move over to England. Too many days of rain!
Q. Some people have said that joining a new team is a step back for you, but it appears Virgin Racing is serious about success?
TG: Yes. When I was in Abu Dhabi, everyone was talking about the new teams and how they would not be on the grid and how they are not serious - things like that. As I said, I was before up there at Nick Wirth's company and was looking around - and realised they were serious about what was going on. I think today everyone knows that Virgin Racing is a serious team - they want to be in F1, they want to succeed in the future and I am happy to be on board.
Q. What is the target for the team in 2010?
TG: 2010 will be a difficult year for us. It is the first year we have to find each other, and overall I would say the target is just to get the respect from everyone else, as John Booth said quite nicely. The main point for me is the progress that we have do, the curve has to keep going up. If it flattens out then I will not be so happy, and I will push so hard to bring it back up again. That is quite important in F1. As long as we continue to develop in a really strong way, then I am happy. The question mark is our starting point in 2010.
Q. You said that it is different in this team. Can you tell us any anecdotes about it?
TG: Overall it is just the first time that I went up. I was used to a team where there were 600-700 people like at Toyota. Then I came to the team in Bicester and there were 120 people. That is quite different. It reminds me a bit back to GP2 when I drove for iSport in 2006 and 2007, and won the championship. I realised that if you had the right people then you don't need 600 - you just need a proper group and proper engineers. Everyone focused, no political stuff in the team and that is the main point that you need in a team to be successful. The fun part, with Virgin, with Richard Branson, and with all the people behind will be mega in 2010 - the hospitality or whatever will be a bit different to normal.
Q. Is there a similar feeling to what you had when you went to see Super Aguri in 2006?
TG: I didn't go to Super Aguri...I just went there to have a look! It reminds me more of Jordan in 2004. That was a point where I would say that there are some points that are similar, but that was five years ago so it is different time and a different way of working. Everyone knows we have to work hard, but you need the fun as well because that is important.
Q. Do you sense a big shift in the team's viewpoint to dealing with the sport? Richard Branson said today it wasn't a case of throwing money at problems, but of being sensible. Toyota treated things a bit different..
TG: Toyota had a different philosophy, and I think here the team with John Booth, he never had the possibility in F3 or other categories to have a huge budget and throw money at it. He just had to do the best job he could. It is the same with Nick Wirth. This is a positive aspect to really, really push the people, and push themselves to get 100 per cent out of what we have.
Q. Toyota was known to have one of the largest budgets in F1, now you are coming to a team with one of the smallest. If Richard is to be believed, you are operating under £40 million. What it is going to be like? Can the team be competitive?
TG: Toyota was not unsuccessful, because we were on the podium a couple of times, but at the end I was at a team with one of the biggest budgets and we could not win a race. Now I am going to a team which is really on the low side of the budget, but they know what they have to do and they know they can do it with a budget. We cannot win a race in the first year, we know this is not possible, but the future I think goes more and more in terms of reduction of budget, and if you have to cut down a team from 600 people and £300 million, to 250 people and £150 million, I think it is quite difficult compared to a team that has 150 people and can go up to 250 and can increase the budget. Life is easier on that side.
Q. Does it also mean that you are paid less?
TG: I would say I am quite happy so far. I did not go to Toyota because of money, or what I can earn. I just want to be in F1, to go racing, and the money for me is down on the list - second or third position for me. It is all about racing and being successful.
Q. So that means you are paid less?
TG: Well, you don't know what I was earning at Toyota - so I have no comment to that.
Q. You seem very relaxed. Is the pressure different here, is there less compared to Toyota's need to win a race?
TG: I think the pressure is different here. The pressure will come when we go to Bahrain and the first race. The normal F1 pressure will be there that you have in every team and every year. The reason I am relaxed at the moment is that I am used to not driving in F1 for a long time! It is a long time that I was back in the car, and I am really looking forward to being at the tests in February.
I would say the pressure is different here. It is a more positive pressure and I would say again it reminds me of GP2 where I had the pressure on in 2007, where I had to win the championship to make the step into F1. That was a positive pressure, and here it is the same. Everyone is focused but you should not lose the fun part of it - but as well you should not have too much fun because then you are not fully concentrated. The mix out of it is pretty good here at Virgin.
Q. How are your injuries?
TG: Good. No problems.
Q. You said your future had already been decided before Japan. So that was before your accident?
TG: Yes, I had options. My personal decision was made two days before Japan, so around the Wednesday. I didn't sign anything, but my personal way was made before Japan.
Q. So you had been told at that point that you would not have a race seat at Toyota?
TG: That was still open, that was one of the options. I decided for myself to go to another team.
Q. And did that mean Kamui Kobayashi got to stay in the seat?
TG: No, that had nothing to do with it. I couldn't race in Japan because first of all I was sick, and then I had the crash. Brazil was not possible to drive at all, and in Abu Dhabi there was still a slight chance but the doctor said that was still a 40-50 per cent risk that if there was a crash it would damage the back.
Q. Do you have any information about Michael Schumacher?
TG: I don't have any information about it. My personal opinion is that he will be back in F1 next year, if there is no problem with his neck or his back. If the doctor will say he is okay, I am 100 per cent sure he will be back.
Q. What does that mean for you as a German driver?
TG: It is good because all the press people will run to Michael, and give me an easy life!
Q. There will be Jenson Button and Lewis Hamilton, plus Fernando Alonso and now Michael Schumacher - and maybe Jacques Villeneuve. That is five world champions. What does that mean to you?
TG: It is great. Great to race against Michael. I hope I can fight against him, although I don't know if it will be possible to race against him. It is good for F1, and good for the fans if a seven-times champion comes back after a three-year break. It is a mega thing for F1 and for everyone in F1.
Q. There is a lot of competition between the new teams to be the best of the new boys. Is it the same at Virgin?
TG: I think it is one target of 2010, to be the best of the new teams. But, if you go to the company and see the people, that is not the target for them. They want to progress. They want to, in the middle of the season, to be fighting for points or the top ten. I think you have to be realistic, but everyone is focused to be fighting for points.
Q. How do you feel about working with Lucas di Grassi?
TG: I know him really well from GP2, and I have to say that we had a really, really fair fight. I like him as a driver and a person. He is a really relaxed guy and he is really quick. He won Macau, which is a benchmark I have to say. And won against Kubica at that time.
I am looking forward to it. He has a lot of experience from Renault, which is positive for us. So, I am happy to have him as a team-mate and also Alvaro Parente, he is really experienced in GP2. That is a nice line-up for us in the first year.
Q. It is one of those rare line-ups of young drivers with lots of experience too?
TG: Yes. It is good. I am the oldest of the drivers here, which is a strange feeling. But overall it is good. That is part of Virgin, the team - we have in the whole team, there are a lot of experienced guys but also young people. The mix is good.
Q. You talked about Virgin putting the fun into F1. Does Red Bull have to worry about not being the most fun team any more?
TG: Could be! At the launch, we already have a battle between Tony Fernandes and Richard Branson, so I am looking forward to what will happen in the year. I think we will have fun, and hopefully we can put something on and fight against Red Bull on track, and in the hospitality programme as well.
Access even more news on Autosport.
Register for free to increase your monthly limit from 15 to 25 stories - or subscribe today and get unlimited access.
Get unlimited news
Full access to our news and in-depth Autosport Plus features - all in an ad-free enviroment.
Subscribe to Autosport Plus
Get 10 free extra stories
A quick upgrade and you'll boost your monthly news limit instantly - for free.
Register for free