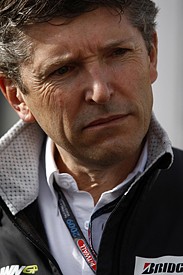 Despite winning this year's world championship with the team, Jenson Button is leaving the now-Mercedes-owned Brawn operation for McLaren next year.
The move has come as a blow to Brawn chief executive Nick Fry, as he explained in an exclusive interview with AUTOSPORT.
Q. Were you surprised by Jenson Button signing for McLaren?
Nick Fry: We weren't surprised in that this seems to have been maturing rapidly since the weekend particularly. But we are obviously disappointed that Jenson has decided to leave because we did make what we thought was a very generous offer for a new contract which was significantly in excess of frankly spurious figures that were put out to the press over the past week or so.
In addition to that, quite naturally, we do feel that we gave Jenson a car that did enable him to win the world championship and we hoped he'd have stuck with us for that reason as we are very confident that we can provide a race-winning car for next season. And undoubtedly he would have got equality with the other driver, whoever he or she will be. We were a little distressed to read in the press that there were questions over whether the other driver, whoever that would be, would get favoured treatment which we did think was somewhat insulting.
Q. So as far as you are concerned you wanted to keep Jenson and you did everything you could, within the financial structure of the company, to do so?
NF: I don't think that it was a financial issue. We understand that our offer to Jenson may well have been in excess of what he might be getting with McLaren. I don't think that it was a financial issue whatsoever.
Q. Do you feel that he believed McLaren was a better career choice than staying where he was?
NF: I respect his decision. It's not one that I would have made and maybe he has been poorly advised.
Q. Would you have liked to have seen more loyalty given that you gave him a world championship-winning car this year?
NF: Clearly, loyalty would be nice but in this day and age you don't expect too much of that. I'm always happy when any employee leaves our company if I think that they've made the right decision and they are going to a better job and they always go with our blessing if that is the situation. In this situation, we don't understand the logic of the decision and I think Jenson is going to have to up his game if he's going to beat Lewis on home territory.
Q. How close were you to reaching a deal? You say that it's not over money, but was it as simple as Jenson was asking for x and you couldn't meet it?
NF: It can't have been as simple as that because we believe that our offer was in excess of what he has accepted from McLaren and Jenson has indicated to me personally that may well be the case.
Q. And you were willing to offer a long-term deal like McLaren was?
NF: We were. Jenson originally had a three-year agreement with us of which 2009 was the first year, so in essence we would have continued for the remaining two years broadly under the same umbrella, albeit with changed conditions.
Q. At the point that Jenson committed to McLaren, did you consider that the negotiations were still open?
NF: It was clear to us that things were going seriously astray as of Sunday night or Monday morning. Unfortunately, over the last week there has been very little dialogue with Jenson's management team despite the fact that we have made overtures to have further discussions. But they didn't seem particularly keen, presumably because they were set on the McLaren route.
Q. Do you feel that this contract issue could have been resolved much earlier?
NF: Unfortunately we were between a rock and a hard place on this. Ideally the discussions should have been completed before the end of the season, but because of the way that the championship was going in the latter part of the season, the last thing we wanted was to distract the driver with contract negotiations. So by definition we didn't really start serious discussions which included Jenson himself until the end of the season. That was the right decision because there was enough going on on the racing side to fully occupy us and him without having the burden of contract discussions on top of that.
Q. Both you and new team owner Mercedes were involved in the contract decisions - was Mercedes also keen to keep Jenson?
NF: Mercedes-Benz have purchased our team but they want the team to continue to be run as it has been, especially from the racing side. In the areas of a driver, Ross [Brawn] will be the person who makes the principle recommendation. It will be something we discuss, but Ross is the one in the hot seat to guide us to great results and that's the way it will continue. As it was under Brawn, it will be as Mercedes Grand Prix.