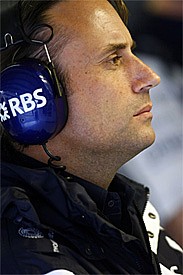 Williams CEO Adam Parr says the Grove team is not the only Formula 1 outfit opposing expanding the grid to 14 cars for next year, and he insists logistically and financially it would be unsustainable.
Team boss Frank Williams has made it clear that he will not vote in favour of allowing an extra team in order to make room for BMW Sauber, who has no spot on the grid for next season.
Although only Williams has been vocal about it, Parr says more teams voted against the expanded field.
"Frank has been crystal clear on this," said Parr. "He feels very strongly about it, but he's not the only one. At the last FOTA meeting it was not the only team that raised concerns, and it was not the only team that voted against 14 teams."
Parr believes no work has been carried out to check if it would be logistically possible to make room for four new teams next year, and he is convinced there would not be enough revenue to share among them.
"First of all, nobody has done any work that I can see to show that there is space to accommodate 14 teams, 28 cars," he said. "No one has discussed that, neither the FIA nor anyone else. Look at where we are now in Brazil. You couldn't possible get 28 cars and 14 teams here.
"And I'm sure that's true in Monaco and several other circuits. So once they've done that work, and the FIA has never suggested that 14 teams can be accommodated.
"I don't think it can be accommodated on the revenue side either, it's just not sustainable, and the FIA presumably believe that because they fought very hard this year to reduce the cost dramatically."
The Williams CEO also reckons adding a 14th team doesn't make sense from an sporting point of view, because a team would not be racing in all grands prix.
"No, because then people will start saying we need to pre-qualify, which is completely ludicrous. The idea, in this day and age, to have a team flying all the way to Melbourne or somewhere at massive expense, only to tell their sponsors that they are not going to appear on the grid. It's just ridiculous."
Ferrari team boss Stefano Domenicali made it clear that the Italian squad is in favour of allowing BMW Sauber to race next year.
"It's very clear on our side. We feel it would be a shame to lose a team like Sauber that is on the podium," Domenicali said. "We all respect they have tradition, they have infrastructure. And I think we can agree for that kind of exception.
"If someone is not ready then I think it's going to stay with 13 teams, also because as we have said we like to think of a future with three cars per team, because we think it's the right way to look ahead."
Domenicali made it clear, however, that his team would only vote in favour of 14 teams to save the Hinwil team, and not for any other new squad to come in.
"If it's only Sauber. And then if someone is leaving, then we go back to 13."
Red Bull team principal Christian Horner agreed that it would be very hard to fit 14 teams at some circuits, although he admitted he wouldn't want to see BMW Sauber leave.
"Obviously you don't want to see any team disappear and it would be a great shame to see Sauber disappear," said Horner. "Although you don't know if it's Sauber or something completely new.
"If you just look at the practical issues of a 14th team, look at the cramped conditions of the paddock, it's going to be tight enough with a 13th team. Look at qualifying somewhere like Monaco with all the logistics. That creates some practical issues. That's what's agreed though."
He added: "I think we would prefer 13 teams. We hope a solution that would involve Sauber continuing would play out, but we would prefer 13 teams. We would first of all want to see how things panned out with all the new entrants. 26 cars, plus with some of the paddocks we go to, logistically we're already at the limit.
"If only Sauber had signed the Concorde Agreement when they had the chance, but such is life. It's been discussed briefly, but I guess it's not just us that are concerned about there being 14 teams. It's fantastic [the numbers are rising], but it's a massive challenge for the new teams to be there.
"And if we get to 13 teams next year then for the new teams to all be there in Bahrain, good luck and we hope they'll be there, but it's a massive challenge."
Autosport has produced a standalone special magazine to celebrate our 70th birthday. All current print subscribers will receive a copy for free. To order your copy of the 196-page Autosport 70th Anniversary issue, please go to: autosport.com/autosport70th