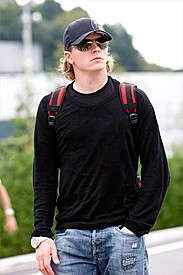 Kimi Raikkonen says he is yet to decide if he will continue racing in Formula 1 next year after it was announced he will not be at Ferrari.
The former world champion, who joined Ferrari in 2007 and went on to win the title, will be replaced by Fernando Alonso from next year, despite having a contract that run out at the end of 2010.
Although Raikkonen has been linked with a return to McLaren, the Finn admitted he is still thinking about whether he wants to race on in F1 or not.
"So far I have not talked too much about what I will do next, as I still have time to make my decision and I will let you know when I have," Raikkonen said ahead of the Japanese Grand Prix.
"For the moment, I haven't decided what I want to do next, whether I want to continue racing or not. I had a contract for next year, but now I don't, so that changes things. So maybe I race, maybe I do not."
He said switching to the World Rally Championship was a possibility.
"Yes, there's a chance to do that, but there's as much of a chance that I continue in Formula 1. I will decide before the start of next year for sure! If I do decide to stay in Formula 1, I wouldn't go to any of the small teams, where I would not have the chance to fight for the championship.
"If I race next year, that would be my goal, otherwise there is no reason to be in Formula 1. I achieved what I wanted, but if I race, then of course, I want to win more races and championship titles."
Raikkonen said there were many factors for his decision to agree to terminate his contract early, and insisted he was pleased with his call.
"There are many reasons why this has happened," said the Finn ahead of the Japanese GP. "In F1, even if you have a contract, there can always be different options in life. There is not just one reason why this happened and we all reached the same decision.
"I'm still happy with what I have done in making this decision and I think I will still have a good future. Usually when you make a contract, you stick with it to the end, but there were reasons why it did not work out, but I'm okay with how things have turned out."
He added: "I have nothing bad to say about them as we always had a good relationship. I don't think anyone expected Ferrari to have this sort of season, which turned out to be so difficult. But this can happen in F1 sometimes, when you don't deliver a car capable of always being at the front, but this is just one year and we will wait and see what happens next.
"I would not have done anything different: of course I would like to win more races, but in terms of decisions about my life, I would not do anything differently to the way I have done it. I am happy with what I have achieved, even if whenever you look back, you think you might have done things differently, but that's easy to say when you look back.
"But in terms of contracts and so on, I would not do anything different. With Ferrari, I have achieved what I set out to do in winning the title.
"We had good times and sometimes more difficult times, but that's part of this business and you just have to get through those moments. We won many championships, one for me, two for the team and I have happy memories."