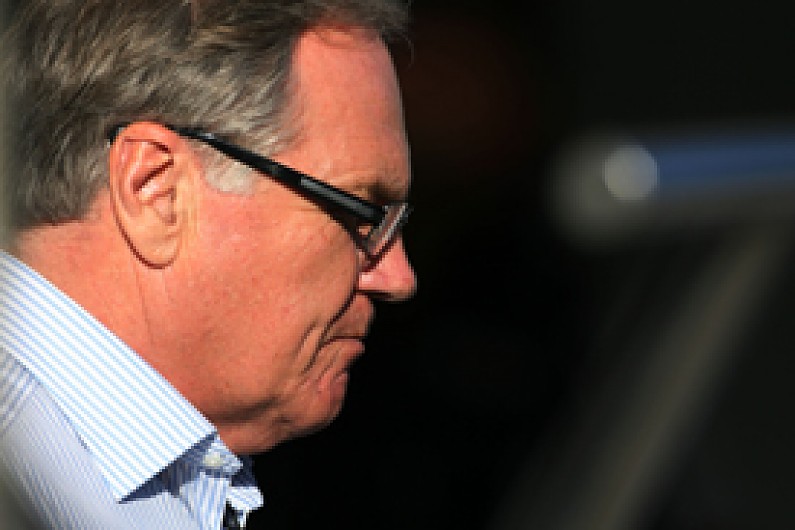 Williams co-owner Patrick Head thinks it vital for Formula 1 that Renault is dealt with 'pretty firmly' by the FIA if found guilty of fixing last year's Singapore Grand Prix.
Ahead of the FIA's World Motor Sport Council hearing in Paris on September 21, where Renault will answer charges that it asked Nelson Piquet to crash deliberately in Singapore to help Fernando Alonso win, Head thinks the case is a test for the integrity of the sport.
"Firstly I have to say that I don't know any of the details and I don't know [if what is alleged] actually did happen or not," said Head. "All of my comments are made without really knowing the detail or the real circumstances, but it will all be investigated on September 21 and dealt with appropriately.
"There were all sorts of rumours at the time, but to me it's a pretty extraordinary situation.
"Young drivers, before they have established their name in F1, are in quite a difficult position, but if young Nelson was asked to deliberately crash or spin his car, regardless of his contractual position, in my view he should have said no at the time.
"If that did happen, then the people responsible should be dealt with pretty firmly."
Head believes that if the FIA does not act in a strict manner over the matter then it could damage the credibility of F1 for years to come.
"There are all sorts of ways if you are professionally going to pull the wool over the FIA that you could probably gain advantage and get away with it," he said. "If that proved to be happening in a consistent way I think rightly nobody would have any interest in Formula 1 racing because you couldn't believe what you were looking at.
"Equally, if someone has used operational procedures to gain an advantage as has been suggested, then it needs to be dealt with quite firmly because you wouldn't believe anything that you were looking at - and you couldn't write an article saying that whoever wins the race did a fantastically good job because you'd think how were they cheating.
"It's a complex sport. Some people say it isn't a sport. But if all the cars are designed to the same rules and the engines are to the same rules, for all the shenanigans that go on beforehand and all of the commercial deals and everything, when the lights go out at the start one would like to think that was a straightforward race."
Head also backed FIA president Max Mosley's assertion that race-fixing is a more serious offence than straight cheating - and therefore could carry a harsher penalty than the Toyota ban from world rallying or the $100 million (USD) fine that McLaren had.
"First of all, if the thing comes down to the word of one man against another, it might be quite difficult to provide sufficient proof to impose those sorts of penalties," he said.
"I've got no knowledge of what information is available and how well the various parties will stand up under questioning. The thing that's emotive about it is actually a car crashing.
"It has in the past been that one car has deliberately held up another car in order to give favour to the team-mate and that isn't very sporting. But it's hardly something on which one would impose a $100 million fine.
"When you start going as far as requesting that one car does something that brings out the safety car, it goes to another level."
Piquet has been guaranteed immunity for his part in the matter by the FIA, in exchange for his co-operation, and Head thinks it right that it is the team that receives punishment if it committed an offence - even though the Brazilian driver agreed to the plan.
"Young people when they are under pressure do make mistakes," he explained. "I would put 99 per cent of the blame on the people that asked him to do that, if that's what happened.
"Ultimately, if that's what happened and that's what he did then in my view he made a mistake to agree to do it. But young people under pressure do make mistakes and I don't necessarily think they need to be crucified as a result."
Head also said that he was told by a journalist that Piquet first revealed the alleged plot privately shortly after the Singapore GP.
"I became aware of a journalist who told me that he was told about it by Nelson Piquet 15 minutes after the race. It's a difficult one. If a journalist was told that by a driver he should have said: 'look, stop. If you carry on with this I will have to...'
"As I said, we push the limits on the design of our car to as much as we can, but we don't push the limits to the point that if something were found out we'd be thrown out.
"What I do hope is that after September 21, the FIA have raised this, I hope that what goes on in Paris and whatever punishments are handed out can be looked at and stand up to scrutiny. If the regulators of F1, which is not just the regulators of the car but the race, if they are not thought to be proper regulators then it calls into question lots of things."
Access even more news on Autosport.
Register for free to increase your monthly limit from 15 to 25 stories - or subscribe today and get unlimited access.
Get unlimited news
Full access to our news and in-depth Autosport Plus features - all in an ad-free enviroment.
Subscribe to Autosport Plus
Get 10 free extra stories
A quick upgrade and you'll boost your monthly news limit instantly - for free.
Register for free