McLaren may not be impressing with their out-and-out lap times so far in testing, but at the first day of this week's Barcelona test they surprised the paddock with a radical reshape to their car's floor.
Rather than a flat continuous floor inside the coke bottle shape, the MP4-24 has appeared with a curious cutaway section just ahead of the rear wheels.
A triangular section of floor is missing between the forward part of the floor, which follows the curve of the sidepods, and a squared off edge just ahead of the diffuser. This can be clearly seen in the photograph above.
The rules demand a flat bottom underneath the car, with no part of the car visible from below. In recent years this cut-out would have exposed the flip-ups that surrounded the sidepods, but the cleaner sidepod lines allows the team to try this new floor shaping.
A diffuser creates its downforce at two points: firstly at the kick-line between the diffuser/floor, then secondly at its leading edge.
By effectively moving this leading edge backwards, McLaren are also moving the downforce it creates towards the rear. This may be part of a McLaren strategy to focus downforce production on the front wing and diffuser, as both devices are efficient at creating downforce with little drag.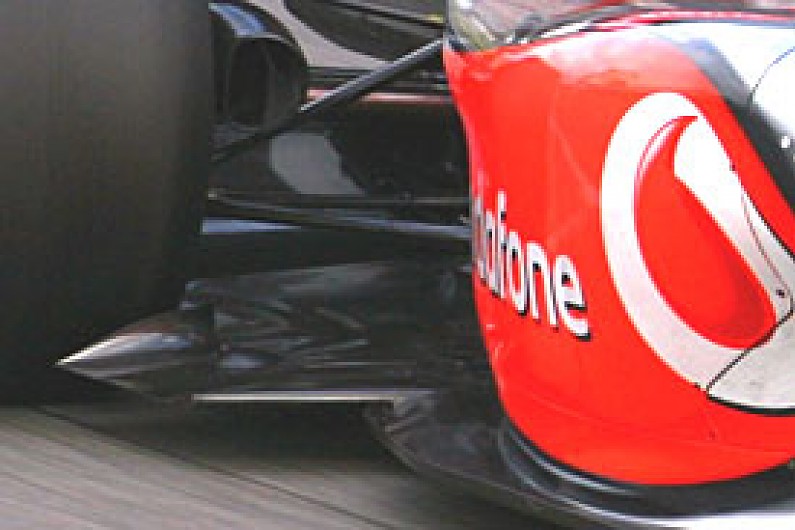 If these two devices can create enough downforce, then the rear wing can be smaller reducing drag and gaining speed on the straights.
With no question on the floor's legality, McLaren may have stolen a march on the opposition at a time that many observers have been questioning the team's testing pace.
McLaren confirmed on Thursday that the introduction of the new floor came alongside the use of a new front wing and top body. The team conducted back-to-back tests in the morning and afternoon with and without the parts to establish a baseline for the improvements, and will now work on honing the developments.