The emergence of the Formula One Teams' Association has thrust Ferrari president Luca di Montezemolo to the forefront of the debates over the future shape of the grand prix racing.
Just before Christmas, he called for Bernie Ecclestone to redistribute more of F1's revenue to the teams, and received a blunt response from Ecclestone highlighting how much extra finance Ferrari already receive - but there was no sign of bad blood when Ecclestone put in a surprise appearance at Ferrari's annual Madonna di Campiglio ski camp in Italy this week.
Later in the event, di Montezemolo addressed the media and spoke about Ecclestone's criticisms for the first time, as well as sharing his thoughts on F1's future, Ron Dennis's decision to step down as McLaren team principal, and addressing the Fernando Alonso question once again...
Q. The teams are saving money but they need bigger revenues.
Luca di Montezemolo: I think that F1, which is our life, nowadays needs the 'four esses':
Stability, because regulations can't be changed every six months or every year, as that means being unable to programme and it means the public becomes disoriented.
Seriousness: these are financially difficult times, so we need common vision, seriousness, professionalism, and most of all never give the impression there are divisions.
Show, or success, which is the same thing, therefore we need to look hard at the race weekend, the circuits, overtaking, the regulations.
Sustainability: that's made of costs and returns; no team, no company can stand on its feet if it doesn't balance costs and returns.
I think the unity of the teams has been extraordinary and it has brought - already in 2009, when the Federation hasn't provided for even one euro in savings - huge savings, with a systematic work that will carry on for 2010 and 2011.
As I've already said, we now need to face the issue of revenues. We have a Concorde Agreement with FOM until 2012. There will be time between now and 2012 to improve the commercial aspects and especially the show, and then to evaluate what to do after that, with seriousness, stability, success and sustainability.
Q. You talked about these issues around a dining table with the other teams: it's been called 'the strudel agreement'.
LdM: Oh really? Well, there were also many other dishes. Today I'm here to be close to our historical, most important sponsor, which we've been tied to for many years. I've never managed to come here before, and despite the fog in Rome I have this time.
And I'm here to be close to our drivers. It will be an extremely difficult season, once again with new regulations, with many question marks, but Ferrari is always there: it's always been the team to beat in the last ten years. Let's hope we won't just be the team to beat, but the team that beats.
Q. Ron Dennis has just announced his retirement from F1: he'll do other things inside McLaren. Will F1 miss a figure like him?
LdM: I don't know, I don't believe it, even though I haven't talked to him. It seems strange. Ron Dennis, polemics and fights aside, has been a person at the forefront, together with his team, of many decades of F1, so I don't think he's abandoning F1, I imagine he'll have a different role.
I appreciate very much him and many others for the support they're giving to FOTA. You see, the important thing to say is that, as in any sport, F1 must become normal, it can't be from Mars, in the sense that there are the players - the teams - without whom the sport can't exist.
Teams who invest, whether as constructors or teams, teams who innovate, teams nowadays strongly united in wanting to lower costs, increase revenues, while maintaining the essence of F1, which is a great technological competition.
And then we need someone who works on the commercial aspects, a kind of super agent, which is Ecclestone's company, with whom to work with and to renew contracts or not. Until 2012 we're okay with that.
And then we need a prestigious sporting authority, which keeps in mind the teams' unanimity, and that oversees stability and checks whether the sport is a real sport.
Q. There is this Arab prince who is investing a lot in sport and who has a stake in Ferrari too...
LdM: Well, this Arab prince who is investing a lot in sport, as I understand in the Manchester City team, without saving any money, is not the same one with a stake in Ferrari. Ferrari is partly owned by a financial company called Mubadala, which is under the control of the royal family.
I think in moments like these, in every sport starting from F1 and football - the former has and is being a good example in this sense, you need to have a certain limit and to know the value of money, with all respect for the players, the teams, and the richness.
Q. The birth of FOTA is seen as a historic milestone.
LdM: I think that the role I was asked to take up by the other teams, and which I certainly won't be able to hold on to for very long, has been to convince all teams to have a big healthy competition on the circuits, with a great unity of goals outside. Because it's strange to have a sport with everyone saying it's in the hands of single people. We need a triangle: without the outfits, the constructors, the teams, the sport wouldn't exist today.
So, without arrogance, it's important to look ahead most of all: because we need to program, because the future of F1, with all respect for everyone else, is fundamental for who invests, risks and believes in F1.
So I'm very happy about this atmosphere, which has brought in the shortest of times agreements to reduce costs, without getting to the point of crazy amounts which have nothing to do with F1, and which wouldn't have allowed even Ferrari to carry on, in the case of a lack of technological research, sporting competition, and technological innovation. No point being all the same, otherwise there's no competition anymore.
Q. Bernie Ecclestone has joked that the teams should get less money from him now. Do you think he was pleased to recognise this new association?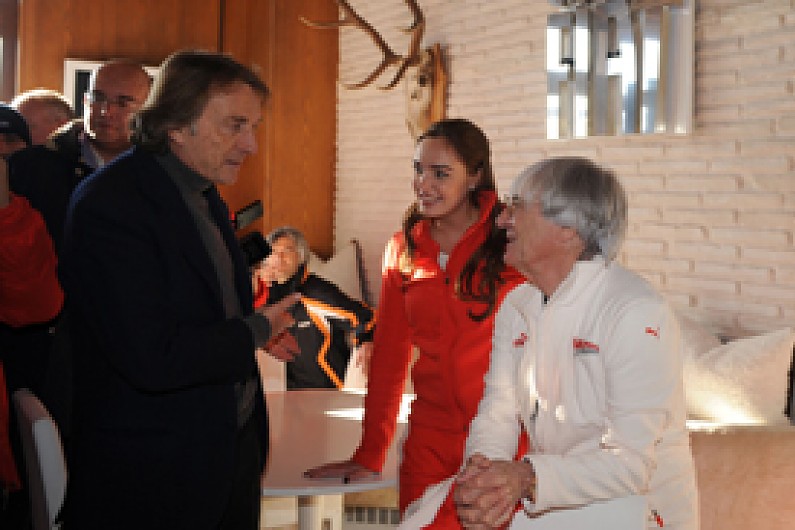 LdM: You see, jokes apart - because my jokes could get misinterpreted, I too would enjoy joking because I've known Bernie since 1973, he was old already while I was extremely young - okay, I had to get a joke in!
He's a person a great capabilities, who's done so much in F1. I'm happy to see him here, and I'm happy to talk, and I hope we'll agree, on behalf of all teams, on common objectives for the future, with everyone doing his own job and respecting his own role, knowing there's a team and company association today which looks at the future, and knowing that there's him, who's always been an interpreter of the future.
Q. Isn't it a guarantee...
LdM: So you never want to talk about Ferrari, only Ecclestone? I haven't come here to do PR for Ecclestone! I'm kidding.
Q. When talking before Christmas about the redistribution of revenues and more, you said these things need to be re-discussed with Ecclestone. Two days later Ecclestone launched a scathing attack against Ferrari and its top management, which you've never replied to. We've now seen a hug...
LdM: You're either born a gentleman, otherwise you'll never become one.
Q. What about the new car?
LdM: The new car looks fairly ugly, rather small, a bit disgusting... No! I hope it's like that because it only needs to win to become the most beautiful in the world.
Joking aside, this is truly an extremely difficult championship, full of question marks: if you think about practice, the programmes, how much we'll need to work at the factory, it has many different things, including the decision of KERS which we don't approve for a thousand reasons - not just us - so it's very, very interesting.
We've built a car the technicians are very satisfied with, it's innovative. Now we hope that in these four days in Portugal the drivers - two days for Kimi (Raikkonen) and two for Felipe (Massa) - can test it well, so that we can develop it. It'll be tough.
Q. Raikkonen has said he's sent his twin brother back to Finland...
LdM: He did right, it was time to do that!
Q. How do you see the future of F1?
LdM: One thing needs to be said: these days in F1 there are among the biggest car manufacturers in the world, who if they decide they can afford a certain amount of spending they do that.
I think the fundamental thing for F1 is to have a stable governance that doesn't create fights and constant changes every year, and that looks to the future with a strong unity of goals, because this is a sport with great potential that must however increase and maintain its characteristics, by putting together who goes to the circuits, the technological innovations offered by TV, starting from high-definition and everything else that innovates the show, like Internet and whatnot.
We need to work all together on this: no one has a monopoly in F1. We need respect of the roles, but also a push towards the future.
Q. All the big teams plan for the future. The future of Ferrari...
LdM: Is it Alonso? I knew it! The future is nice because it's in the future, and no one can predict it. So, whoever survives will see. We have two drivers: one has won the penultimate championship, the other has almost won the last one, so we may have many problems, but certainly not that one. Well, we don't have many problems, but surely not one with drivers, with all respect for Alonso, who is a really great driver.
And that's it: I talk about Massa and Raikkonen, and sometimes about (Luca) Badoer and (Marc) Gene. Having said that, we look at drivers: whether young or not, Spanish or not, because the future is the future.